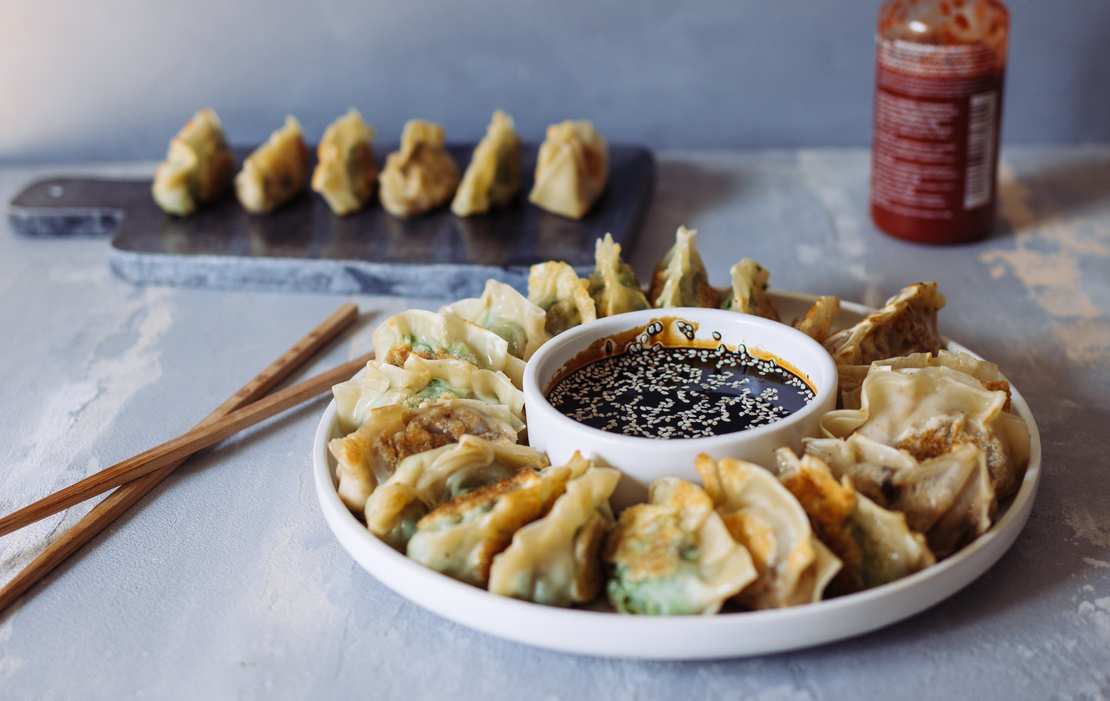 Do you know gyozas? These dumplings are like German "Maultaschen" and others and can be filled with endless variety. They are easier prepared than you'd think and with some exercise in folding these wrappers, you'll become a gyoza pro in no time. As often, we just want to make clear, that this is no "original" recipe, but simply the way we like gyozas the most.
The main attraction of this dish seems unimposing but is essential: the gyoza wrappers. You'll get them in every Asian supermarket where they are found in the frozen food selection. We can only recommend buying a few packages because once you have them at home, you can easily prep some leftover food into a filling and eat it like dumplings! What's your favorite dumpling filling? Let us know in the comments below!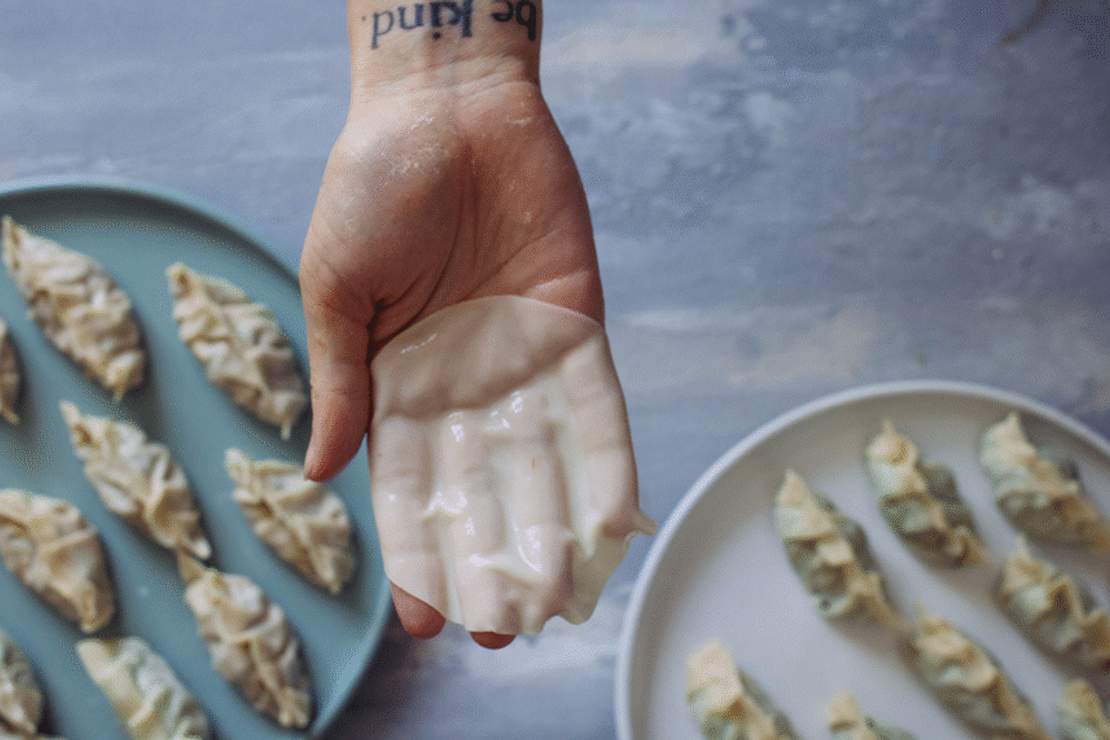 Vegan gyoza
approx. 30 dumplings
40 minutes
Ingredients
For edamame stuffing:
250 g (8 oz) edamame (peeled)
100 g (3.5 oz) fresh spinach
2 cloves garlic
1 shallot
1 piece of ginger (approx. thick as a thumb)
salt
pepper
oil for frying
For spicy stuffing:
200 g (7 oz) firm tofu
50 g (2 oz) dried Shiitake mushrooms
1 tsp Chinese five spice powder
1 tsp sriracha
1 tsp soy sauce
oil for frying
Also:
2 packages gyoza paper (approx. 40 pieces)
sesame oil for frying
for dipping sriracha, soy sauce, teriyaki sauce or sweet-sour sauce
Instructions
For edamame filling: Start by steaming edamame. You can do this in a saucepan or in a bamboo steamer. If you're not into peeling out beans today, you can also buy pre-peeled edamame beans at Asian supermarkets. Win! Peel and finely dice garlic, onion, and ginger. Heat oil in a frying pan and sear those three sweethearts for approx. 3 - 4 minutes until fragrant. Reduce heat, then add spinach and fry until it wilts. Remove from heat and let cool down slightly. Transfer to a bowl and press out remaining water from spinach to get a dry as possible filling. Add steamed edamame and smash with a hand blender or potato masher until combined. Season with salt and pepper to taste.

For spicy filling: Add shiitake mushrooms to a bowl and pour over the warm water. Let soak for approx 20 minutes, then drain and press out the remaining water. Finely chop soft shiitake mushrooms and crumble tofu with your hands. Heat oil in a frying pan and fry mushrooms and tofu for approx. 5 minutes. Season with salt, sriracha, soy sauce, and Chinese five spices powder.

Once the stuffings are prepared, it's time for some dumpling magic. Add approx. 1 tsp of filling on the middle of a gyoza paper. It works best if you damp your hands with water to keep gyoza paper moist. This way, the paper will stick together. Fold wrapper in half over the filling and create pleats to seal.

Yes, this seems like A LOT of work, but if you didn't turn crazy after folding all these dumplings, you can now heat up some sesame oil in a frying pan and fry gyozas a few seconds from each side. They can burn quickly, so keep an eye on them. Serve with a dip of your choice!