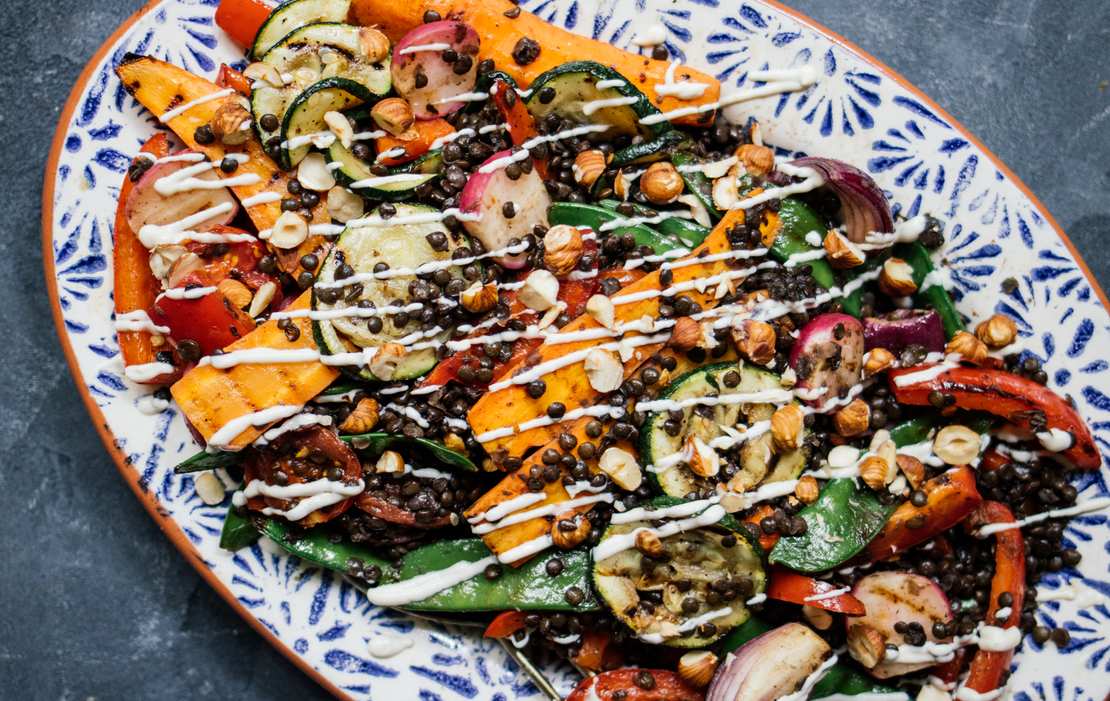 Grilled Vegetable Salad with Beluga Lentils and Sesame Dressing
Grilled vegetables are probably THE dish that comes to everyone's mind when thinking about a vegan BBQ. But it can become quite boring quite quickly when it's really just thrown on the grill. Instead, it needs to be either well seasoned, combined with a refreshing dip or served in an entirely new dish - how about this salad?
It combines grilled vegetables, cooked beluga lentils and a creamy tahini dressing (did I already mention enough HOW much I love tahini?).
Trust us, everybody will love this salad, and in case you're invited to friends, just prepare the lentils and the dressing and grill the vegetables once you're at your friend's place and then throw everything together into your bowl. If you don't have a grill (or if it rains), you can also fry the vegetables in a grill pan, a regular frying pan or even bake them in the oven.
Grilled vegetable salad with beluga lentils and sesame dressing
Ingredients
250 g (9 oz) beluga lentils
500 ml (2 cups) water
2 red onions
5 cherry tomatoes
1 red bell pepper
100 g (3.5 oz) sugar snap peas
1 red chard
10 radishes
2 carrots
0.5 zucchini
100 g (3.5 oz) hazelnuts
20 g (0.66 oz) parsley
olive oil
salt
pepper
For the dressing
250 g (1 cup) plant-based yogurt
3 tbsp tahini
0.5 tsp garlic powder
salt
pepper
Instructions
Add beluga lentils and water to a pot and bring to a boil. Reduce heat and cover with a lid. Let cook for approx. 20 - 25 minutes, until the lentils are soft and soaked in all water. Season lentils with salt afterward so they don't fall apart while cooking.

Peel and quarter onions, halve tomatoes and radishes, cut bell pepper in strikes, wash sugar snap peas if needed, halve carrots lengthwise and slice zucchini. Add all the chopped vegetables into a bowl and drizzle some olive oil on top. Season with salt and pepper. Once your grill is warm enough, grill vegetables directly on the cooking grate or use some lightly oiled grill tray. The vegetables should be still firm to the bite and nicely roasted.

Chop hazelnuts and parsley. Chop red chard. Add plant-based yogurt, tahini and garlic powder to a bowl and stir to combine for your dressing. Season with salt and pepper to taste.

Add grilled vegetable, cooked beluga lentils, chopped parsley, hazelnuts and chard to a big bowl and mix. Drizzle sesame dressing on top and eat up!