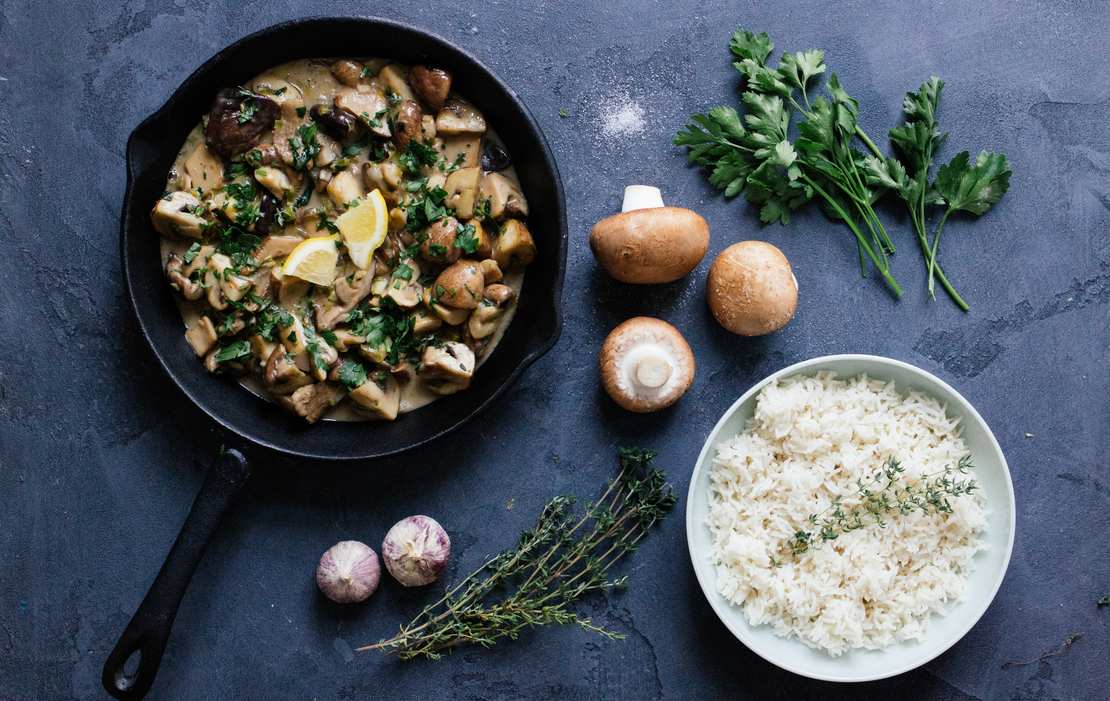 Creamy Mushroom Ragout with Rice
What is more beautiful than autumn? Walking around for hours, drinking thousand litres of tea and lying on the couch the whole sunday. We are definitely fans of this season! From september on we eat comfy food daily and since mushrooms are springing up everywhere, we enjoy them as often as we can. For your next dinner, we recommend this vegan creamy Mushroom Ragout with rice.
Creamy Mushroom Ragout with Rice
Ingredients
2 tbsp plantbased oil
1 garlic clove
1 onion
250 g (8.8 oz) mushrooms
100 g (3.5 oz) king oyster mushroom
100 g (3.5 oz) shiitake
1/4 leek
1-2 thyme
200 ml (0.8 cup) cream
200 ml (0.8 cup) veggie stock
50 ml (0.2 cup) white wine
salt, pepper, pinch of sugar, nutmeg
lemon juice
1/2 bunch of parsley
1 cup of basmati rice
Instructions
Add rice to a saucepan and cover with the double amount of cold salted water. Bring to a boil, then reduce the heat and let it simmer for approx. 20 minutes. The water should be completely soaked in by the rice. If it's not as soft as you'd like, then add some more water and simmer again until all liquid is soaked in.
Peel and finely dice onion and garlic clove. Wash leek and cut into rings.
Clean mushrooms using a damp cloth, remove stems and cut into half or quarter.
Heat a big pan with oil. Add mushrooms and brown for 3 minutes. Add leek, onion, garlic too and brown for another 2 minutes.
Deglaze with wine and veggie broth and let bubble for 5 minutes.
Now add plant-based cream and let bubble again.
Wash thyme and parsley and dab dry, put some aside as garnish. Chop parsley and remove thyme leaflets. Add both.
Season with salt, pepper, a pinch of sugar, some lemon juice and ground nutmeg. Serve with warm rice.