Baked Gnocchi with Brussels Sprouts and Plant-Based Chicken
I have to admit that despite my great love for fancy, hearty Christmas dinners à la dumplings with vegan goulash, I also always look forward to our "Lazy Christmas Dinner." These are, as the name suggests, super simple and quick Christmas dishes for those who don't have time or don't feel like standing in the kitchen for long. Still, they bring up all the flavors and feelings in me that I crave at this time of year. So far, we've come up with loaded tater tots and a stuffed puff pastry wreath – and this year, we're joined by baked gnocchi with Brussels sprouts, plant-based chicken and a creamy sauce with mugwort.
After all, gnocchi are nothing more than mini potato dumplings, right? But thanks to ready-made options, they are much faster to prepare. Since we incorporated a (quick) gravy in the lazy Christmas dinners of the last two years, I heavy-heartedly decided against it this year. But I am thrilled with today's super creamy sauce with vegan heavy cream and crème fraîche and have certainly not made it for the last time. And anyway – this recipe can be easily adjusted with seasonal vegetables so you can enjoy it all year round. Mugwort, however, screams Christmas to me, and I know it from many Christmas dinners with my family. It tastes tangy and tart and pleasantly bitter. You can find it as a bunch in the herb section (especially around Christmas) and otherwise dried in the spice section the rest of the year.
Our gnocchi are conveniently prepared in just one pan – for both frying and baking. That's possible thanks to our cast iron pan from STUR, which is suitable for all types of stoves and the oven. If you don't have a cast iron pan, you'll have to pan-fry everything first, then transfer it to a baking dish and bake it that way.
However, we recommend a cast iron pan not only for this recipe but for your kitchen in general. It may be a bit more expensive than some stainless steel or ceramic pans, but it's also a durable all-around talent that you can have great fun with for decades (my first own cast iron pan has been moving with me from kitchen to kitchen for twelve years now). Thanks to optimized processes, STUR's cast iron pans are even a bit lighter than others and, to be honest, look so beautiful that they could easily be decorative objects. Plus, they are made in Germany.
If you haven't tried cast iron pans before because you've heard something about a "patina" and are scared off by the process of "reseasoning," here are five tips for all newcomers.
1) So, what is this "patina"? Cast iron skillets have a natural protective layer that ensures nothing sticks to the pan. This protective layer is called patina, and it's created by what is called "seasoning." The patina is made of baked-on fat, which is vegetable oil rubbed onto the pan's surface and then heated in the oven. Don't worry – for one thing, STUR's cast iron skillets come to you already seasoned and thus ready for immediate use. On the other hand, seasoning can also be done at home in your oven. This is explained in the helpful brochure and a video course, which you will receive for free when ordering the skillet.
2) When you use your cast iron pan for the first time, you should use more oil than usual for the first few uses because this strengthens the patina. Best case, start with a few rounds of roasted vegetables rather than directly with too starchy or protein-heavy foods.
3) How to fry "correctly": A cast iron pan should always be preheated before adding any ingredients. Exceptionally moist foods, such as tofu, can be dusted with starch or flour to prevent them from sticking to the pan.
4) Acid attacks the patina of your cast iron pan. That doesn't mean you can never cook ingredients like tomatoes, lemon, or even a vegan white wine sauce in it, but it's best to do it sparingly or keep a close eye on your pan afterward. If you notice that the patina is worn-out, you can always reseason the pan and thus restore the non-stick coating.
5) How to clean after use: A cast iron skillet is, on the one hand, easier to clean, but, on the other hand, also a bit more unconventional than stainless steel pans and the like. It shouldn't be cleaned in the dishwasher but always by hand, but you don't even need dish soap for that as that would attack the patina. Instead, hot water, a sponge, or a brush will do. You can even just wipe out the pan with a kitchen towel for light residues. It doesn't matter if a bit of grease from the oil remains in the pan – this even strengthens the protective layer. So feel free to rub your skillet with a thin layer of vegetable oil and let it dry well. This way, you'll have a loyal pan friend for life!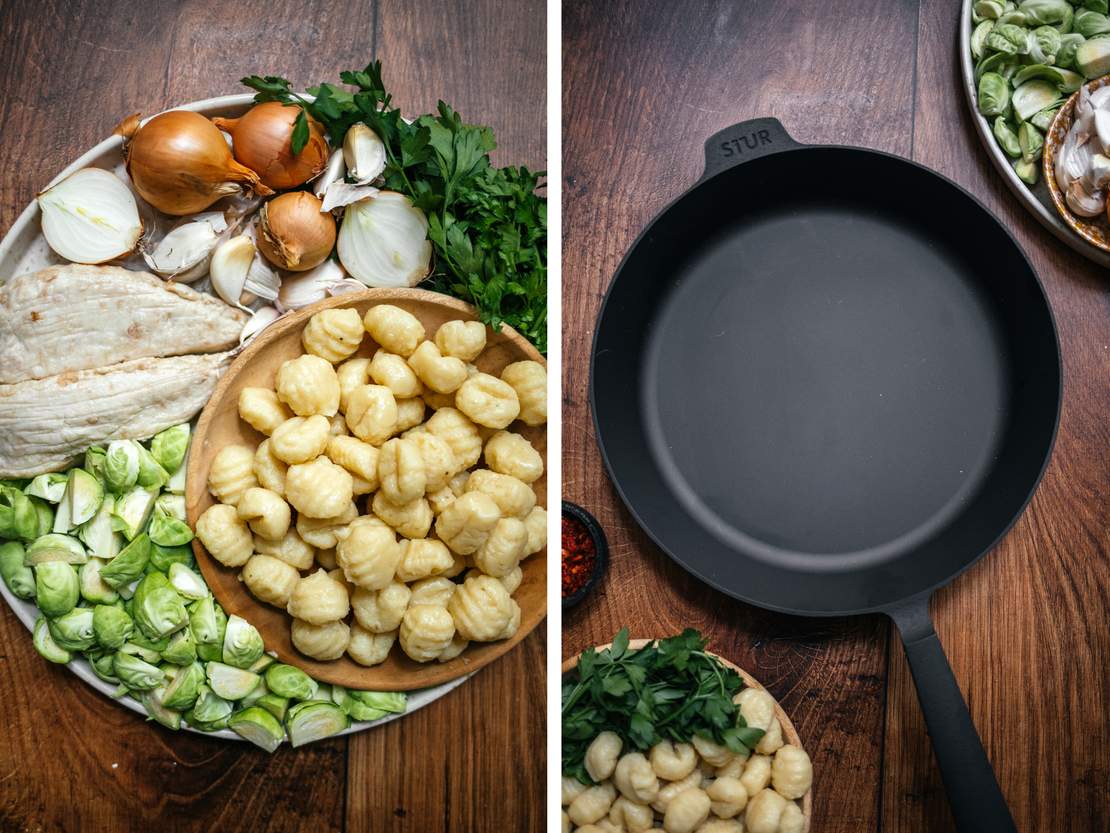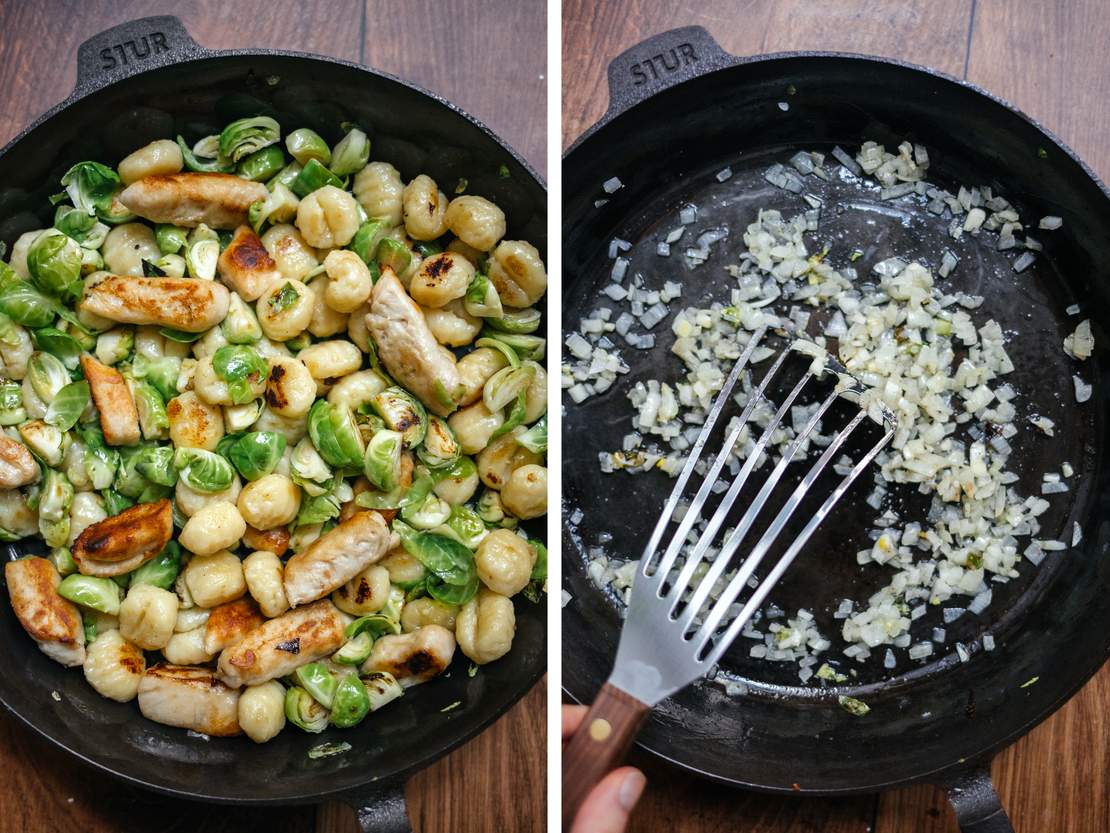 Baked Gnocchi with Brussels Sprouts and Plant-Based Filets
Ingredients
250 g (9 oz) Brussels sprouts
2 plant-based chicken breasts
2 onions
1 garlic clove
400 g (14 oz) vegan gnocchi
0.5 tsp chili flakes
2 tbsp vegan butter
2 tbsp flour
100 ml (0.5 cup) vegetable broth
250 ml (1 cup) plant-based heavy cream
100 g (3.5 oz) plant-based crème fraîche
100 g (3.5 oz) plant-based shredded cheese
1 tsp dried mugwort
3 tbsp dried cranberries
vegetable oil for frying
parsley for serving
salt
pepper
cinnamon
nutmeg
Instructions
Clean and quarter the Brussels sprouts and cut the plant-based chicken breasts into strips. Peel and finely dice onions and garlic.

Heat vegetable oil in a cast iron pan and fry the plant-based chicken breasts, Brussels sprouts, and vegan gnocchi for approx. 5 minutes until they're browned. Then remove from the pan and set aside.

Return the pan to the stove and melt the vegan butter. Next, sauté the diced onion, garlic and chili flakes until the onion is translucent. Then dust in flour and add vegetable broth and plant-based heavy cream. Bring everything to a boil once, then add plant-based crème fraîche, shredded cheese, dried mugwort and dried cranberries. Stir to combine and season the sauce with salt, pepper, some cinnamon and nutmeg to taste.

Preheat the oven to 220 °C/430 °F (upper heat). Return the gnocchi, plant-based chicken breasts, and Brussels sprouts to the pan and mix everything well. Then place the cast iron pan in the hot oven and bake briefly until the top of the gnocchi pan is browned.