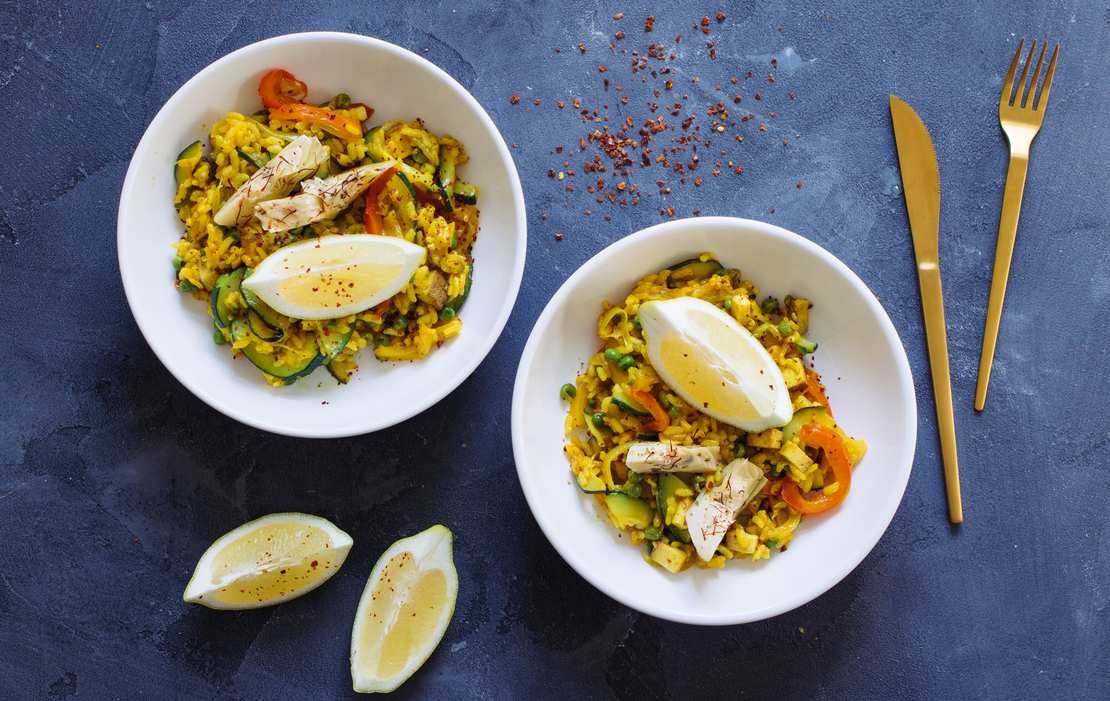 Spanish Paella with Artichokes
In Germany Paellas have not been able to stand up against Pizzas, Gyros and Gyozas. You really have to search for a good one, especially if you don't like chicken, mussels or snails. However, we appeal very strongly for more Paellas at home! It is surprisingly easy and so delicious. So here is our recipe for a vegan Paellas with veggies. You definitely have to try!
Spanish Paella with Artichokes
Ingredients
Paella
200 g (7 oz) short-grain rice
1 package smoked tofu
1 onions
2 garlic cloves
1 red bell pepper
1 yellow bell pepper
1 courgette
100 g (3.5 oz) frozen peas
1 can artichokes
1 jar black olives
white wine to deglaze
500 ml (2 cups) veggie stock
2 lemons
Spices
salt
pepper
0.5 tsp ground saffron (+ saffron threads)
1 tsp paprika
1 tsp turmeric
1 tsp chili flakes
Instructions
Peel onion and cut into strips. Peel and finely dice garlic cloves.
Rinse the peppers, cut into half and remove the stalk, seeds and white pith. Cut the flesh into strips.
Heat olive oil in a big, high pan and sauté onions and garlic over a medium heat. Add bell pepper strips after 2 minutes and let sauté. Now add first spices: paprika powder, chili flakes, ground saffron and turmeric. Let it sweat briefly.
Now deglaze with a white wine and let bubble for a minute.
Now add short-grain rice and veggie stock and let simmer for 20 minutes, thereby again and again stir around. If it is not thoroughly cooked and you have no more vegetable stock, add some more little by little until the short-grain rice is cooked. But be careful, at the end, there should no veggie stock be left (consistency should be dry, not like risotto).
In the meantime, chop smoked tofu and heat in a small pan with some oil. Quarter artichoke hearts, chop 6-7 olives and wash and chop courgette.
Add all the remaining ingredients if your short-grain rice is almost done.
Season again and garnish with some more olives, artichokes, quartered lemons and saffron threads.