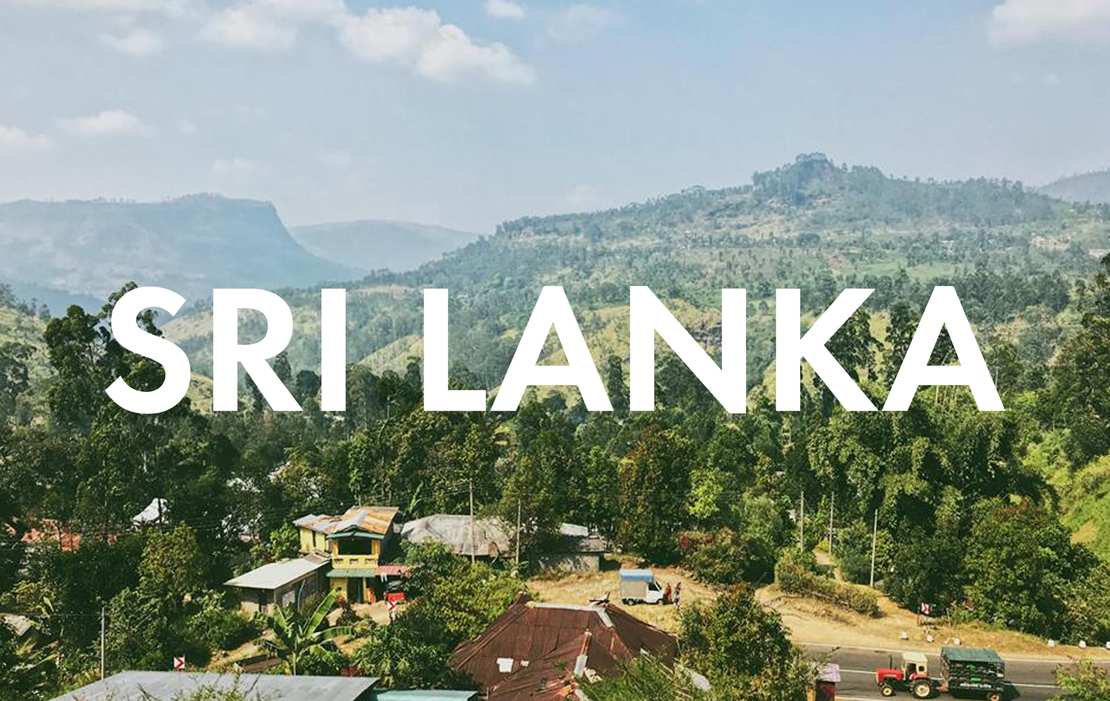 How to Eat Vegan in Sri Lanka: Our favorite restaurants
Z&J Traveling: Even when traveling, we spend most of our time eating and want to share this with you, too. You want to know where to eat vegan in Barcelona, Athens, and Copenhagen and what to not miss in New York City, Lisbon or Mallorca? Check out all of our travel guides here.
I guess I am not the only person who chooses holiday spots from the food there, right? (RIGHT?) Of course, I am also interested in other things to do in a country or a city, but I am always pretty early checking out what I could eat there. This is why I chose NOT to travel to Thailand this year but instead go to Sri Lanka. (If you've been to Thailand already, I would still love to hear how the vegan food situation is there). If you like Indian food (especially if it's a bit spicy), then you'll love Sri Lanka.
Besides, there are not that many tourists traveling there so far and sleeping, eating and traveling are still cheap. The landscape there is incredible – whether you like to climb mountains, go surfing or want to hang around the beach all day long (and get a sunburn even though you've been laying in the shadow all the time). You can quickly travel to several cities (go by train as often as you can!), but well, you're here to hear about the food.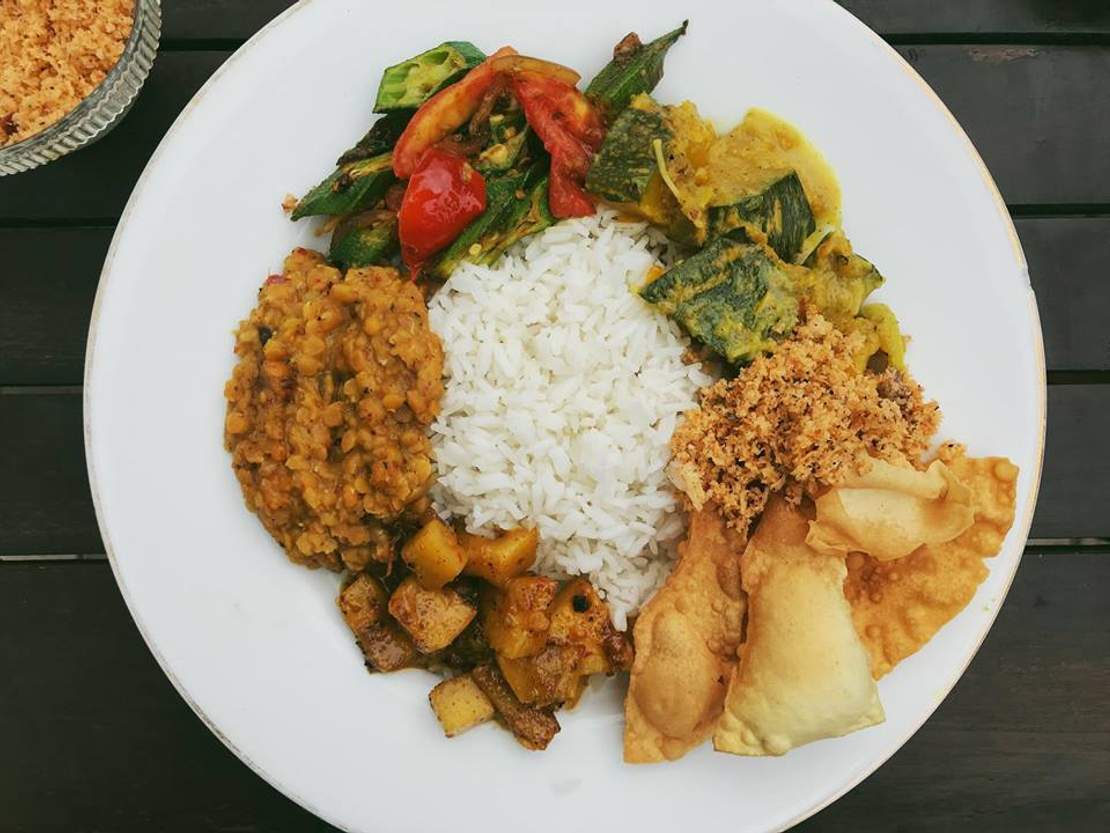 Rice and curry is something like Sri Lanka's national dish. You can get it in every restaurant (in different quality though). Besides fish and meat curries there are always plenty of vegetable curries to chose from – from potato, lentils, sweet potato, pumpkin to even pineapple curry. Ususally there are made with coconut milk and should be vegan, but rather ask about it if you're not sure. This was one of my favorite dishes on my holiday as it's cheap (I often paid not more that 1.50 Euro for it) and you'll not only get one so well-seasoned curry but up to three or five. During my stay I developed my own tactic to eat rice and curry in places where they also offer cooking classes and it always turned out to be a good idea.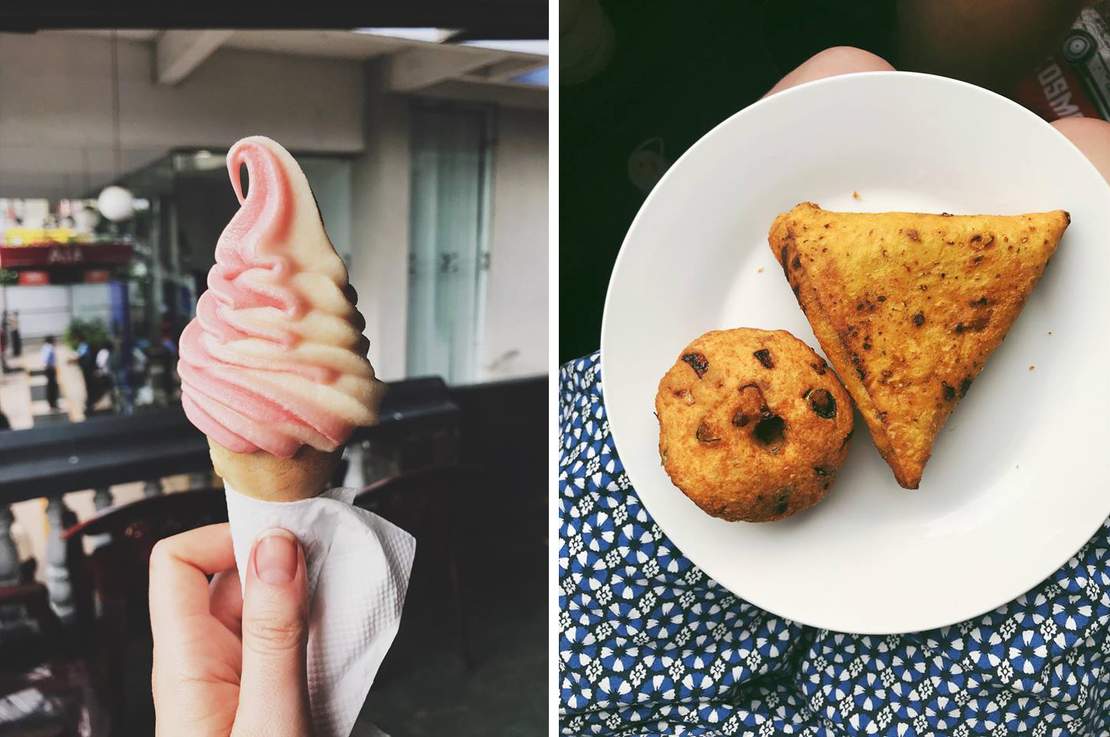 The Soya Center in Kandy awaits you with vegan soft serve (vanilla, strawberry and chocolate flavored) which is just the right thing to survive in the hot temperatures in Sri Lanka. It's no 'real' restaurant to sit it, but it has plenty of space on its terrace to sit and watch street life. You'll also find several savory vegan dishes here as wraps, shorteats and roti.
The Banana Chill in Kandy belongs to a young buddhist who told us that opening a bar would be too expensive and he was looking for good vegan cafés anyway so why not open one. Sweet guy. It offers several vegan sandwiches and huge smoothie bowls in fruits. When we were there, there wasn't even a proper menu but he more or less told us what he could prepare. Instead you'll find a small book on the table and he invites you to write feedback, wishes and recipe inspirations inside, so when you visit Banana Chill you'll find some Zucker&Jagdwurst recipes inside.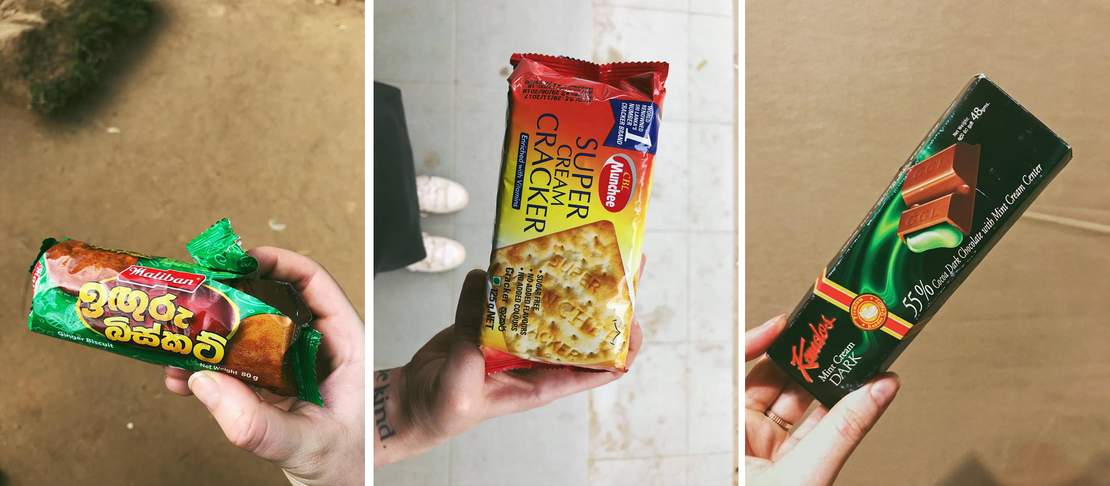 Of course you'll find plenty of fresh fruits and vegetables in any supermarket, I also often spotted soy milk. BUT besides that I'd like to recommend these three snacks I've found during my holiday. The cookies on the left are ginger flavored and it's no false promise and they were pretty tasty! Those crackers in the middle picture became my food for the journey that I always had with me and the chocolate with mint filling on the right side doesn't taste exactly like After Eight, but is still very good.
The Dewmini Roti Shop in Mirissa was not only recommend to me by friends but is also 'hyped' online. Maybe because it's the selfclaimed No. 1 roti shop or because you can also book a cooking class there? I can only say that I also recommend this place – there are a lot of vegan options of roti, my favorite was kottu roti a dish with finely chopped vegetables and roti. It might not look too fancy, but it tastes wonderful, especially combined with the spicy sauces it comes with.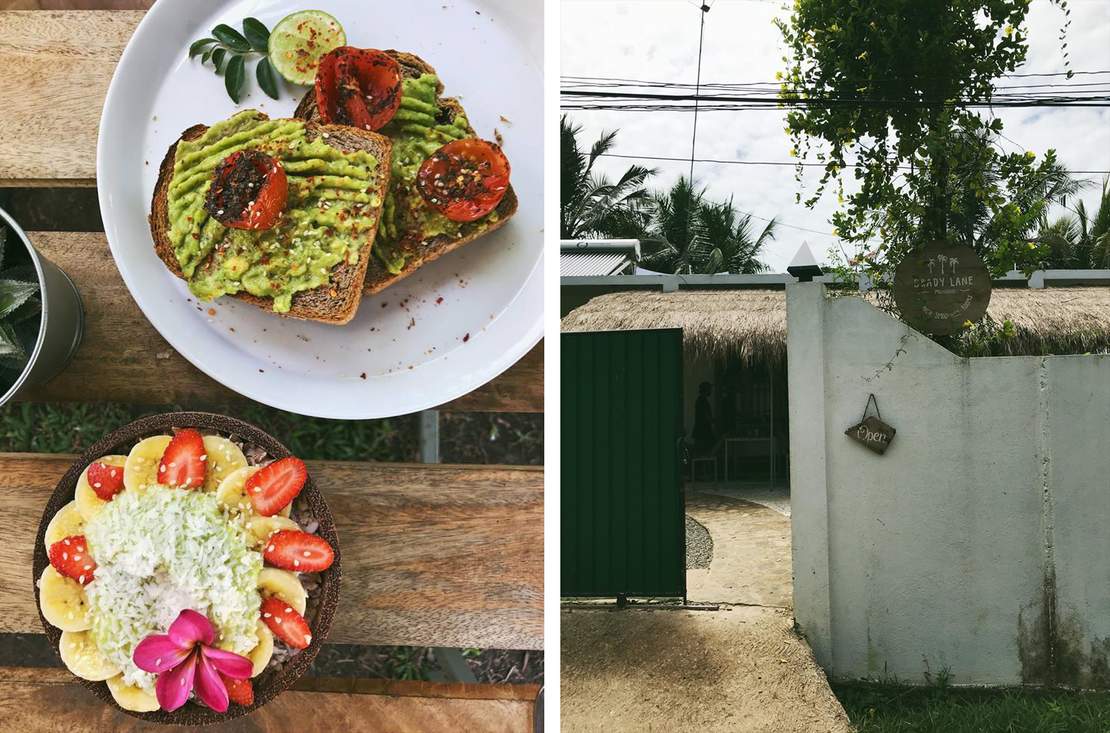 Located directly at the beach, Mirissa is a place that is especially popular with surfers, so you'll also find a lot of relaxed and healty cafés throughout the town. The café (and also a hostel) 'Shady Lane Mirissa' was recommended to me by a friend who said: "There I ate the first and only smoothie bowl ever that I liked" (Shout-out to Aida!) And she was right. Even though I often like smoothie bowls, this one was indeed tastier than the usual bowls you get because the smoothie is almost iced. In addition they also offer sandwiches with toppings of your choice.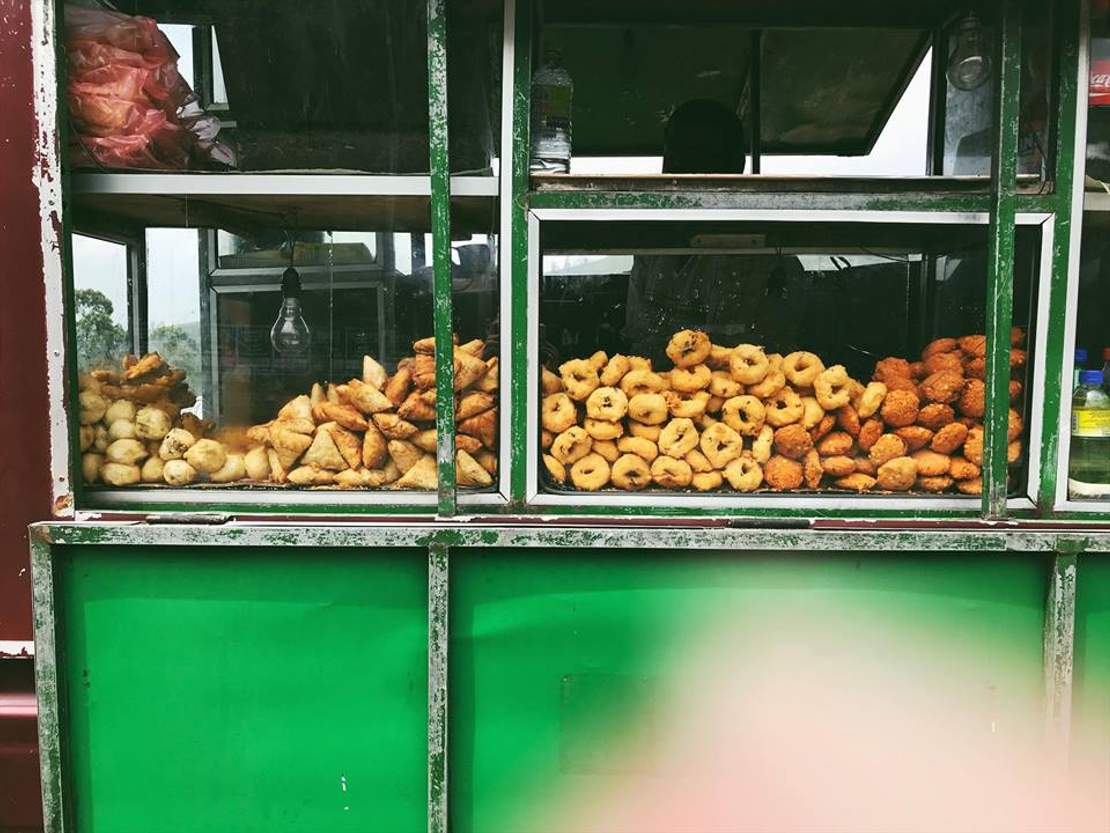 I would love to have these snacks called shorteats also in Germany. They cost almost nothing (we're talking about less than 1 Euro) and you'll get them almost everywhere even when you're on the train. These snacks are either fried, coated or deep fried an are very well spiced! Vadas are kind of small lentil donuts, Medu Vada are also some kind of deep fried donuts made out of urd beans and they also have samosa like dumplings with vegetable filling. They are just the perfect snack for your travels!
The next healthy spot waits in Mirissa too. Ahimsa means "nonviolence" which is of course a nice thing for a café. The female owner comes from Australia and serves vegan coffee (also an iced version), smoothies, homemade lemonade and several breakfast options as sandwiches, smoothie bowls, porridge and even scrambled tofu which I ate and which was pretty good for a change from the usual Sri Lankan breakfast.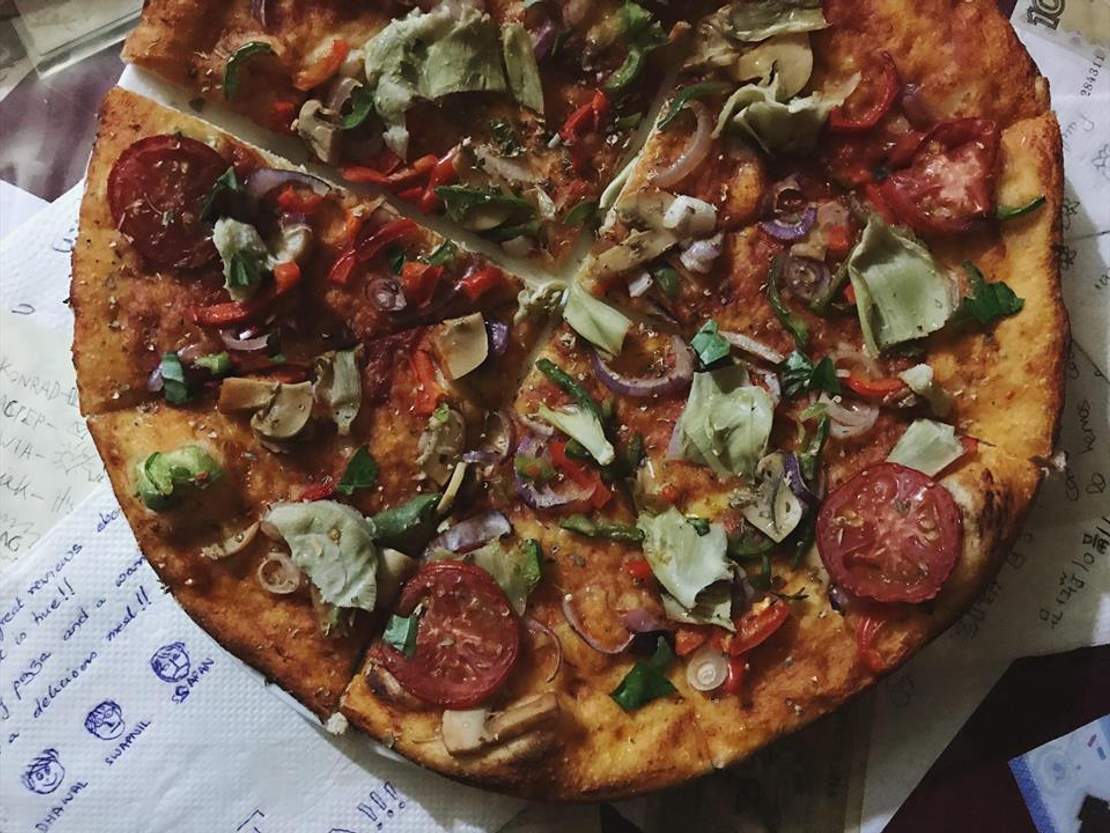 Let's be honest – as much as I loved to eat rice and curry, I was still in the mood for something else from time to time. We walked past this green house in Nuwara Eliya where we found a very nice pizzeria run by an older women. It's tiny and even a bit expensive (but we're still talking about Sri Lankan prices so you pay approx. 6 Euro for a pizza), but the pizza is quite large and topped with tons of veggies. There are no marked vegan options on the menu but you can simply counter-order the cheese. I can really recommend this place if you're looking for something else than rice and roti for dinner.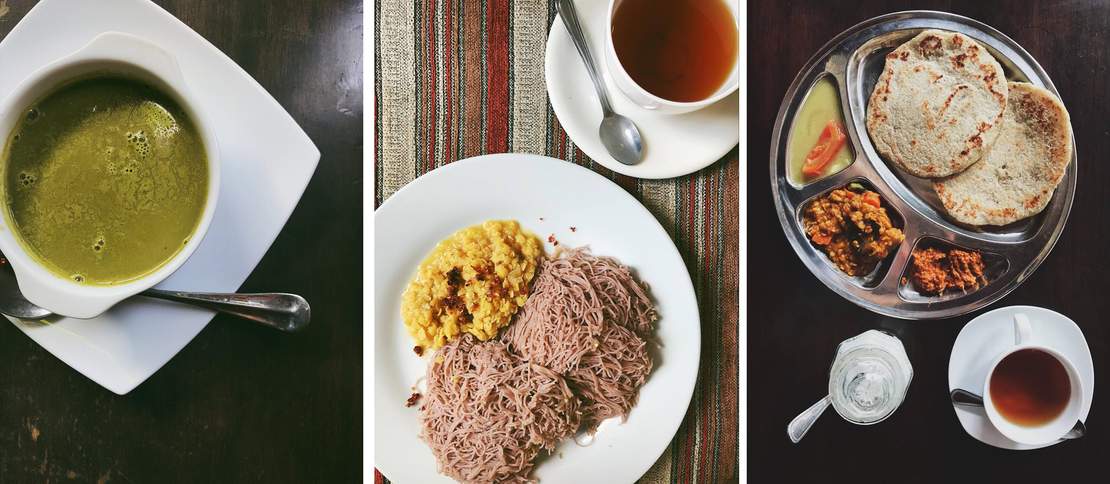 Since I always prefer savory breakfast I was in breakfast paradise in Sri Lanka because they also love to eat hearty from the morning to the evening. You'll still find rotis with sweet fillings and also "Western" breakfasts that is sweet, but why not go for some traditional dishes that are even often vegan?
On the left picture there's Kola Kenda which, to be honest, is maybe not even the best example because I probably wouldn't order it again. It first sounded like a mixture of a green smoothie and porridge but it turned out to be a, well, "lukewarm slobber". But since other people enjoyed it, maybe it's just not my taste and you'll like it. I way more enjoyed string hoppers, which are rice noodles served with various curries and coconut sambol (finely shredded, spicy coconut).
BUT my favorite (maybe even my favorite of all Sri Lankan dishes) are simple roti for breakfast. They are a mixture of sweet and savory, because they don't actually taste sweet but are also made with shredded coconut. Served with well-spiced curries, coconut sambol and spicy dips this was truly my kind of taste.
Ambaal's Vegetarian Hotel
It might not win a beauty competition but this is how traditional dishes look like and they taste SO good. At Ambaal's Vegetarian Hotel (which is not a hotel but a simple restaurant where most of all locals eat) you will get big portions of food for little money. I ordered string hoppers and got a whole plate of them with serveral curries and sauce that are served in buckets. They put them on your table, you take some of it and after a while they get passed on to the next table. Also you'll eat with your hands here which is a great experience. So if you're in Nuwara Eliya or any other city, try to find a spot like this!
One last note regarding cafés. I've read that it's quite easy to order coffee with coconut milk but I can't agree from my experience. Also when I've found coffee with coconut milk I remembered that I really don't like the taste of it (only exception when it's served cold). But there are coffee companies that offer soy milk in bigger cities. So if you're on the search for it, try out Starbeans Coffee for example. Though in general, I can only recommend to skip the coffee at all and just drink the fresh juices you can find everywhere.