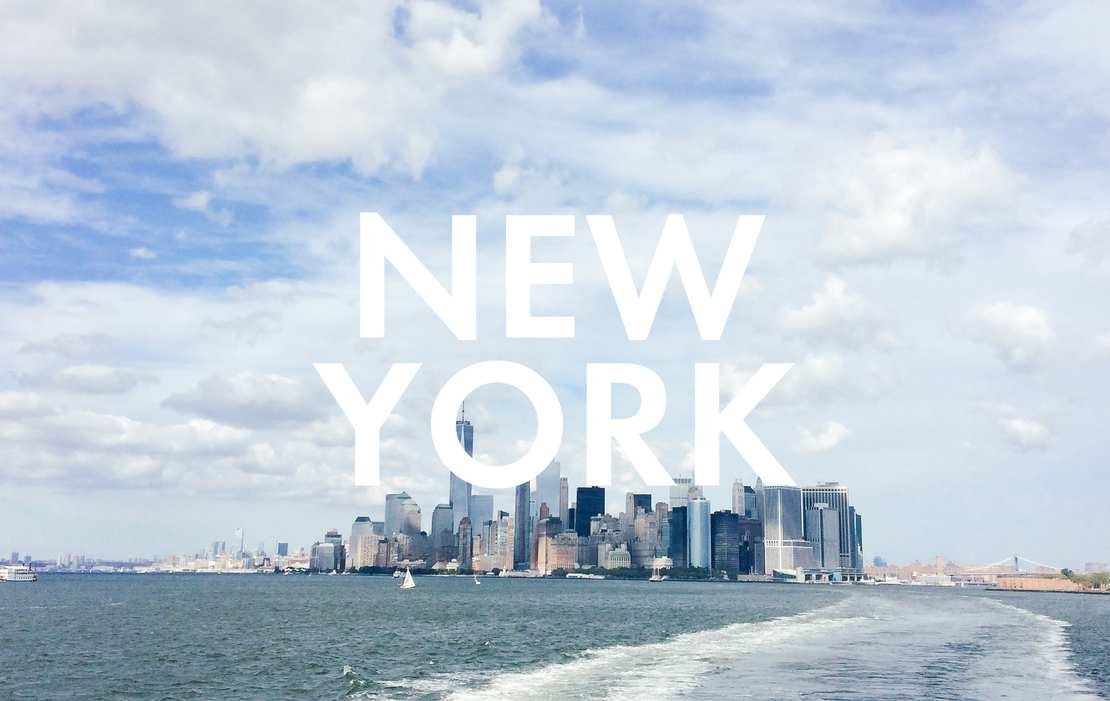 How to Eat Vegan in New York: Our favorite restaurants
Z&J Traveling: Even when traveling, we spend most of our time eating and want to share this with you, too. You want to know where to eat vegan in Barcelona, Athens, and Copenhagen and what to not miss in New York City, Lisbon or Mallorca? Check out all of our travel guides here.
New York. I've heard so much and read even more. I put together a list with about 40 food hot spots in the city, shortened it down to 15 spots but kept the rest as a "backup list". To sum it up: I was prepared very well but the moment I came to New York I realized that there's nothing that could prepare you for this city. Blah, blah, I know how annoying those New York love speeches can be, but they were right all the time: This is the best city. And you can find anything here.
This is why 3 recommendations wouldn't be enough. Even those 10 upcoming spots are not even coming close to what's waiting for you there. So we tried something different and I chose some food categories and tell you my highlights and some alternative spots.
Pizza … at Vinnie's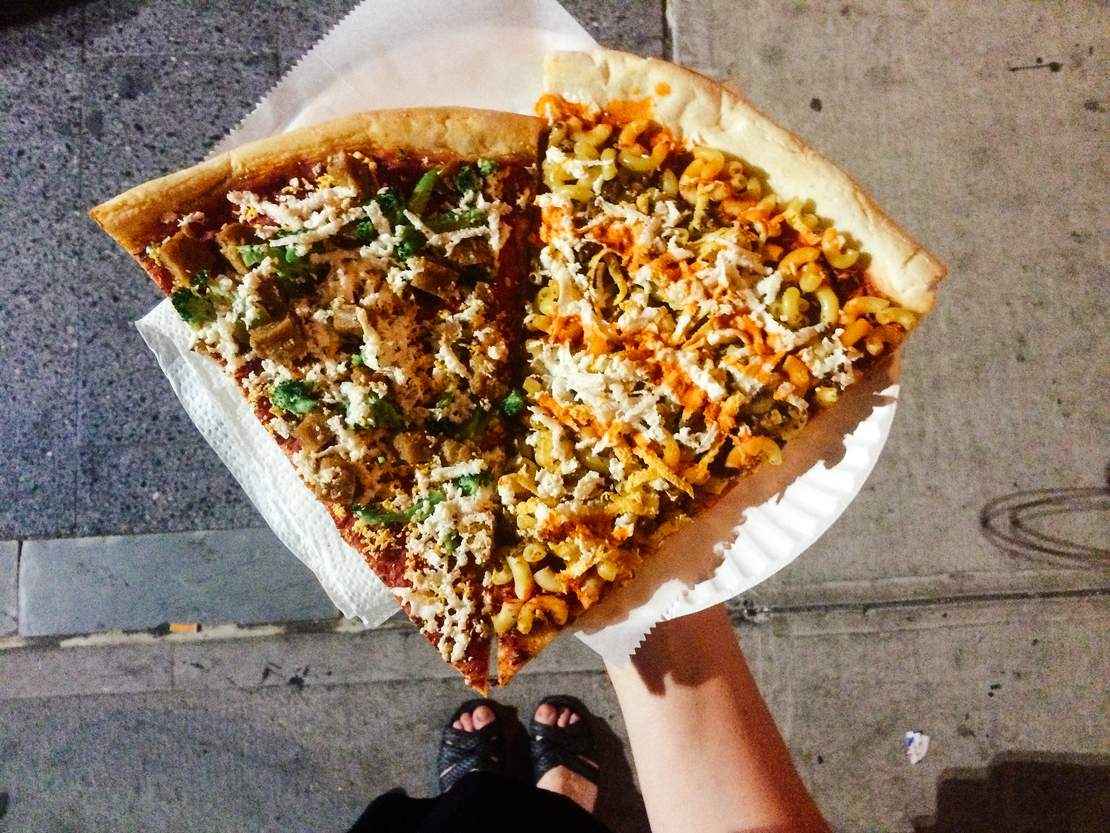 There is pizza everywhere in New York! From "2 slices for 1 dollar" and an Italian version in Little Italy up to common pizza food chains, you'll find what you like – Luckily also in a vegan version. You won't get just a "striped down" version where you have to leave out cheese and stuff, but can eat a vegan mac'n'cheese pizza or top your pizza with mountains of veggies, vegan cheese or vegan bacon. I just love the idea of buying slices because this way, you're able to try many different kinds of pizza or just eat one slice of pizza as a snack. We stopped by at Vinnies mostly. It's not only vegan, but offers a wide range of vegan pizzas, which are super crispy and supper topped and also a special pizza everyday.
Breakfast ... at by Chloe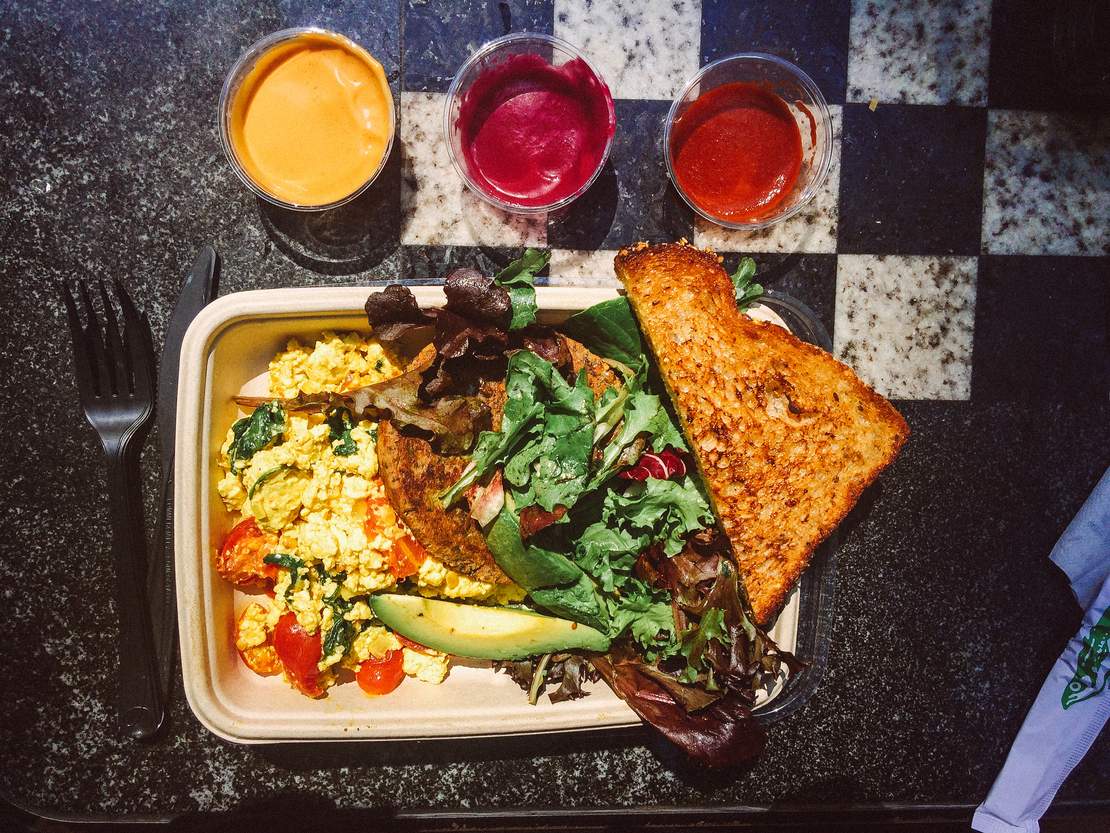 Who is saying now that New York can't be healthy? You'll get the feeling that every New Yorker is running a half marathon before breakfast, so of course there are plenty of healthy options – but they are quite expensive. You'll often find that the 'unhealthy' option will be much cheeper, which makes desicions hard (ooh, fat, fat, fat!), but when it comes to breakfast, i prefer the healthy option. At by Chloe you'll find scrambled tofu, expensive avocado, good breakfast and an incredible waiting line. I went there twice at it drove me nuts, because you'll almost loose the feeling of being hungry while waiting. But once you've made it, it's just tasty and worth the waiting.
Donuts … at Dun-Well Doughnuts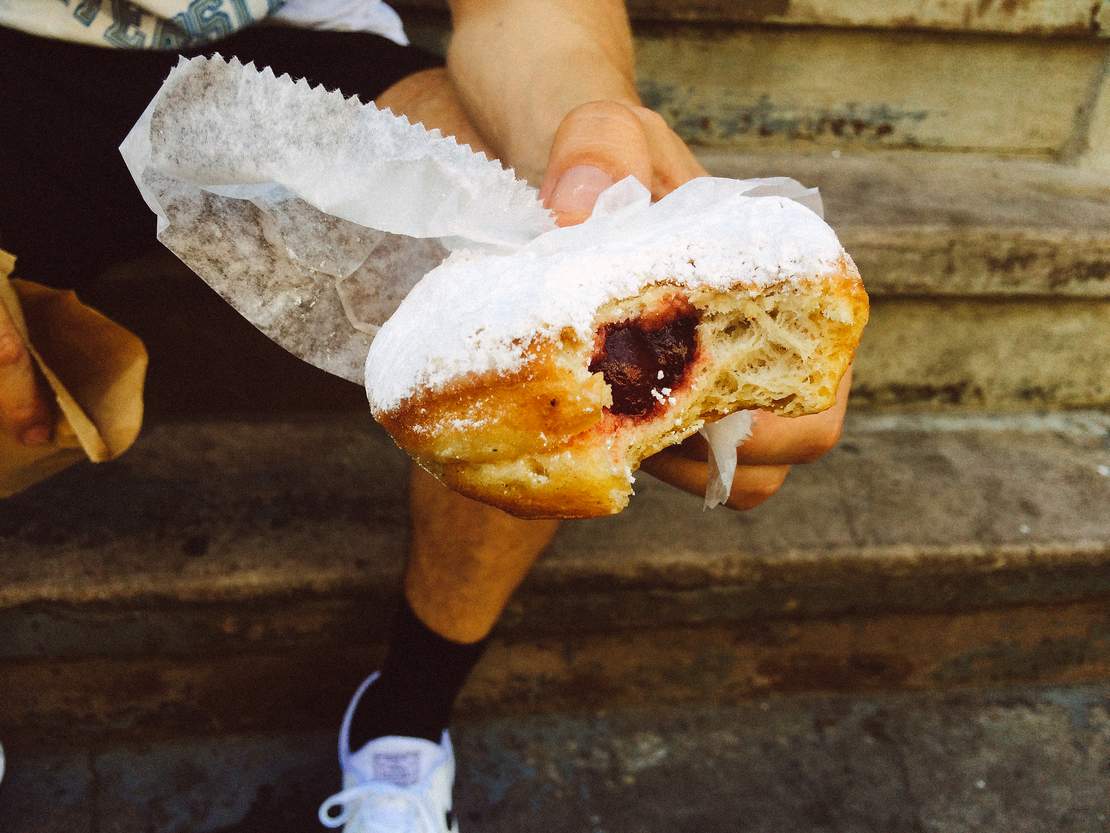 It's the Brammibal's of New York! More possible, it's vice versa, but since Brammibal's came first for me, they will always be my wegweiser. Dun-Well Doughnuts is an all vegan doughnuts spot with many sorts. To be honest, I have to say, that I like Brammibal's more, since their dough is a bit more fluffy. And I also my favorite donut of the holidays at The Cinnamon Snail, hups. BUT still: Dun-Well Doughnuts is the donut place to be when you're in New York. I can only recommend the jelly filled one, which tasted like pfannkuchen , whooo!
Salad to go … at Whole Foods
Dear Whole Foods, will you marry me? I was in love the very moment I entered the first store. There are plenty of choices for everything! But I won't say too much, because I am working on a special report on Whole Foods right now, but what I can recommend right now is their "salad bar". In contrast to Germany when all you get at a "salad bar" are tons of 'fresh' veggies and schwabbelsalat, you'll find salad paradise there. Fresh salad is just the base, but you'll also get curry, edamame, pasta, soy meat, ten different dressings and hundreds of toppings. Just put everything together as you like but don't forget that you'll pay by weight. I learned the hard way.
Mac'n'Cheese … at S'MAC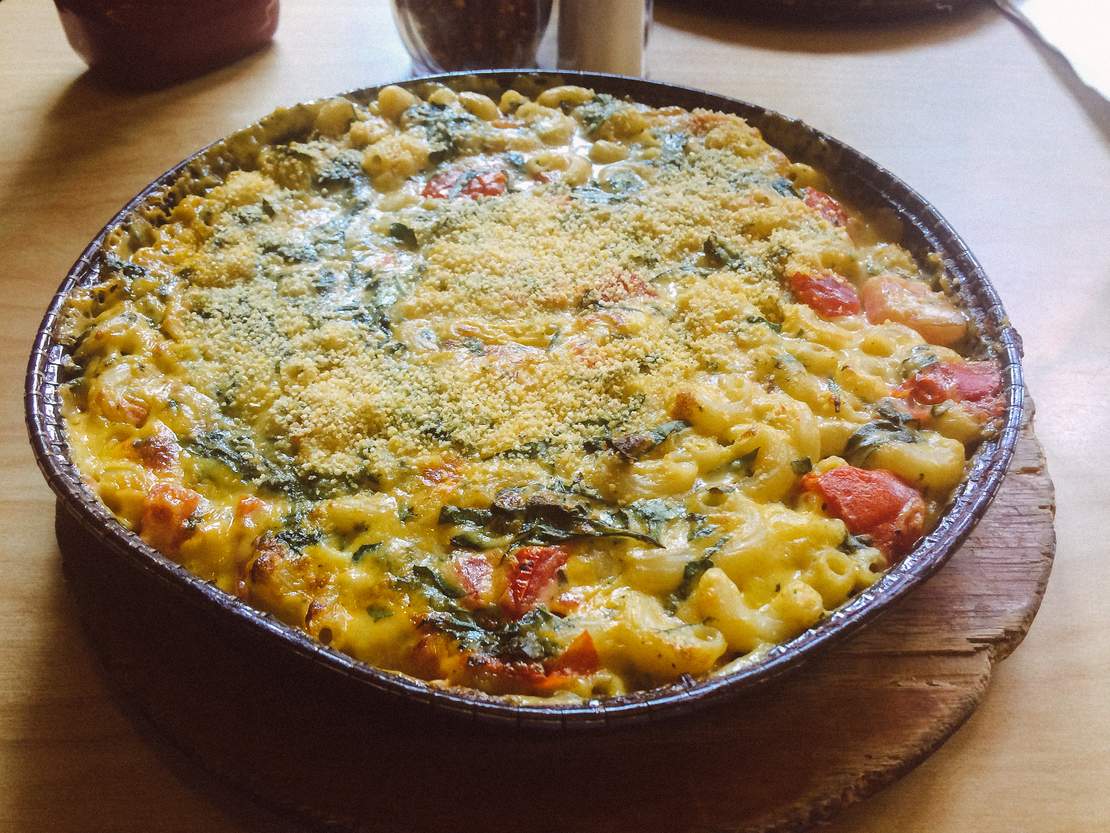 Is this something like a geheimtipp? At least S'MAC is not what you'd expect at first when thinking about a New York all mac'n'cheese diner where vegan options are no problem at all. You'll end on an orange-coloured plastic chair surrounded in a family business erleben a family fight. The daugher is running out outraged, the aunt is pissed and the sister is trying to bring everyone back together. And I am in the middle of this, sitting on the table and still enjoying a delicious mac'n'cheese dish.
Burger … at Momofuku Nishi
This was it: The highlight of my planned food trip throughout New York. Momofuku Nishi is one of several restaurants run by food superstar David Chang and is serving the Impossible Burger since June 2016 – with a meatlike patty by Impossible Foods. This is nothing for people who do not like or even understand how vegans can bei nto meatlike food – even if there's no animal in it, because this patty is bloody! Aroma, texture and everything about it is simply amazing and close to real meat – you can't tell the difference, it's crazy! It's made out of wheat, potatoes, coconut oil and heme and I was in love once more. The only thing that could be critisised is that the burger itself is no special – but who cares anyhow, because you'll be hypnototized by the vegan patty. Better check this out when they are opening, because they only have a limited number of pattys for everyday.
EVERYTHING … at Champs Diner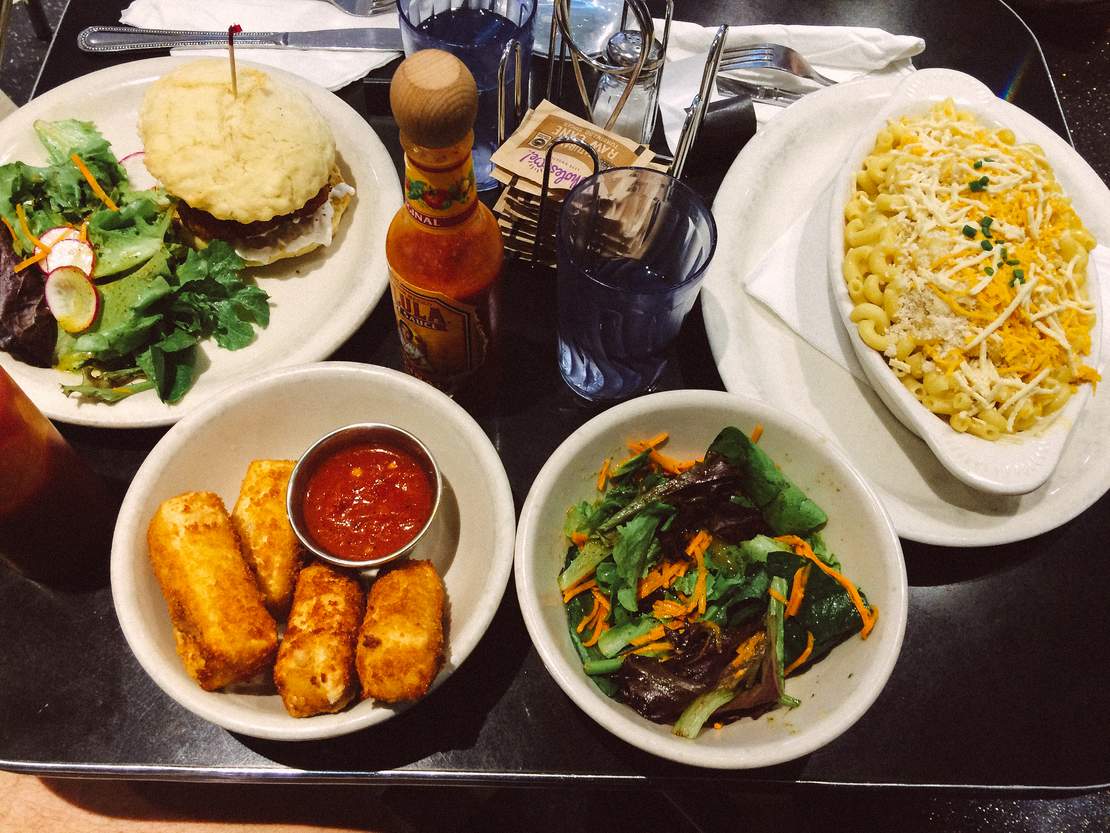 This way my real food highlight of New York: Champs Diner. There's simply no category for this diner, because there is everything. E-ver-y-thing! And it's all vegan! You'll get milkshakes, salad, classic dishes but also special highlights as vegan chicken and waffles, pancakes with mac'n'cheese or a garbage plate. I will have to let this diner flown into Berlin. The very best thing I've eaten there where vegan mozzarella sticks. Unbelievable! What are we doing wrong in Europe? Fäden! This cheese really melted and fäden ziehen. Uffs! I will get on track of this and try to re-do those mozzarella sticks. And until then maybe they could regulary send some of them over?
Bagel … at The Bagel Store
Bagels are the easiest vegan breakfast you'll get in New York, because there are bagel stores at every corner. And even better: They all offer tofu spreads. And again, New York beats them all, because this tofu spread is amazingly fluffy and creamy (I will try to re-do a similar recipe!). There are tons of different bagels (I tried sesame, poppy seeds and pumpernickel) and tons of different toppings to choose from – either choose a premade combination or decide for yourself. It was one of the basics, but tofu spread with scallion was my favorite. Alternatively there were also tofu spread with dried tomatoes, veggie or even salmon, because here in New York – not only vegans seem to like tofu.
Sushi … bei Beyond Sushi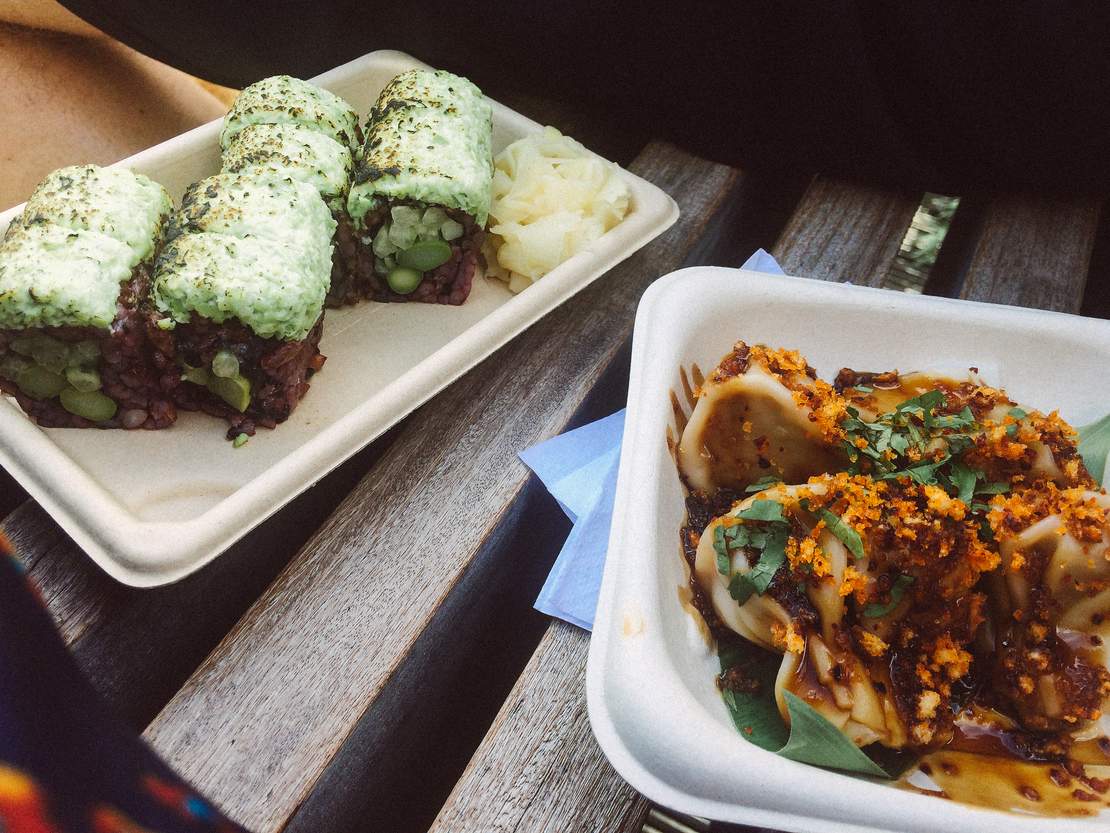 I ate twice at Beyond Sushi because this was truly one of the best sushi dishes I've ever eaten. You'll know the common choices of sushi, eating maki and stuff. And I'm happy with it, but if you get the chance to eat sushi with wild rice, with asparagus in it and topped with edamame cream, you'll have to be just delighted! And come back later to eat another great combination. They also serve dumplings and summer rolls big enough to be full after eating only 2 of them. Maybe it's possible for them to liefern to Germany somehow?
Icecream … at Chloe's Soft Serve
The sweet ending. At Chloe Soft Serve you'll get icecream made out of fruits, water and some sugar. It's still creamy and they offer various sorts after seasons, e.g. mango, banana, blueberry or even pumpkin. This is the base for your icecream – now you can top it with whatever you like – but be careful. Not all toppings are vegan, so better ask the employer before ordering.