Tasty Ten: Vegan & Vietnamese Restaurants in Berlin
In our series "Berlin Guide" we share our favorite snack bars, restaurants or cafés with you. We reveal where to get the best vegan donuts in town, which Vietnamese tapas restaurant you should visit and where you'll catch us eating vegan pizza. Here are all our Berlin recommendations.
Do you remember Berlin's burger hype 2014? It felt like every week a new burger hotspot opened somewhere in the city, "Burgers&Hip Hop" became THE event to go to Saturdays and the only questions was: What on earth can make this hype stop?
Four years later "Burgers&Hip Hop" is not too crowded anymore (at least it wasn't when we were there the last time) and we finally have the answer to the question: It's Vietnamese food! For almost a year now, you can actually observe the same phenomenon and already it feels like Berlin will soon burst with good Vietnamese restaurants.
Although we heard from several friends that it's quite complicated to eat vegan on a holiday trip to Vietnam, Berlin Vietnamese restaurants are always a safe option to get delicious vegan food.
That's why it was time to tell you our (current) 10 favorite Vietnamese restaurants!. If you have another tip, we'd be more that happy if you share it in the comments below.
How is it even possible that we still don't have a post for our beloved SOY in our Berlin Guide? It's not only one of our most favorite Vietnamese restaurant but one of our whole city's favorite! There is no place else that Julia ate lunch more often and felt deeply in love with M2 (that was the number on the lunch menu). Bun Sa Ot is a rice noodle salad with grilled tofu, seitan, lemongrass, chili and fried onions. And if we say "deeply in love", we mean it - she even made up her own recipe of this dish for the blog to eat it whenever and wherever she wants.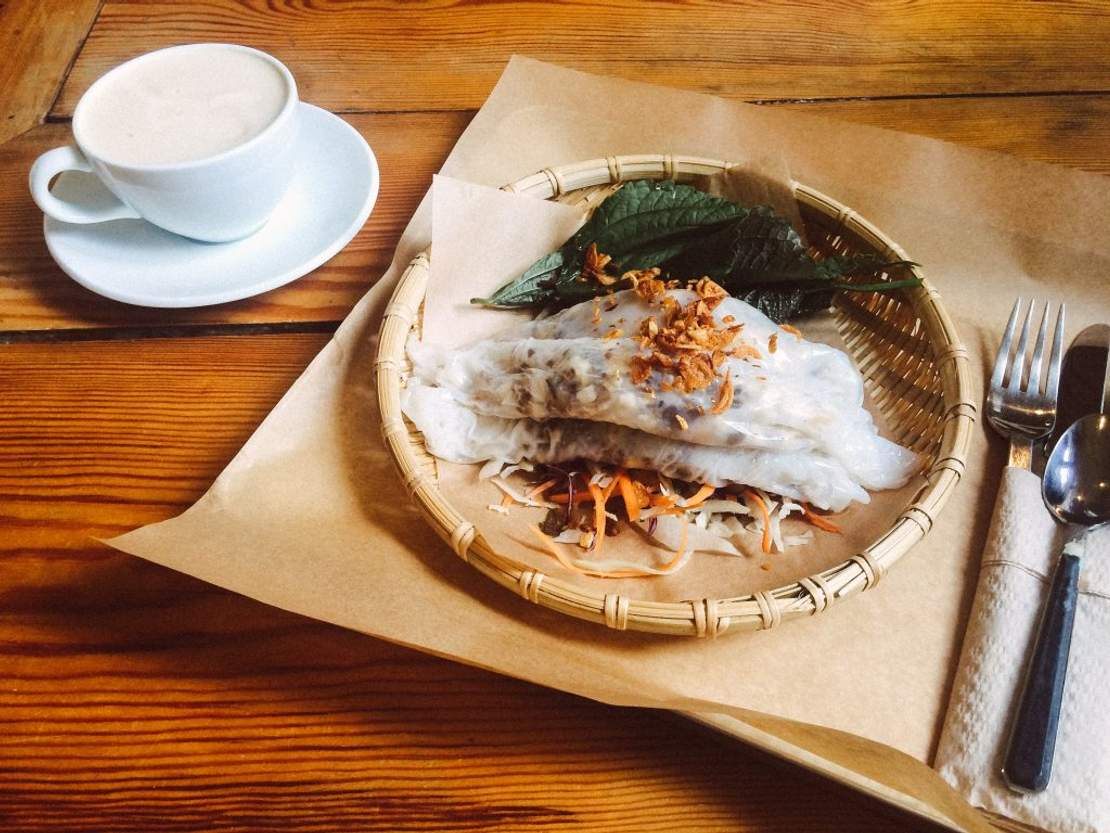 Time for Vietnamese breakfast! Maison Han is a combination of a very good coffee place and a restaurant-café. Unfortunately, their basic breakfasts are not vegan (at least when we were there the last time), but they do have a fantastic vegan Bánh mì sandwich (and Julia always goes for that), stuffed rice crêpes and tapioca-banana pudding that could be compared to rice pudding, but then is also something totally different. Julia HATES (!) rice pudding but she liked this tapioca version. Read more about it in our Berlin Guide post here.
We've actually never been to H&D Chay, but still it made it to our favorites list. How so? Well, the answer is: delivery serve! Julia probably hasn't been ordering lunch more often than at H&D Chay. We especially recommend you to order their meat substitutes like vegan duck or chicken. They taste really good, have a great texture and convinced all our meat-eater friends so far.
There's no "Berlin standard menu" in this Vietnamese restaurant, yay! Don't get us wrong, we also love the classic Vietnamese dishes in Berlin, but it's really refreshing so explore their kitchen in a new, modern way. So go there adn try their cotton candy as dessert. Read more about it in our Berlin Guide post here.
Sora in Friedrichshain is quite a classic Vietnamese restaurant (talking Berlin-Vietnamese restaurants). Their menu could be the same as at SOY to 90% but then there are a few specials like their Vietnamese bibimbap. Their dumpling soup is also a very good choice! All dishes can be served vegan, but most of them actually already are vegan. On top, the staff is really sweet and caring and the restaurant is a cozy place to be - so it's always a good idea to come here.
Fried goba root, caramelized lemongrass wasabi soysauce, chocolate tempura dough: At RYONG, everything is homemade – from noodles to lemonade. We were totally delighted, because the food is so good that we raved over it at the office still on the next day. So better try it out yourselves, we warned you! Read more about it in our Berlin Guide post here.
1990 Vegan Living is one of our favorite vietnamese restaurants in Berlin. They serve authentic, vietnamese food, as in 1990. At this time meat wasn't very popular in Vietnam, so it was quite common to eat vegetarian and vegan dishes. Try as many small bowls as you can eat and their homemade lemonades. Read more about it in our Berlin Guide post here.
Mivadu is very close to Rosenthaler Platz and the perfect location for a quick lunch date. Besides the classics such as currys, summer rolls & Co. you can also get and a vegan version of flying noodles. They are actually not that easy to eat (or mabye we were just too stupid to do so...), but delicious. What we recommend the most is their rice noodle salad with soy meat, though. Very, very tasty!
Chay Umi is near Schönhauser Allee and knows how to serve good drinks and crispy seitan. We really love the location and try to visit regulary! There are two dishes you really should try: crispy, vegan wontons and stuffed bun bao. So make sure to try a lot of their starters. Read more about it in our Berlin Guide post here.
Quà Phê is a great place to eat lunch when you're in Berlin Mitte. Ai WeiWei would agree, because he already ate here when he was in Berlin. The place is really cozy and the food is good! Vegan options feature sticky rice with mung beans and herb-marinated tofu, red sweet sticky rice cake and a tomato-tamarind soup. The only downer: So far there's no vegan option for their Banh Baos.