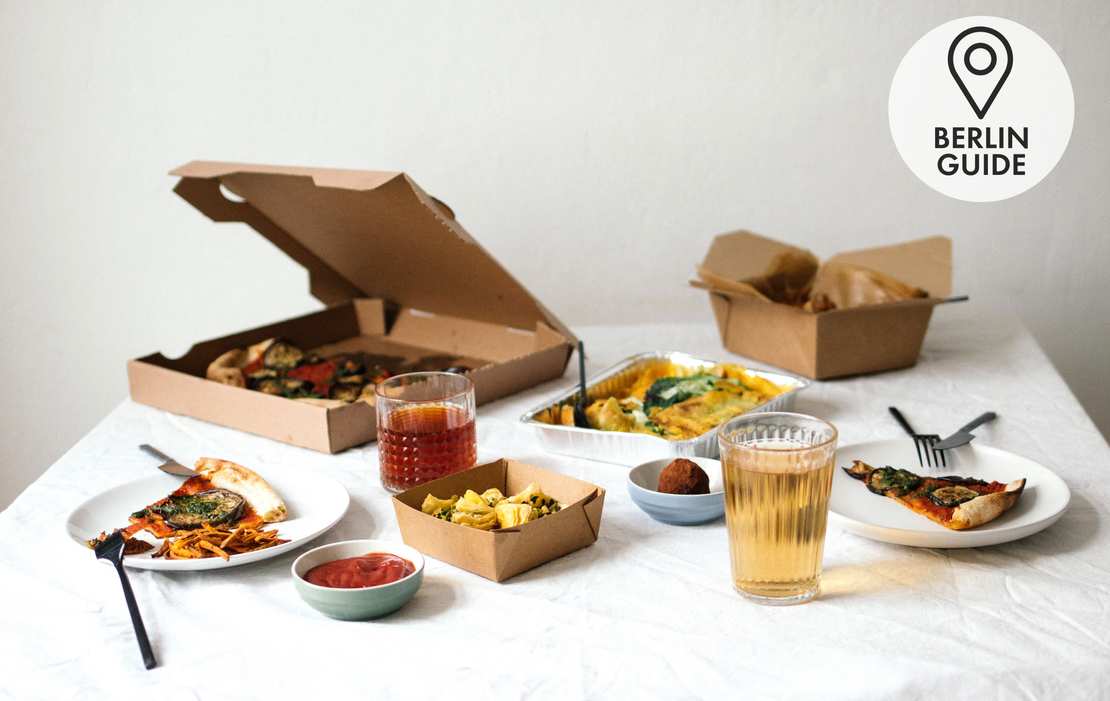 Vegan Food Delivery in Berlin
In our series "Berlin Guide" we share our favorite snack bars, restaurants or cafés with you. We reveal where to get the best vegan donuts in town, which Vietnamese tapas restaurant you should visit and where you'll catch us eating vegan pizza. Here are all our Berlin recommendations.
In Berlin, we are always surrounded by good food: burger, ramen, and pizza are available on every corner. And even if we love to cook fresh food, we also like to test new vegan restaurants in Berlin and to get inspired with new flavors, dishes, and concepts. As often as possible we try to have meetings in restaurants instead of our own homes. Especially after a long day of work in the kitchen, we can't wait to sit in front of a menu card and to choose the food we would love to eat now. So today we introduce to you ten restaurants in Berlin to visit or to order food at home.
We are happy "Deliveroo" supported us with this article. While starting the research, we were surprised by the huge amount of vegan restaurants in their App. We even discovered restaurants we've never heard of before, oh yes! So together with "Deliveroo" we created a list of restaurants, offering delicious vegan food.
By the way: While ordering food online, there is always a small text box for notes. You can add "Please avoid trash as much as possible." It works superb! Only the necessary packaging and nearly no plastic.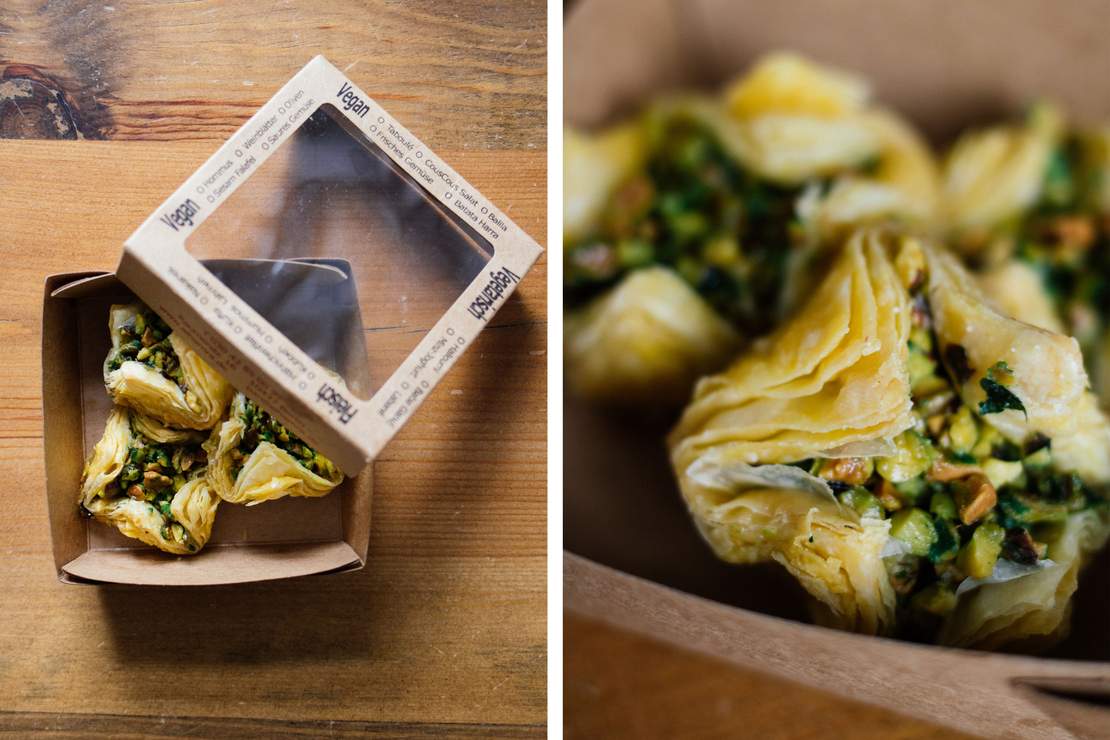 Taboulé, hummus, and falafel: we don't cook oriental food very often. So we are super excited every time we dip crispy falafel balls into warm hummus. Oh yes! The restaurant "Al Hamra" offers a wide range of vegan dishes like salads, wraps, and antipasti. Are you ready for a dessert? Go for one or two baklawa!
"Anh Dao" offers a vegan, Indochine cuisine and is located at Danziger Straße in Prenzlauer Berg. Discover classy dishes like a glass noodle salad, curries and gyozas and some fancy dishes like vegan bibimbap, pho soups or rainbow sushi. There are a lot of reasons to order food again, cause they don't cook with glutamate or artificial coloring. We tried the starter "Banh Xeo," a traditional Vietnamese pancake filled with seitan, salad, herbs, roasted onions and a light dressing. Delicious!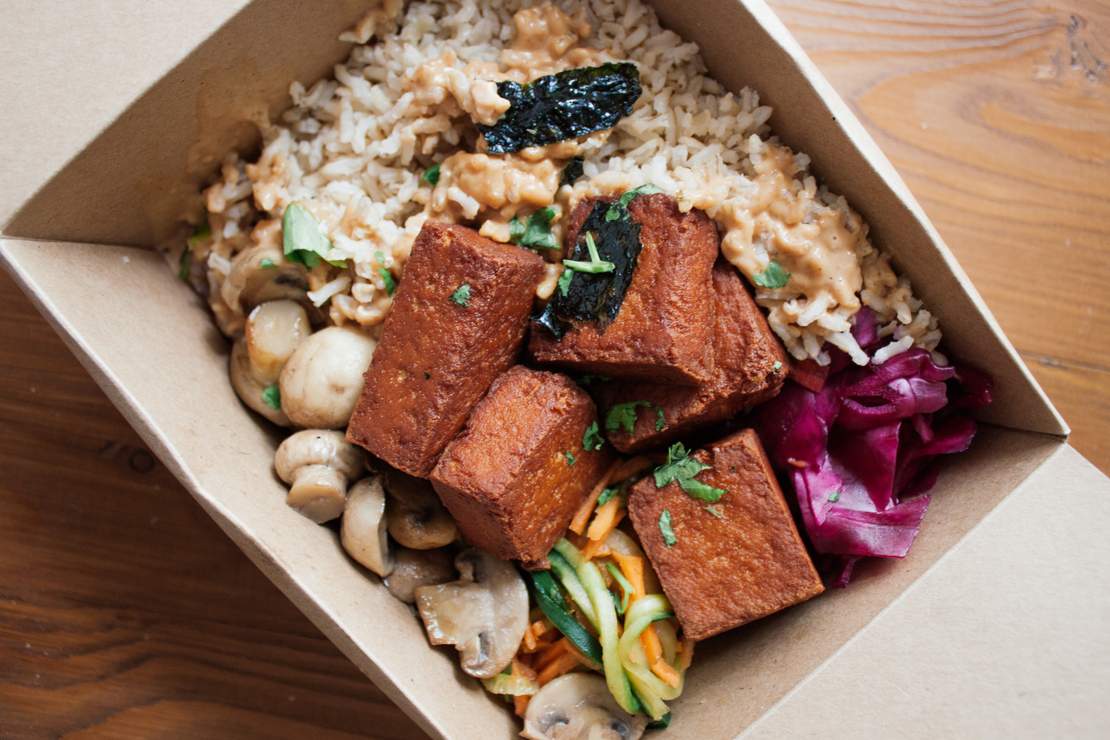 If you are more into wraps and bowls, check out the menu card of "Holy Flat." We ordered the "Coco Bowl" filled with coconut rice, red cabbage, marinated tofu, roasted mushrooms and Thai style carrots and cucumbers topped with peanut dressing. Finally, a restaurant that understands how to prepare tofu. So crisp and full of flavors! Their bowls are quite filling, so don't be afraid that it couldn't be enough. Besides their bowls, they also offer their typical flats (wraps), also filled with fresh ingredients.
We are big fans of "Lia's Kitchen." Meanwhile, we tried all their dishes from the menu card and didn't found one single dish we didn't like. Our favorites: "Greek Salad" with homemade almond feta, "Green Cleanser" shake with arugula and spinach and the "Smokey BBQ Mushroom Burger." Unfortunately, their shop at Kollwitzstraße in Prenzlauer Berg is very small, so it's definitely a good idea to order food (in the summertime they have some more benches and tables in front of their store).
When it comes to food delivery, we definitely have to talk about pizza. At "Pizzare" you can fulfill your wildest vegan pizza dreams! They not only produce a homemade pizza cheese, but they also offer mozzarella, cheddar cheese, and ham! And if you are not into pizza (say whaaat?) try their vegan lasagne!
The Backbord Vegan has anchored in Kreuzberg (it's their pun, not ours, so we don't want to steal credits for it). We like to board their ship though because they serve vegan food only and call it "Vloisch" (instead of the German word "Fleisch"). Get some vegan currywurst, shashlik, cellery cutlets, gryos and cheeseburger. Want some sides? Then order fries, croquettes (we LOVE them!) and some fresh sauces as vegan aioli, tzatziki, kebap sauce and yogurt-mint sauce. Arrrr, you might already notice that it will take us a lot more orders to try out all combinations possible.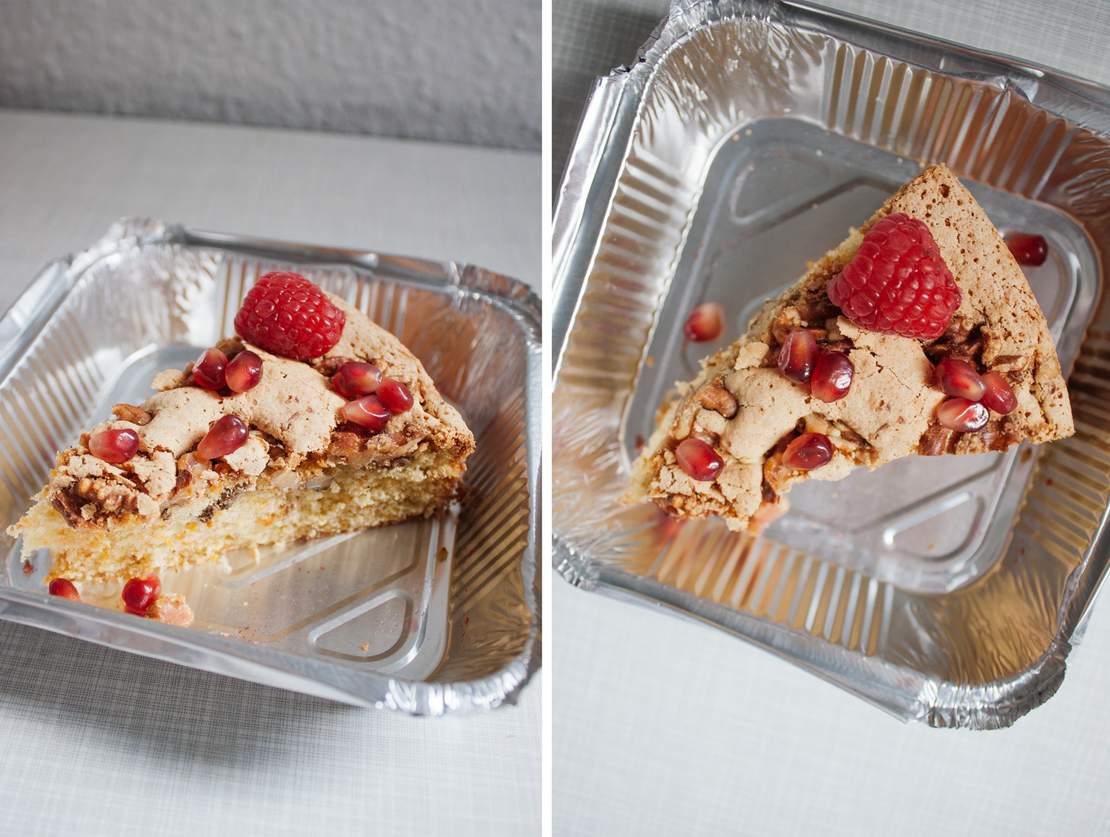 If we think about "Backboard Vegan" as the hearty, honest takeaway in this list, then now it's time for fine dining and a culinary journey. At "CocoLiebe" international dishes are cooked with love and fresh ideas which often turn out vegan. Here are some spoilers: pizza with hummus or thyme, a sushi burger with "homemade vegan meat", potato-chard soup and vegan cake. They also serve breakfast until 3 pm with a very delicious vegan Oriental plate with Zaatar spiced tofu, vegan meatballs, Arabic bread, and more – and if you order it, you can even enjoy it in bed!
Most of you probably know "Lily Burger" from Friedrichshain, but since they now have a second spot in Neukölln, they are on Julia's order radar. Their order menu might seem a bit confusing at first, because there are no burgers marked as vegan. But here's the trick: you start choosing the burger by its toppings first and then you can order it with a vegan seitan patty. As soon as you do so, all toppings transfer into the vegan version, so you'll get the vegan sauces, the vegan cheese and also the vegan bacon. To our taste, we'd like some more salad on the burger and we always secretly spread some mustard on the patty, but that doesn't mean that their burgers woudn't taste good as they are. They are everything but boring and we even think that they serve some of the best vegan patties in Berlin.
Pho Hoi is a tasty travel to the old imperial city of Hue, where they serve a lot of streetfood in the form of tapas. We love this way of eating because it just gives you the possibility to try out as many different dishes as possible. Marked as vegan on the menu are veggie-filled wan tan, a traditional soup with tofu and glass noodles and a Saigon pancake with tofu, seitan and a herbal sauce. We would wish for more dishes, but actually we can't believe that some other dishes on their menu are not vegan, such as banana in sticky rice, edamame and larger dishes as lemon and ginger tofu, sweetpotato curry and BBQ seitan. Let's agree, that we'll ask about it when we order the next time.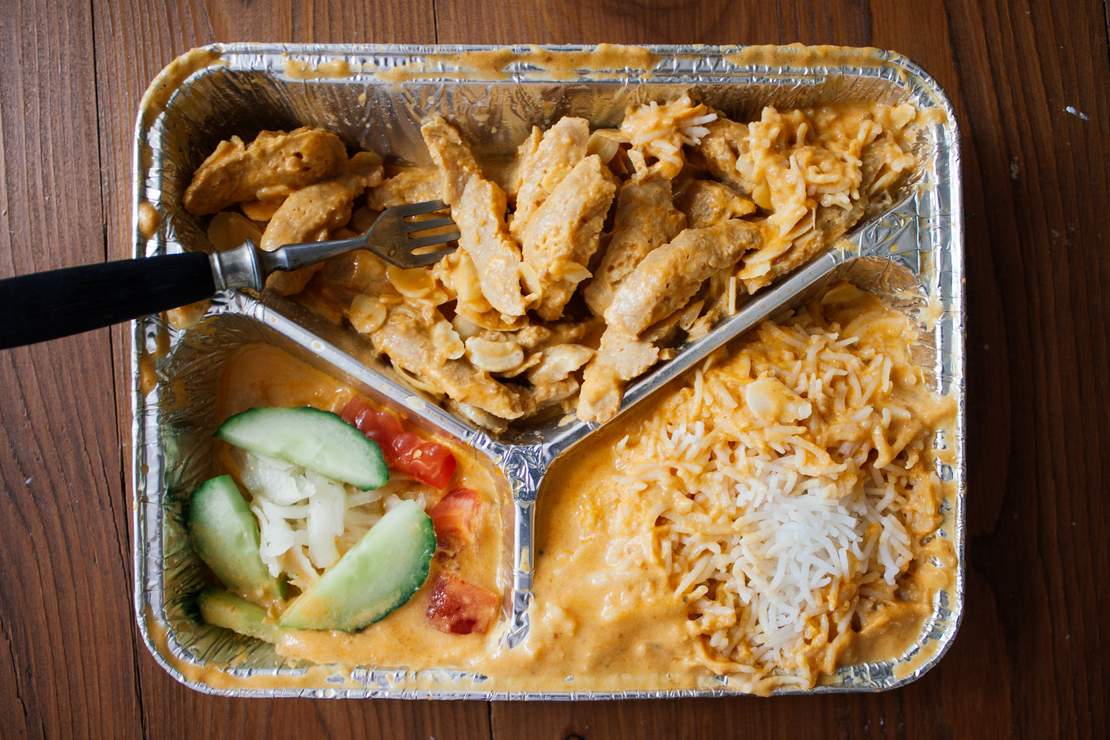 Sometimes you're unsuccessfully looking for vegan dishes on an Indian restaurant menu, when in fact it's very easy in the end to order and get something vegan. But it's even easier if they already have a vegan menu, as they have at "Indian Dhaba Mitra" (there's also another Indian restaurant called "Indian Dhaba Mira" that also has kind of the same menu so we're confused about this tiny-tiny name difference). You'll get palak tofu, soy korma (as seen on the picture), and tofu masala and tikka. We've eaten there several times (delivered and in their restaurant) and liked all their dishes so far, so if you have the chance, check them out!