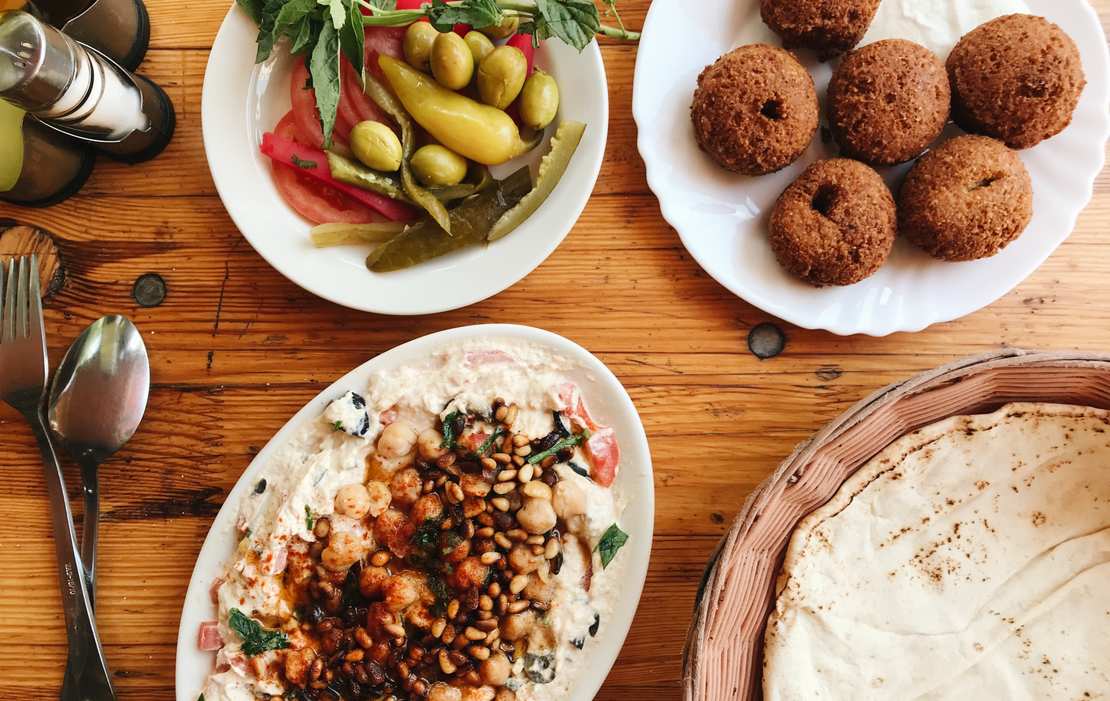 Our favorite 10 Falafel & Humus Spots in Berilin
Berlin Guide: We are living in Berlin hopping happily and hungry from one diner to the next restaurant, stopping in between at a new café. In our Berlin guide we tell you, where we eat and how it tastes. Got a nice tip for us? Let us know, please!
You already know that we are big lovers of hummus and falafel not only since our trip to Tel Aviv. After giving you single hints here in our [Berlin Guide] (https://www.zuckerjagdwurst.com/en/posts/berlin-guide) for good hummus in the last few years, we've collected now our very own Top 10 list for you. We hope you enjoy it and are looking forward to more tips from all of you!
PS: The order of the restaurants is alphabetical. The numeration is based on no rating.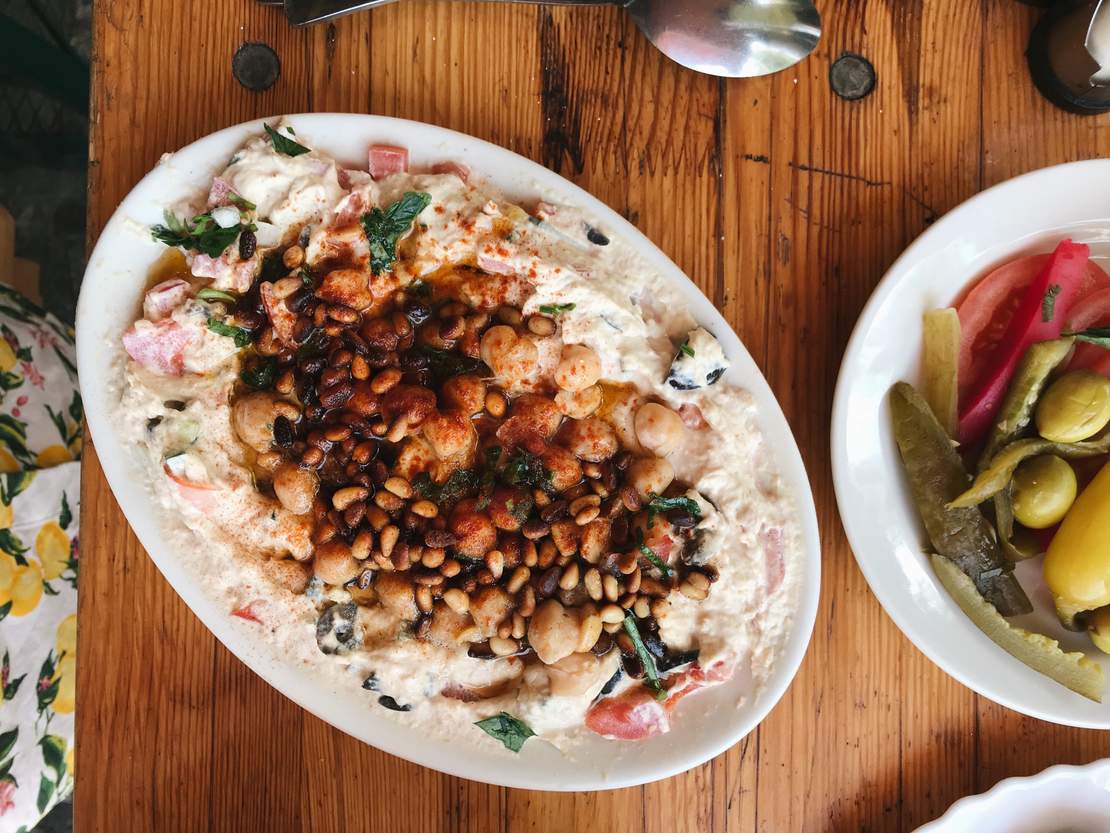 Al Pasha is one of these restaurants that is always mentioned when you ask about 'secret' hummus hotspot in Berlin. And it absolutely deserves this reputation! Situated right on Sonnenallee, Al Pasha still stand out from the crowd because it serves one of the creamiest and best hummus. What we especially love: in addition to the classic hummus options, they also serve special hummus plates, e.g., with vegetables and pine nuts with bread and pickles. An extra portion of 6 falafel only cost 2 euros. And even though this Berlin Guide is about hummus and falafel, don't forget to order manakish with Za'atar here, it's so good!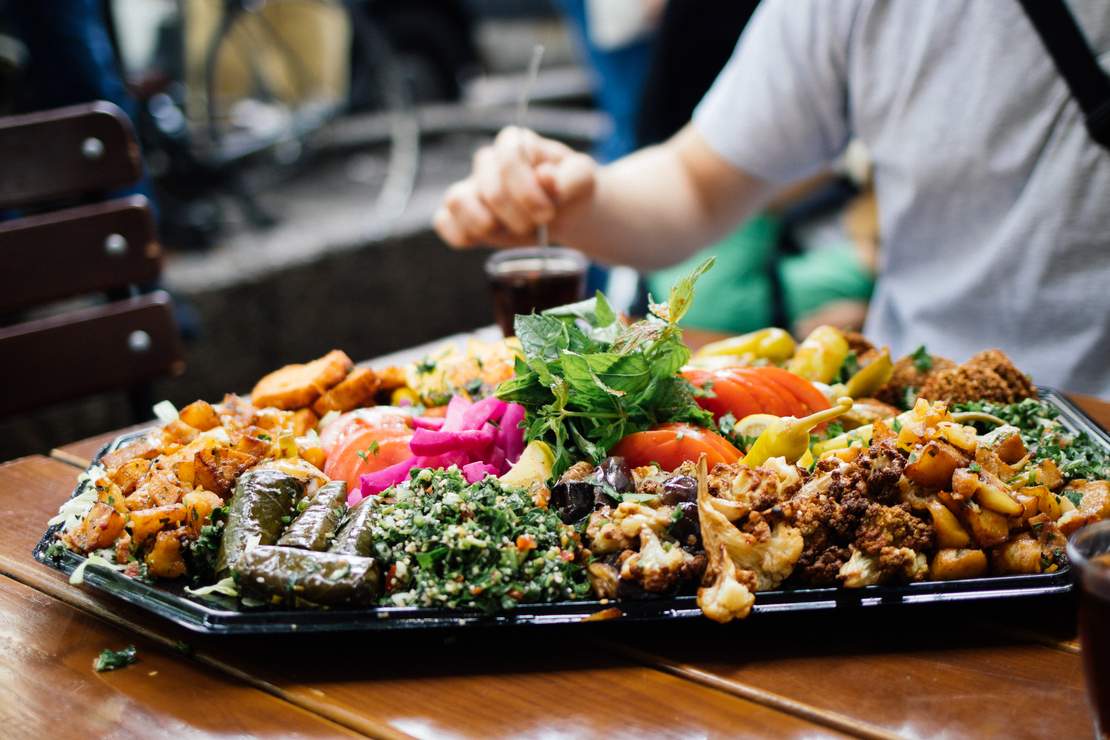 There's probably no restaurant in Berlin where we've eaten more often than here: Azzam right on Sonnenallee. The reason for this is a roughly 10-meter-long plate loaded with everything you could wish for (we might have estimated this too high, but it is HUGE!). You only pay 13 euros for a vegetarian plate for two that is actually big enough to feed four people. From falafel, stuffed vine-leaves and tabbouleh to crispy potatoes, grilled bell peppers, and eggplants served on a comfy bed of creamy hummus and baba ghanoush, what you get served is more like a private buffet. The vegetarian platter also features halloumi, but you can easily counter-order it. Also notice that the wonderful smelling garlic sauce, that's always served on an extra plate along with a spicy and sesame sauce, is also not vegan.
If you're a fan of eating in a calm surrounding, just be warned that Azzam is all about a loud and vibrant atmosphere that can be overwhelming for some. Also, be prepared for long waiting times for your food and a seat. Still, we just love it here!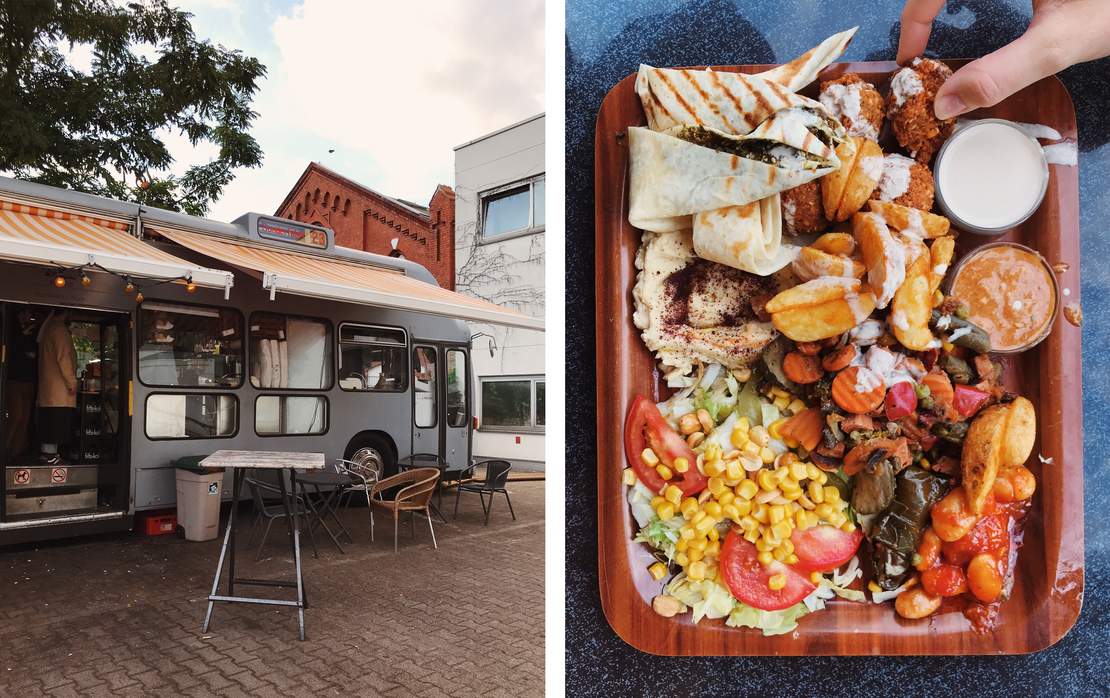 What began as a small food truck, might not be a large restaurant by now, but rather something much more interesting. Situated in a backyard close to the station Wedding, Falafel Dream 2010 is a built-out caravan with a kind-of courtyard also to eat outside. This setting makes it a good idea to visit the place, but luckily, they also serve several tasty vegan dishes - from falafel to vegan döner and vegan halloumi. We still recommend the classic here: falafel (as a wrap, box or plate) with hummus, plus a garlic sauce that is serious.
We couldn't believe that this name ist real till we were in front of Falafel in Berlin.de. And guess what, it's real! Is the owner of the restaurant a seo nerd? We will never know, but totally recommend to come by and try their hummus and falafel! The beautifully arranged plates will be on your table in minutes. Add that you're vegan, so they don't use a cream on top that is arranged like an "egg" but made of milk. You find the restaurant directly at Görlitzer Bahnhof.
It took a lot of time until I recognized the small hummus store "The Hummusapiens "directly at Schlesisches Tor in Kreuzberg. But it's really worth the visit for a quick lunch or dinner. You get a bowl of hummus for 4 € or in combination with falafel for 6.50 € on a plate. But you can also order it as a sandwich to take the whole thing on the go.
The Hummus & Friends in Mitte is home to a colorful mix of business people, tourists, and students who like to have fresh hummus, crunchy falafel, sour, Israeli salad and soft pita during their lunch break. The restaurant is open, very vivid, and perfect for a short or longer meal. In the summertime, you can sit in the courtyard or in front of the restaurant.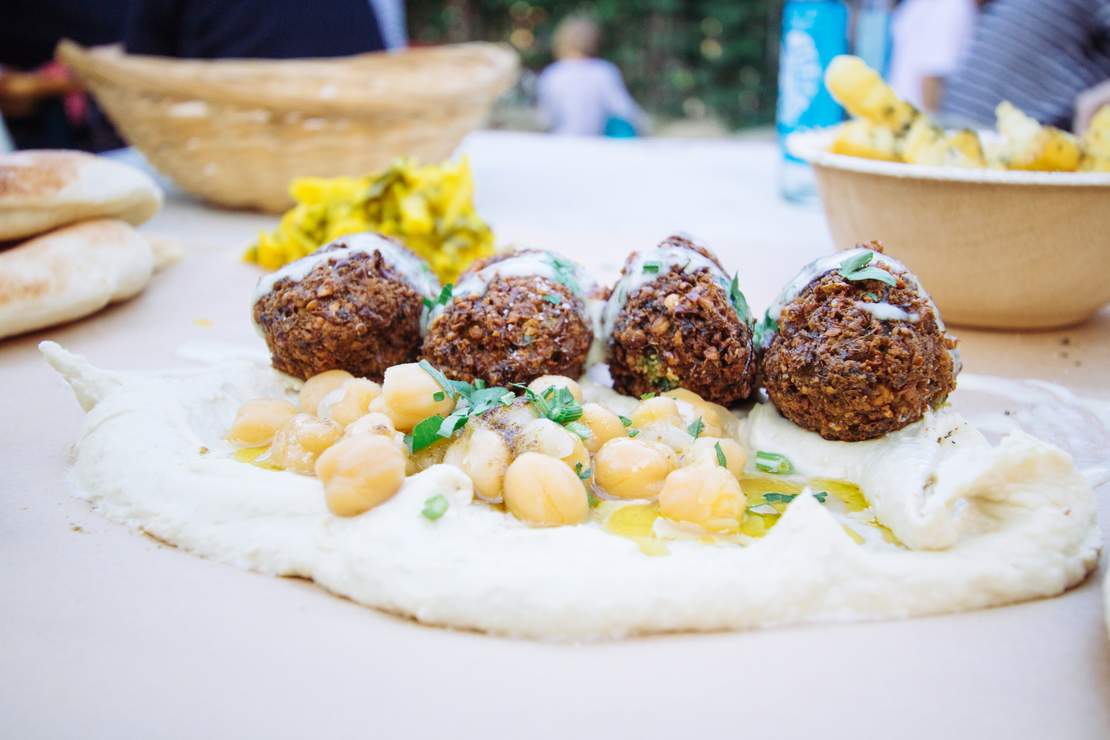 If you've ever been to Tel-Aviv and dream about eating even a roughly delicious version of their hummus in Berlin, you should definitely visit Kanaan. It's hard to find another hummus in town that is as creamy as this one, almost buttery and soft, with this perfectly balanced sesame flavor. On top, also their crispy falafel are some of our favorites. All dishes on the menu can be prepared vegan (if they aren't vegan already). The only minor downside: Other falafel spots of Berlin spoil you regarding portion sizes and prices. Kanaan is pricier than others, and the portions seem to be a bit smaller, but of course, you will be satisfied here, no worries!
Click here to read our longer Berlin Guide article about Kanaan.
When you hear about a place called "König der Falafel "(meaning 'king of falafel'), you probably expect a crispy castle of falafel with super comfy and soft hummus king size beds. Well, ... but this king of falafel isn't a restaurant to go as there's not even a door. Instead, you will order directly through a smaller window and then observe how your huge serving of falafel is freshly prepared in the tiny kitchen. A proper wrap only costs 3 € here - hard to beat, right? The place itself is a wonderful experience to see, but the falafel and hummus taste great, too, and they also serve vegan halloumi here.
Mugrabi is located at the Görlitzer Park and serves very filling portions of really good Israelian hummus. But they also serve shakshuka, hummus sabich, cereals, sandwiches, coffee, and cake – all available vegan. This restaurant is definitely worth a visit if you stroll through Kreuzberg! But: Mugrabi is only open for breakfast and lunch, in the evening the doors are closed.
Zula in Prenzlauer Berg is an Israeli restaurant that serves you creamy, hummus and fluffy, warm bread. You can top your hummus with beans or champignons and order it in three different sizes. Unfortunately, they do not serve classic chickpea falafel balls but falafel balls with spinach, that are a bit too moist inside.