Coffee, Cake & Wifi: Best coffee shops to work in Berlin
In our series "Berlin Guide" we share our favorite snack bars, restaurants or cafés with you. We reveal where to get the best vegan donuts in town, which Vietnamese tapas restaurant you should visit and where you'll catch us eating vegan pizza. Here are all our Berlin recommendations.
A few weeks ago Julia moved, and one of her main problems was to work at home, without wifi. So we had a look for cafés, offering wifi and a small section of vegan goods, like plant-based milk or a piece of cake. Our research failed, so we decided to start our own list of cafés in Berlin with a working-friendly environment and vegan stuff on the menu card.
Don't get us wrong: we don't need wifi 24/7 and a full vegan menu card to feel comfortable. But we have to get our stuff done, and a cream cheese bagel, a chocolate muffin or just a coffee is the perfect match at this point. So from today on, we show you the best cafés in this list, and you can comment your favorite spots in the comments below!
We're happy that Samsung supported us and this article within their campaign #T5Essentials. We are working with a lot of photos every day, so a portable hard drive is the easiest way for us to collect and swap them, day by day. For this article, we tested Samsungs portable hard drive SSD T5. The T5 is a light and slim portable storage, super easy to handle in super classy metal design. 2 TB provides enough space for our photos, videos and texts and even more recipes. We also liked the two included USB cables (Type-C to C cable and Type-C to A cable), so both of our laptops connected super quick.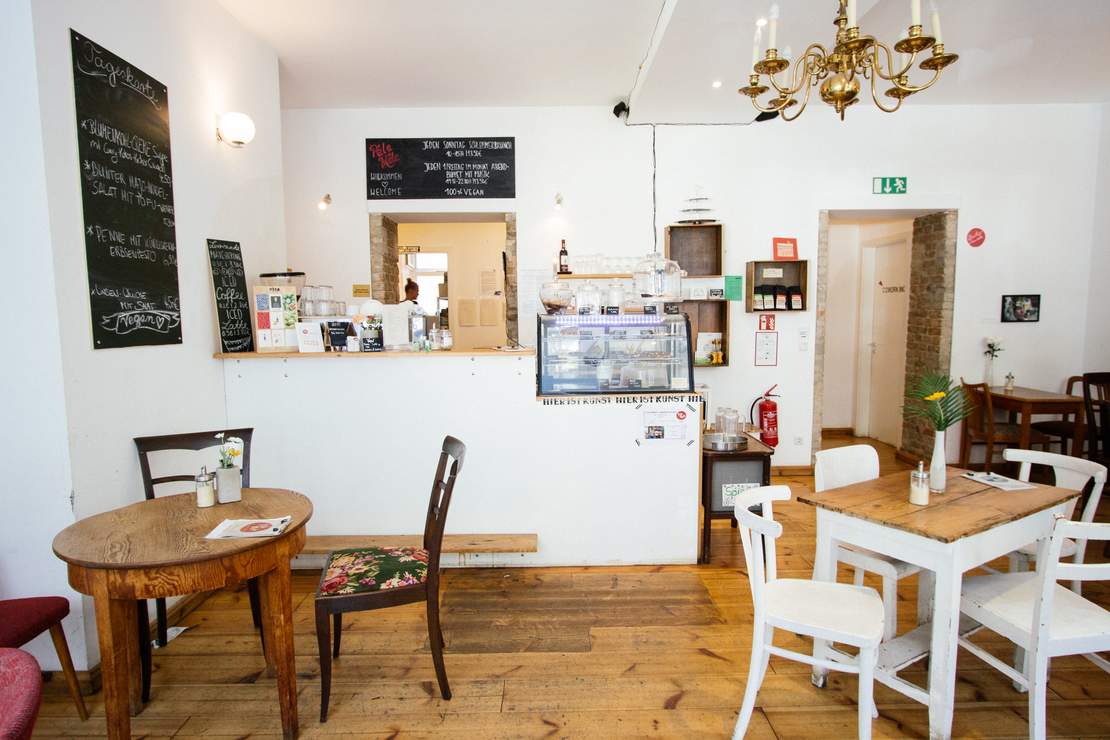 What about food&drinks?
Lot of breakfast, lunch dishes, sandwiches, salads, soups, coffee, alcoholic and non-alcoholic drinks
What about wifi?
Very good! You get connected very quick even without a password
"Pêle Mêle" is French and means "a colorful mixture" or "upside down." You will understand their name by visiting the café and feeling their spirit. Catch one of their readings or exhibitions that are happening quite periodically here. Or have a look at their various menu card containing sweet and savory dishes.
We really like their breakfasts and could always go for the homemade "Pêle Mêle Breakfast" including spreads, antipasti, cereal and orange juice or their English breakfast with scrambled tofu, white beans, and tomato sauce. But Pêle Mêle is also a beautiful and calm place to work at lunchtimes or in the afternoon, so check their lunch menu and the wide choice of cakes day by day.
What about food&drinks?
Get breakfast, coffee, lemonades, soups, quiches, and cakes all day long!
What about wifi?
Works superb! Ask for the wifi password while ordering food and drinks.
Is it possible to work in a more comfortable environment? "No milk today" feels like our own living room, and it's so comfy not to cook and bake! They offer breakfast the whole day so let's start with a vegan croissant made of spelt, scrambled tofu, oatmeal or try their vegan carrot lox on a bagel. And for lunch allow yourself a piece of cake. We also took a coffee, and you can choose between soy-, oat-, coconut-, almond-rice or almond milk. If you're more into savory stuff, go for a salad, quiche or soup.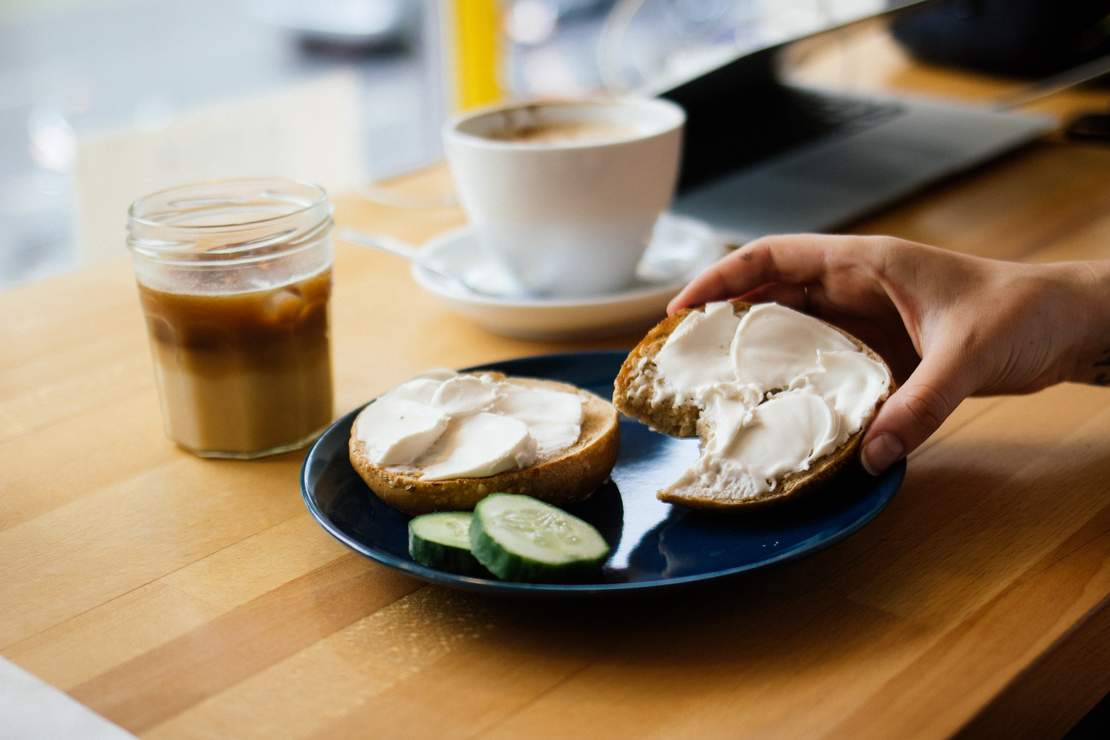 What about food&drinks?
A wide range of bagels with vegan cream cheese or avocado, coffee, drinks and super delicious chocolate cookies
What about wifi?
They offer a free wifi, but it doesn't work the whole day. At the weekend their is no wifi at lunch time.
Working at "Fine Bagels" reminds us of being a student, even they didn't offer bagels at the libraries. The former name of the café "Books & Bagels" reveals the concept: a book shop and bagelry in one. And we love their bagels! One of our favorites are definitely "Rosemary Sea Salt", their "rye bagel", "Zaatar", and "Everything". Occasionally we also pick up some bagels for home. Make your own bagel by choosing the toppings (vegan cream cheese or avocado) and if you like it the toasted or the plain way. We force you to try their chocolate cookies, cause they are out of this world! Grab a coffee or cold drink (and maybe a book) and it's your day!