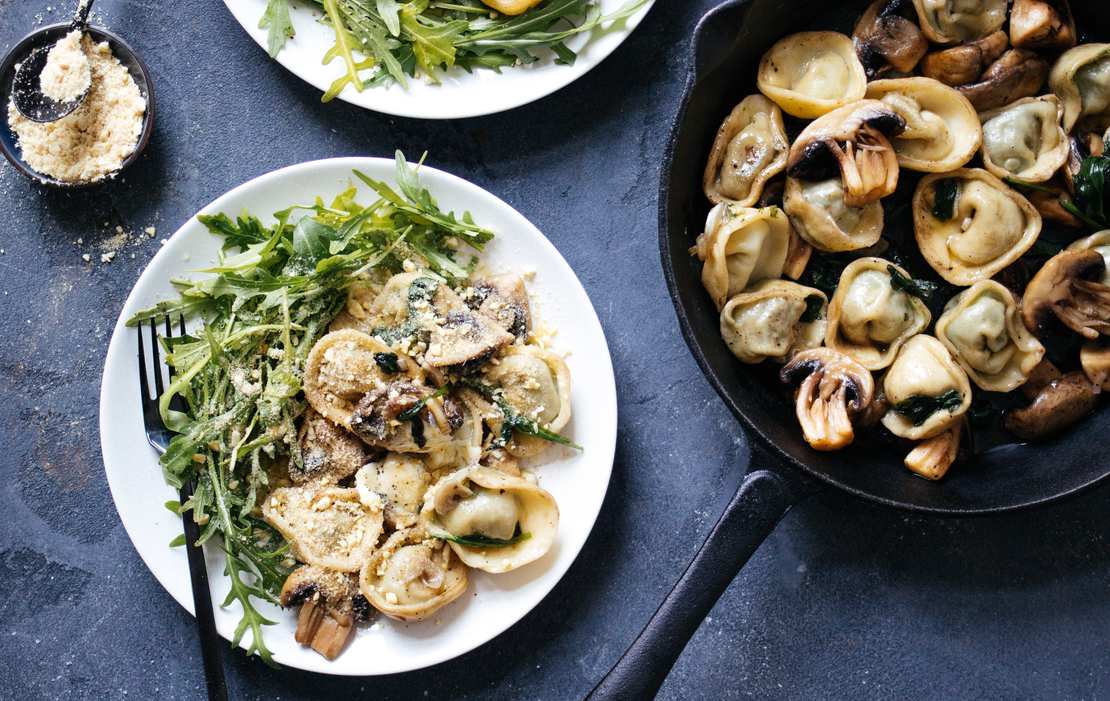 Vegan Tortellini with Spinach & Cashew
Before I made my first homemade tortellini, I was a bit nervous. Will I manage to fold the pasta dough the right way? Will the pasta dough work out even without a pasta machine? And what happens if the dumplings won't seal? Many questions and just one way to answer them: just do it.
But after some time I realized that we already made a pretty delicious vegan pasta dough for our ravioli, and it worked out very, very good, even without a pasta machine. So no worries, making tortellini is no big deal, friend! However, serve the tortellini the way you like it the most. We decided to fry them together with mushrooms, spinach, and garlic. But a tomato- or cream sauce works also!
Vegan Tortellini with Spinach & Cashew
4 servings
90 minutes (+60 minutes waiting time)
Ingredients
dough
150 g (1.25 cups) flour
150 g (5.3 oz) semolina
150 ml (0.6 cups) cold water
filling
1 onion
1 garlic clove
200 g (7 oz) fresh baby spinach
100 g (3.5 oz) cashews
2 tbsp vegetable oil
lemon zest
2 tbsp nutritional yeast
1/2 tsp nutmeg
salt&pepper
serving
2-3 tbsp plant-based butter
2 garlic cloves
50 g (1.7 oz) fresh baby spinach
250 g (8.8 oz) fresh mushrooms
optional: 100 g (3.5 oz) arrugula
vegan parmesan (recipe on the blog)
Instructions
preparing the dough
Mix flour and semolina in a bowl. Gradually add cold water until you can form a ball.
Wrap the dough in foil and let rest in the fridge for one hour.
preparing the filling
Put the cashews in hot water for 20 minutes (or better overnight). Then drain.
Peel and finely dice the onion and garlic clove. Wash the spinach and drain.
Heat vegetable oil in a pan and sauté the onion and garlic. Add the spinach until it falls together. Season with nutmeg, nutritional yeast, salt, and pepper.
Place the filling in a blender and mix to a homogeneous mixture. The result shouldn't be a cream, but a fine mixture.
serving
Roll out the dough on a floured surface. Cut out circles with a glass or cookie cutter.
Place 1 tsp of the filling in the middle of each circle. Use your fingertips and some water to moisten the edge of each round. Form a half moon and carefully press out any extra air.
Pick up both corners and start bringing them toward each other, press them gently on each other. Proceed with all tortellini until no dough and filling are left. In the end, you will receive about 45 tortellini.
Heat a pot of salted water and bring to a boil. Lower the temperature to a minimum. Gradually cook the tortellini for 3-4 minutes until they float on the water surface. Drain and set aside.
Peel and slice the garlic cloves, clean the mushrooms and quarter them. Heat a large pan and melt plant-based butter. Fry the garlic slices in it. Add the mushrooms and keep frying for 3-5 minutes.
Now add the remaining spinach and the tortellini for another 3-5 minutes. If desired, add more plant-based butter. Season with salt and pepper. Serve with vegan parmesan and fresh arugula.