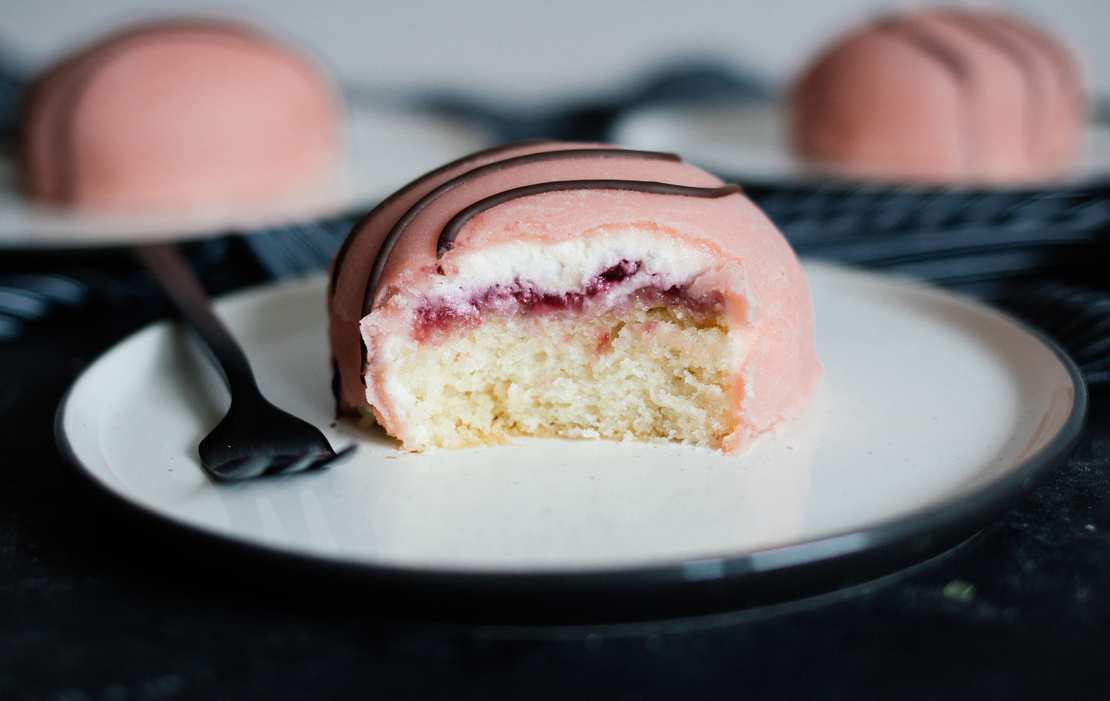 Vegan Swedish Princess Cakes
To be honest, I've never tried a Swedish Princess Cake before I baked it by myself. I usually don't eat cakes with marzipan on top, and while I am thinking about, I've never recognized a Swedish Princess Cake in cafés or bakeries here in Berlin. The cake consists of a sponge cake, raspberry jam, whipped cream, and a marzipan layer on top. We searched for a typical Swedish dessert for our IKEA week, and what fits better than the Swedish Princess Cake itself?
So I did my research and came across a picture of the princess cakes sold at IKEA. Colored in light pink and decorated with chocolate waves, available as a mini version. I took this picture as a template and tried to recreate the cake in exactly the same way. And what can I say? I guess I nailed it!
Vegan Swedish Princess Cakes
Ingredients
sponge cake
225 g (1.75 cups) wheat flour
150 g (0.75 cups) white sugar
250 ml (1 cup) sparkling water
50 ml (0.2 cups) vegetable oil (rapeseed or sunflower oil)
5 g (0.17 oz) baking powder
18 g (0.6 oz) vanilla sugar
whipped cream
200 ml (0.8 cups) vegan whipped cream
8 g (0.28 oz) cream stiffener
8 g (0.28 oz)vanilla sugar
50 ml (0.2 cups) plant-based milk
1.5 tsp agar agar
additionally
100 g (3.5 oz) raspberry jam
400 g (14 oz) marzipan
100 g (3.5 oz) powdered sugar
a few drops of red food coloring (or beetroot juice)
50 g (1.7 oz) dark chocolate
Instructions
Sponge Cake
Preheat oven to 180°C/350°F (circulating air).
Mix flour, sugar, vanilla sugar and baking powder in a bowl. Whisk until combined.
Add the oil and the sparkling water.
Grease a cake pan (ca. 20x15 cm) and add the batter. Bake for 25-20 minutes. Test with a wooden stick if your sponge cake is ready. Let the cake cool down completely.
Whipped cream
In the meantime, whip the plant-based cream with cream stiffener and vanilla sugar.
Mix the plant-based milk with agar agar in a small pot and let simmer for at least 2 minutes. Keep stirring all the time!
Mix the agar agar with the whipped cream until fully combined and let chill in the fridge for at least 30 minutes.
Marzipan
Knead marzipan and powdered sugar in a large bowl and add the red food coloring to create pink marzipan. Add the red food coloring drop by drop until the perfect color appears.
Divide the marzipan into 6 equal parts and roll out (works best on a silicon mat).
Layering
Optional: Remove the skin of the cake with a knife. It looks prettier in the end but is optional.
Cut 6 circles out of the sponge cake with the help of a cup or a cookie cutter.
Spread 1-2 tsp of raspberry jam on each cake. Now top with 2-3 tbsp of whipped cream on top and smooth into a dome shape.
Cover with pink marzipan and use your hands to form the marzipan to the shape of the cake. Remove the excess marzipan from the bottom of the cake with a knife. Place the princess cakes in the fridge afterward.
Warm dark chocolate in a bain marine and use a spoon or squeeze bottle to spread the chocolate on the tartlets. Store the cakes in the fridge until serving time. You can keep them there for 2-3 days.
More Vegan Cakes & Cookies