Sunken apple cake is one of the cakes my mother used to make very often when we were kids – and my sister and I loved this cake! It's a very traditional German cake recipe. When we start planning our Classic Cake recipes for our theme week, I instantly wrote my mum a message to get her recipe for sunken apple cake. And tada, here it is!
Before you start baking, I have a few tips for you: We used whole wheat flour for this recipe, but I am sure that spelled flour or whole spelled flour should also work. In addition, you can replace the apples with pears and use one mashed banana instead of the applesauce. But don't quit the quince jelly at the end, it's just the grand final of this cake. The other steps of the preparation are just too simple and great if you are new in vegan baking.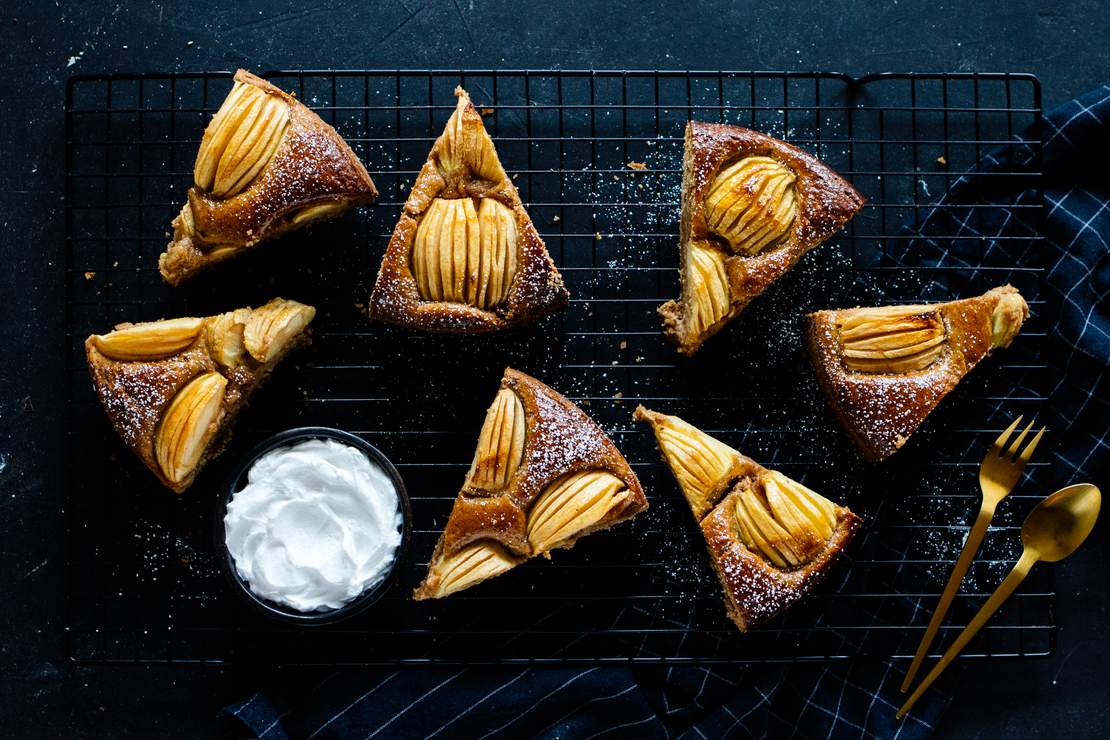 Vegan Sunken Apple Cake
1 cake (12 pieces)
30 minutes (+60 minutes baking time)
Ingredients
5 small apples (or 2-3 big apples)
50 g apricot jam or quince jelly
1 tbsp vegan butter (for greasing)
1 tbsp flour (for greasing)
dough
200 g whole wheat flour
150 g white sugar
130 g cornstarch
8 g baking powder
0.5 tsp ginger powder
1 pinch of nutmeg powder
2 tbsp cinnamon
200 g vegan butter
200 g applesauce
Instructions
Mix whole grain flour, sugar, cornstarch, baking powder, ginger powder, nutmeg, and cinnamon in a large bowl.
Add the apple sauce and vegan butter and mix it to a homogeneous dough.
Preheat the oven to 200°C/392°F (circulating air).
Grease a cake tin (22cm diameter) with vegan butter and sprinkle with flour. Pour in the dough.
Peel apples and slice each apple in half lengthwise. Remove the core and seeds. Thinly slice each apple without cutting all the way through, so it looks like a fan.
Press the halved apples into the dough.
Bake the cake in the oven at 190°C/380°F (circulating air) for about 50-60 minutes. If the cake gets too dark, cover it with aluminum foil.
Let the cake cool down for about 5 minutes and then brush with apricot jam or quince jelly.
Sprinkle with a little powdered sugar just before serving.
More Vegan Cakes & Cookies