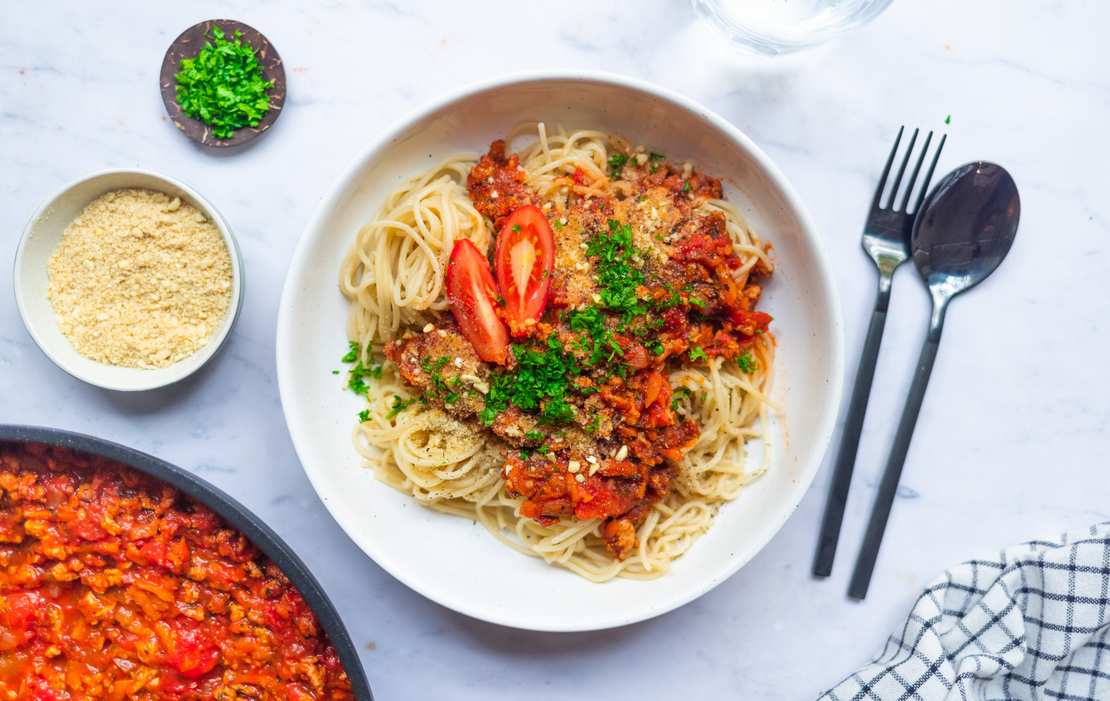 Vegan Spaghetti Bolognese
We know bolognese as a classic Italian dish consisting of a tomato sauce with minced meat. That's how we ate bolognese when we were kids, and that's how we still eat it today – only vegan. It's kind of ironic, though, that probably no Italian would recognize the dish if we served it the way we've known it for decades. Indeed in Italy, a "Ragù alla bolognese" also consists of a minced meat sauce, but it's prepared much drier than we know it. In 1982, the original recipe was even recorded in the Bologna Chamber of Commerce. It uses "coarse minced beef, pancetta (pork belly), carrots, celery, onions, tomatoes, dry white wine, whole milk, vegetable broth, olive oil or butter, salt, and pepper." (Source) The ragù is simmered for an extra long time, and in the end it can't be compared to the consistency we know from a bolognese. And while we are on the topic: spaghetti is also not eaten in combination with ragù in Italy. Instead, people use tagliatelle as the sauce sticks much better to them (source).
Therefore, we can tell you right at the beginning: our recipe for vegan bolognese has not much in common with the original from Italy, but it's definitely more than inspired by it. We've learned to love the "German" version of bolognese since our childhood, and therefore we cook it quite often (even if you actually even can't call it a bolognese). It's also the recipe we cook for "vegan-critical" people and so far it has even elicited a "tastes quite good" from the most critical person. Therefore. we don't want to withhold it from you. Probably you wouldn't say no to a plate ofthis "bolognese" either.
However, there are a few things you should keep in mind with this recipe:
The meat substitute: The choice of meat substitute is up to you. We like fine TVP granules the best, but of course you can also prepare it with bigger granules, with tofu, lentils, or other vegan mince. Depending on the substitution, you can of course skip the soaking and squeezing steps.
The sauce waits for the noodles: This is a golden rule and actually applies to all sauces. So first prepare the sauce and keep it warm, then cook the pasta (and be sure to add some of the pasta's cooking water to the sauce at the end).
The tomatoes: If you can't get fresh, delicious tomatoes (because they are not in season at the moment, for example), we would always recommend to use canned tomatoes as otherwise the sauce will simply taste too watery.
According to your taste: Adjust the recipe (as well as any other recipe) to your taste and cook intuitively. Julia, for example, adds a good dollop of ketchup to her bolognese and sometimes omits the red wine. Isa, on the other hand, loves red wine in her bolognese and also likes to add celery to the pan along with the carrots. So for you, the appeal is:
feel free to use this recipe as a base, but adjust the dish to your taste.
Vegan Parmesan cheese: For us, vegan Parmesan cheese is an important ingredient that should never be missing. We prepare Parmesan every week or month and then store it in an airtight jar. That way we always have some vegan cheesy topping on hand! You can find the recipe for it here.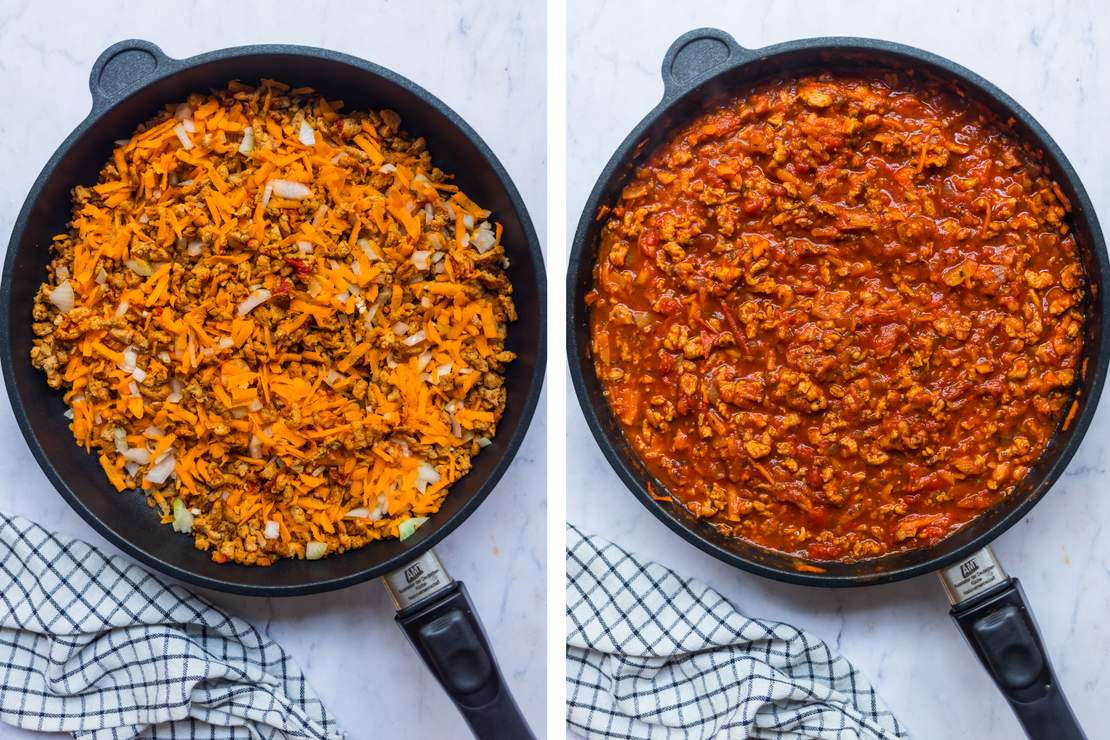 Vegan Spaghetti Bolognese
Ingredients
500 g (17.66 oz) spaghetti
100 g (3.5 oz) fine TVP granules
approx. 500 ml (2 cups) hot vegetable broth
3 carrots
1 onion
1 garlic clove
1 tbsp soy sauce
1 tbsp soy sauce
2 tbsp tomato paste
2 tbsp agave syrup
100 ml (0.5 cup) vegan red wine (optional)
400 g (14 oz) chopped canned tomatoes
400 ml (1.66 cups) strained tomatoes
0.5 tbsp dried oregano
0.5 tbsp dried basil
salt
pepper
vegetable oil for frying
vegan Parmesan cheese for serving
Instructions
Add the TVP granules to a heatproof bowl and cover with hot vegetable broth. Let soak for approx. 10 minutes, stirring occasionally.

While the TVP granules are soaking, peel and grate the carrots. Peel and finely dice the onion and garlic as well.

Now drain the TVP granules in a fine sieve and squeeze out as much water as possible.

Heat vegetable oil in a large frying pan and sear the soaked TVP granules over medium-high heat for approx. 5 minutes, until it's browned. Then reduce the heat to medium-low and add soy sauce, tomato paste, and agave syrup. Stir to combine and keep frying for another 2-3 minutes. Now add grated carrots, diced onions and garlic and fry for another 5 minutes.

If desired, deglaze with vegan red wine and let the wine simmer for a bit. Add the canned and strained tomatoes. Let the sauce simmer over medium-low for at least 15 minutes – it will get better the longer it cooks, so we sometimes like to do that for an hour or so. Add the dried oregano and basil, and season the bolognese with salt and pepper to taste.

Once the sauce has been simmering for long enough, bring a pot of salted water to a boil and cook the spaghetti according to the package instructions. Before draining, add a ladleful of the pasta's cooking water to the bolognese and stir it in until you get a smooth sauce. Drain the spaghetti and serve with the vegan bolognese and vegan Parmesan cheese.