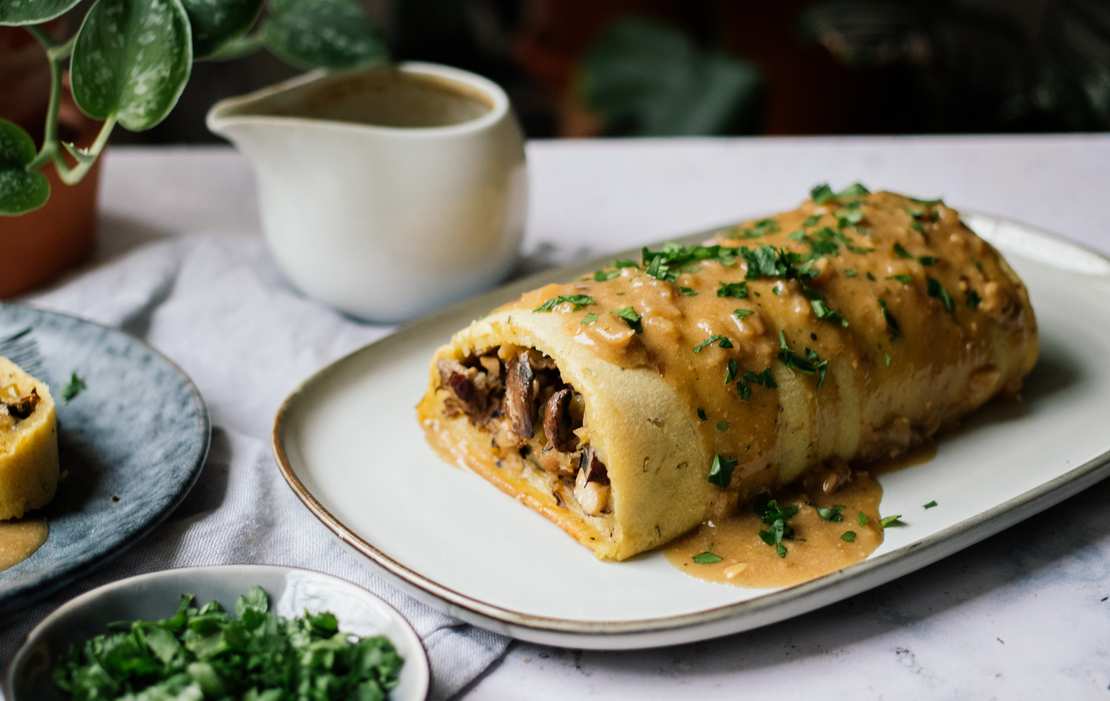 Vegan Potato Roll with Mushroom and Nut Filling and Vegan Cream Sauce
When you roll delicious things into other delicious things, we're usually thrilled about the result – just think of our stuffed soy steaks, cabbage rolls, and of course summer rolls. But now imagine wrapping an entire Christmas dinner in potato dumpling dough – yes, that's about how you can imagine what a potato roll looks and tastes like. Maybe this recipe will win the final sprint to the finish line of your Christmas menu and ends up on your table. No worries, if you've already planned everything for your Christmas menu – any Sunday or other holiday will be just as pleased with the culinary honor of a potato roll being served. The very best thing about it is that it doesn't take more than a slice of this potato roll doused with vegan cream sauce on your plate to create a filling dish.
The base for our potato roll is a dough of mashed potatoes. You may have seen similar potato rolls that are made with thinly sliced potatoes, but they are usually lying on a bed of shredded cheese – when it melts in the oven, the cheese helps to hold the sliced potatoes together. But since we wanted to create a simple recipe for you without any complicated cheese substitutes, we opted for a version with mashed potatoes, which are mixed with semolina and potato flour (you could also use wheat flour) to create a dough that can easily be rolled out and rolled together.
The filling is full of vegetables – we just love the combination of mushrooms, leeks, and a good touch of garlic. Hazelnuts add a crunch to the otherwise moist filling. After all the veggies are pan-fried, we just need a few spoonfuls of a plant-based cream to bind the filling. Vegan cream cheese works best for this as it's not too liquidy, but you could also use a plant-based heavy cream or yogurt – in this case, add a little less, just until your vegetable filling sticks together.
Rolling the stuffed potato roll works best on a flexible surface like a silicone baking mat or parchment paper. They can help you rolling the dough tightly over the filling but still make sure that the veggies don't fall out and our potato dough doesn't crack. While the potato roll is baking in the oven, you can prepare the vegan cream sauce, which is based on the mushroom broth that you directly get when soaking dried porcini mushrooms in the beginning.
All of the needed ingredients for this recipe can be found at EDEKA – mostly in their large produce section. From shallots and oyster mushrooms to potatoes, onions, and garlic, you'll find everything in your supermarket around the corner. Instead of plastic bags, they offer handy paper bags and lots of loose produce so you can only buy what you really need. When it comes to hazelnuts, we prefer to get their organic hazelnuts from certified organic farming. Besides this, EDEKA also has a huge selection of other vegan products – you'll be amazed about how many special ingredients (think of nutritional yeast or nut butter) you'll get there.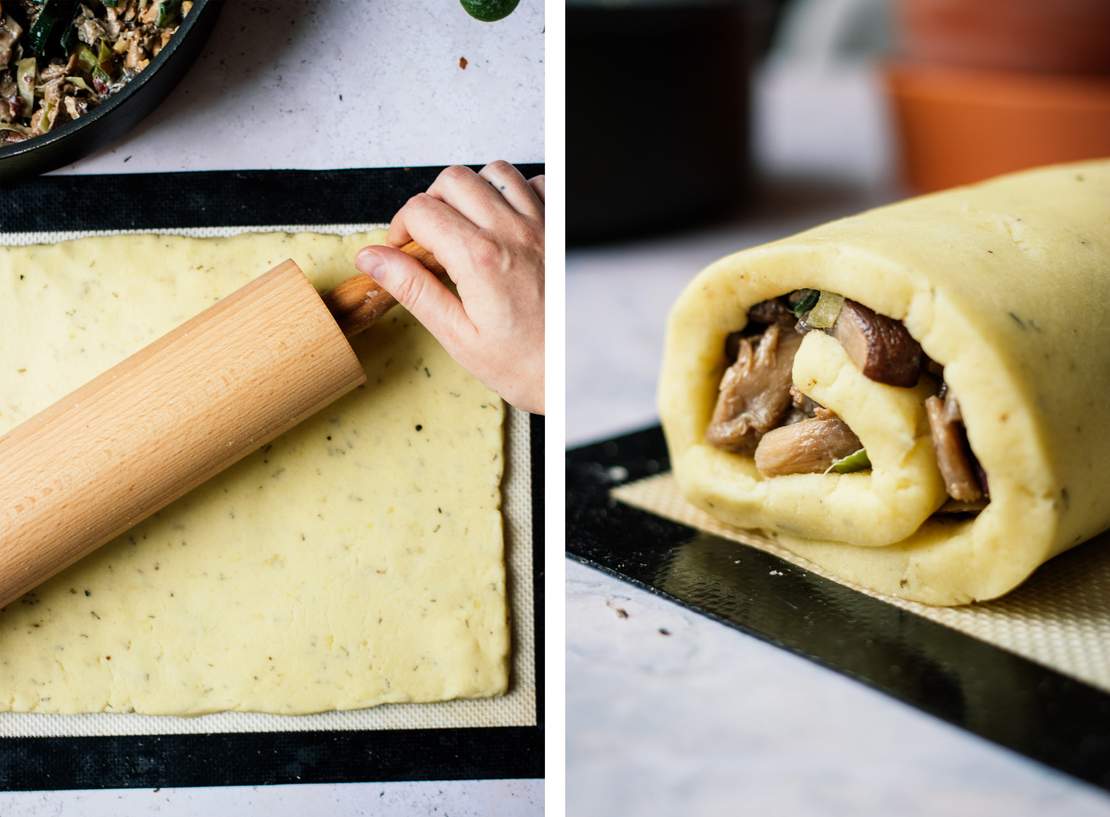 Vegan Potato Roll with Mushroom and Nut Filling and Vegan Cream Sauce
4 servings
100 min. (incl. 40 min. baking time)
Ingredients
For the filling:
20 g (0.75 oz) dried porcini
2 shallots (e.g. by EDEKA)
2 garlic cloves
500 g (1 lb) mixed mushrooms (e.g. button mushrooms and oyster mushrooms by EDEKA)
150 g (5.5 oz) leek
75 g (2.5 oz) hazelnuts (e.g. by EDEKA Bio)
2 tbsp plant-based cream cheese
vegetable oil for frying
salt
pepper
For the potato roll:
500 g (1 lb) floury potatoes
50 g (0.33 cup) semolina
100 g (0.75 cup) potato flour
1 tbsp vegan butter
¼ tsp dried thyme
salt
pepper
nutmeg
olive oil for greasing
fresh parsley for serving
For the cream sauce:
2 shallots (e.g. by EDEKA)
2 tbsp flour
500 ml (2 cups) broth from soaked dried porcini
250 ml (1 cup) plant-based heavy cream
1 tsp mustard
lemon juice
salt
Instructions
Add dried porcini to a bowl and pour over 500 ml (2 cups) of hot water. Let the dried mushrooms soak for approx. 30-40 minutes. When we use the porcini later, make sure to keep the broth and don't just drain them.

In the meantime peel floury potatoes and add them to a pot. Cover with water, season with salt, and bring to a boil. Let the potatoes simmer over medium heat for approx. 15-20 minutes, or until fork-tender.

While the potatoes boil, prepare the ingredients for the filling and the cream sauce: peels and finely dice shallots and garlic. Clean and chop mixed mushrooms. Wash leek and cut it into fine rings. Roughly chop hazelnuts.

Heat vegetable oil in a large frying pan. Add half of the diced shallots and fry for approx. 2-3 minutes, or until translucent. Add the mushrooms and soaked porcini (remember to keep the broth!) and keep frying until the mushrooms are nicely browned. Depending on your mushrooms they could release some liquid so make sure to fry them long enough, until all the liquid is evaporated. Add garlic and leek and keep frying für approx. 2-3 minutes. Last but not least add chopped hazelnuts and generously season the filling with salt and pepper to taste. Remove the frying pan from the heat and stir in plant-based cream cheese.

Drain boiled potatoes, then add them back to the hot pot. Heat for another minute over medium-low heat to dry them out (but make sure that they are not burning on the bottom of the pot). Let the potatoes cool down until they are warm to the touch. Mash the still warm potatoes and add semolina, potato flour, and vegan butter. Knead into a smooth dough and season with salt, pepper, dried thyme, and nutmeg.

Preheat oven to 180°C/355°F circulating air. Transfer the dough of mashed potatoes to a silicon baking mat or parchment paper. Roll it out (ours was the size of 23x33cm / 9x13 inches). Turn the dough to make sure that the shorter sides are showing up and down. Spread the filling on top of the dough but make sure to keep some space empty at the very top of your dough (this will help to seal the potato roll). Carefully roll the dough from the bottom to the top – use the silicon baking mat at this point as it will prevent the dough from sticking.

Most silicon mats should be ovenproof, but in case yours isn't, line a baking sheet with parchment paper and transfer the potato roll to it. Brush with olive oil and bake at 180°C/355°F for approx. 40 minutes.

While the potato roll bakes, prepare the vegan cream sauce. Heat vegetable oil in a frying pan and fry remaining diced shallots until translucent. Dust with flour, then add the broth from soaking the porcini. Add plant-based heavy cream and mustard, and whisk to combine. Season the sauce with lemon juice, salt, and pepper to taste. Let it simmer until the potato roll is done. In case the sauce should be too liquidy at that point, bind it with some starch.

Drizzle vegan cream sauce on top of the potato roll and sprinkle with chopped parsley.