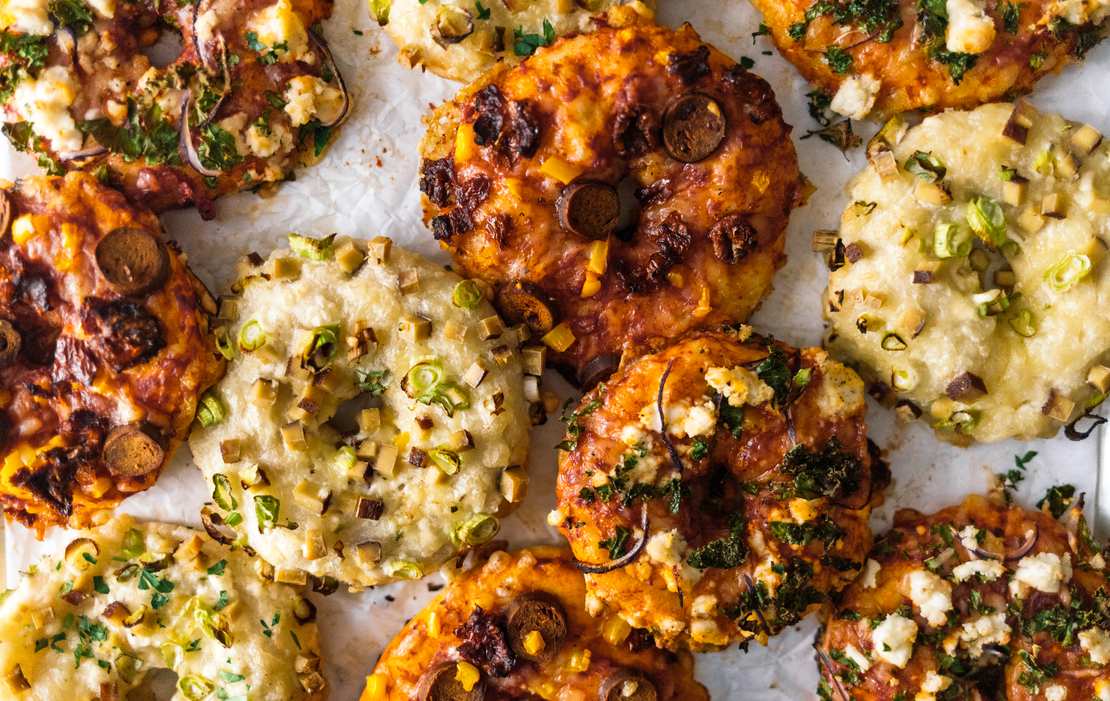 Every year, we come up with a few simple finger food recipes for your New Year's Eve party (even though you can make these recipes all year round). Even though raclette and fondue may be THE culinary New Year's Eve classics, a few snacks on hand are never wrong. In fact, I celebrated most of my New Year's Eves in bigger groups, and all guests contributed something to eat. In turn, I noticed that the absolute classic for this specific dinner approach seems to be puff pastry rolls – but that's not what we're talking about today. Instead, we'll show you what I think is a perfect New Year's Eve snack because it's filling, easy to eat on the hand, versatile, great to prepare and tastes good even when cold.
Last year Ronja already conjured up pizza bagels, which was a bagel dough that was partially baked and additionally topped with fresh stuff. Inspired by that, we're making pizza donuts today. It looks similar, but it's pizza dough in the shape of donuts that are baked with various toppings. I tried out a few different dough variations during test cooking since homemade pizza dough is the most time-consuming option, and it's much faster to use the ready-made dough. However, the usual ready-to-bake pizza dough is much thinner and just not fluffy enough for my taste. I served Isa four different dough options, and I was somewhat proud when she chose my homemade pizza dough as the winner. However, one convenient alternative was able to convince us – it was canned bread rolls called "Sonntagsbrötchen" which you can get in almost every German supermarket. You only need to roll them out a bit thinner, cut out a small hole in the middle precisely as described in the recipe, and then top and bake them. Of course, it's best to follow the temperature and time instructions on the package in this case.
In our recipe, you will find the following three topping ideas:
A white version à la tarte flambée with plant-based crème fraîche, smoked tofu and scallions.

A tomato and "sausage" variation, for which I recommend you use vegan snack sausages instead of vegan cold cuts because the latter is too thin for my taste and gets lost in flavor between all other toppings.

A kale and "feta" topping – you should use nut-based feta cheese here as the coconut oil-based products melt too much and will run away on the pizza donuts. However, you can easily substitute spinach for kale.
I recommend chopping the vegan shredded cheese even smaller for all variations because you can sprinkle it better this way, and it will melt more evenly on your pizza donuts.
Of course, you can add as many other toppings as you like, such as olives, peppers, vegan chicken and even winter options like Brussels sprouts. And instead of topping and baking all the pizza donuts ahead of time, you can also prepare all the toppings together as a group so that everyone can top their own pizza donuts.
You can find more of our vegan New Year's Eve ideas right here.
Vegan Pizza Donuts
approx. 6 pizza donuts
45 minutes (+ 30 minutes resting time + 15 minutes baking time)
Ingredients
For the dough:
250 g (2 cups) flour
1 tsp active dry yeast
1 tsp salt
150 ml (0.66 cup) water
1 tbsp olive oil
Toppings (each for two pizza donuts)
For the tofu and leek topping:
6 tbsp plant-based crème fraîche
50 g (2 oz) vegan shredded cheese
150 g (5.5 oz) smoked tofu
2 scallions
salt
pepper
For the kale and "feta" topping:
6 tbsp sieved or canned diced tomatoes
1 tsp dried oregano
50 g (2 oz) vegan shredded cheese
50 g (2 oz) vegan feta cheese
50 g (2 oz) fresh kale
0.5 red onion
salt
pepper
For the tomato and "sausage" topping:
6 tbsp sieved or canned diced tomatoes
1 tsp dried oregano
50 g (2 oz) vegan shredded cheese
0.5 bell pepper
1 plant-based sausage
salt
pepper
Instructions
Mix flour, dry yeast and salt in a large bowl. Add water and olive oil and knead the dough for at least 5 minutes until it's soft and smooth, preferably with a hand mixer or kitchen machine. Transfer the dough to a lightly greased bowl and cover it with a fresh kitchen towel. Either let the dough rise in a warm place for at least 30 minutes (until it has about doubled in volume) or refrigerate it overnight.

In the meantime, prepare all the toppings. For the tomato sauce, season the strained or diced tomatoes with dried oregano, salt, and pepper, and chop the diced tomatoes a bit smaller if needed. Chop the vegan shredded cheese into smaller pieces as well. Finely dice the smoked tofu and bell pepper. Thinly slice the scallion, red onion and the plant-based sausage. Crumble the vegan feta cheese with your hands. Cut the kale leaves from the stalk and finely chop them.

Preheat the oven to 200 °C/390 °F (convection heat) and line a baking sheet with parchment paper. Lightly flour your work surface and roll out the yeast dough to a thickness of about 1 cm / 0.4 inches. First, cut out larger circles, followed by another small hole in the middle of each circle – the size of the pizza donuts is up to you. Then transfer the pizza donuts to the prepared baking sheet.

Spread tomato sauce or the plant-based crème fraîche on the dough first, sprinkle the plant-based shredded cheese on top and cover with the remaining toppings.

Bake at 200 °C/390 °F (convection heat) for about 12–15 minutes. The pizza donuts taste amazing when coming out of the oven fresh and warm. Alternatively, you can enjoy them at room temperature, too.
More Vegan Brunch Recipes