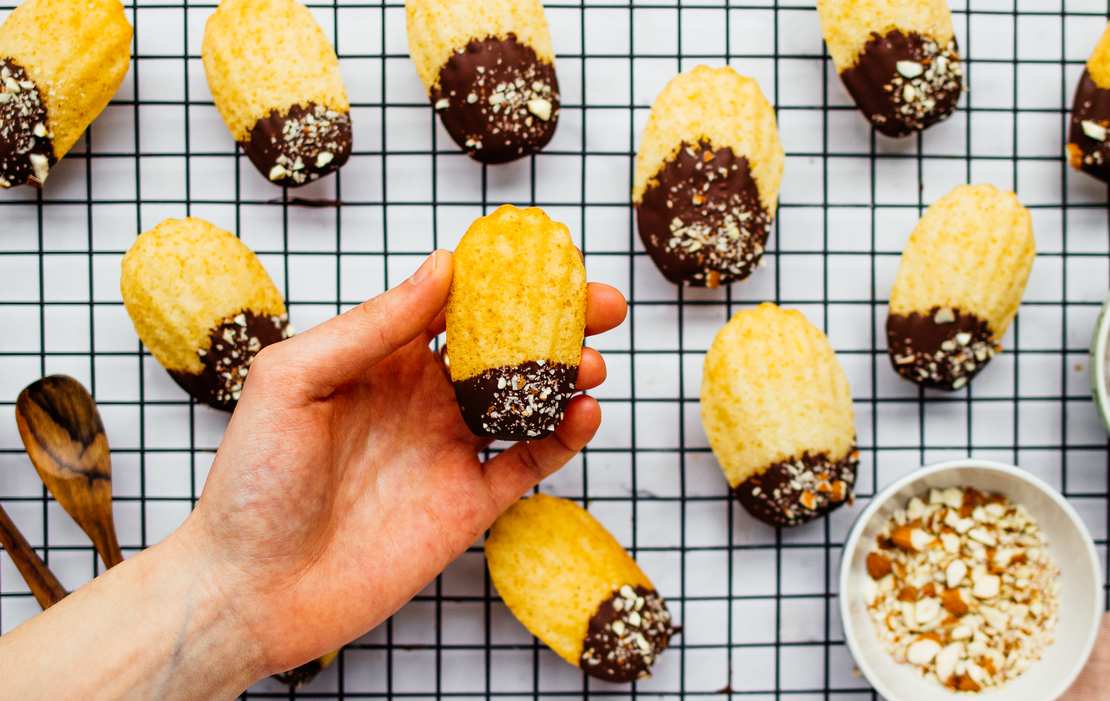 Vegan madeleines have been on our recipe list for a while now. Although I've never eaten the original ones, they look so pretty that I can't imagine them not tasting great. Madeleines are small cakes that are made with a génoise cake batter and probably originate from the French town Commercy. Traditionally, they are made with flour, confectioner's sugar, egg, baking soda, lemon zest, butter, and rum (source). We experimented a bit to replace all animal-based ingredients without compromising the flavor and consistency.
The result is a really simple ingredient list that you can check off in really any supermarket. And even if it seems a bit inconvenient, you need a special mold for the pastry's typical look. You can find madeleine baking molds in many kitchen departments, home stores, and online. Once you bought one, you're ready to go! For preparation, mix all the ingredients, then bake the madaleines for just ten minutes. We can only recommend to add either vanilla or rum flavoring, or the zest of a lemon to the batter. All three taste heavenly, but the addition of rum flavoring is my absolute favorite. For garnish, madeleines are often dusted with confectioner's sugar, but you can also dip them in melted dark chocolate and sprinkle chopped almonds on top.
Vegan Madeleines
20 madeleines
20 minutes (+10 minutes baking time)
Ingredients
For the batter:
150 g (1.25 cups) wheat flour type 405
75 g (0.33 cup) sugar
8 g (2 tsp) baking powder
8 g (2 tsp) vanilla sugar
1 pinch of salt
160 ml (0.66 cup) plant-based milk
30 ml (1 oz) vegan butter or canola or sunflower oil
vegan butter or vegetable oil for greasing
For the flavor:
1 ml (0.25 tsp) rum flavoring
OR
1 ml (0.25 tsp) vanilla flavoring
OR
0.5-1 lemon (zest)
For garnish:
confectioner's sugar
OR
dark chocolate
almonds
Instructions
Preheat oven to 180°C/355°F (air circulation) and grease madeleine baking molds with vegan butter or vegetable oil.

Mix flour, sugar, baking powder, vanilla sugar, and salt in a bowl. Add plant-based milk and melted vegan butter (or vegetable oil) and stir until combined. You should get a smooth batter.

Keep the batter as it is or add an additional flavor, such as rum or vanilla flavoring, or fresh lemon zest.

Fill the batter into the prepared madeleine baking molds until they are filled up to three quarters. Bake the madeleines at 180°C/355°F for approx. 10 minutes. Afterwards, remove from the oven and let them cool down. Dust vegan madeleines with confectioner's sugar or dip them into melted chocolate and sprinkle with chopped almonds.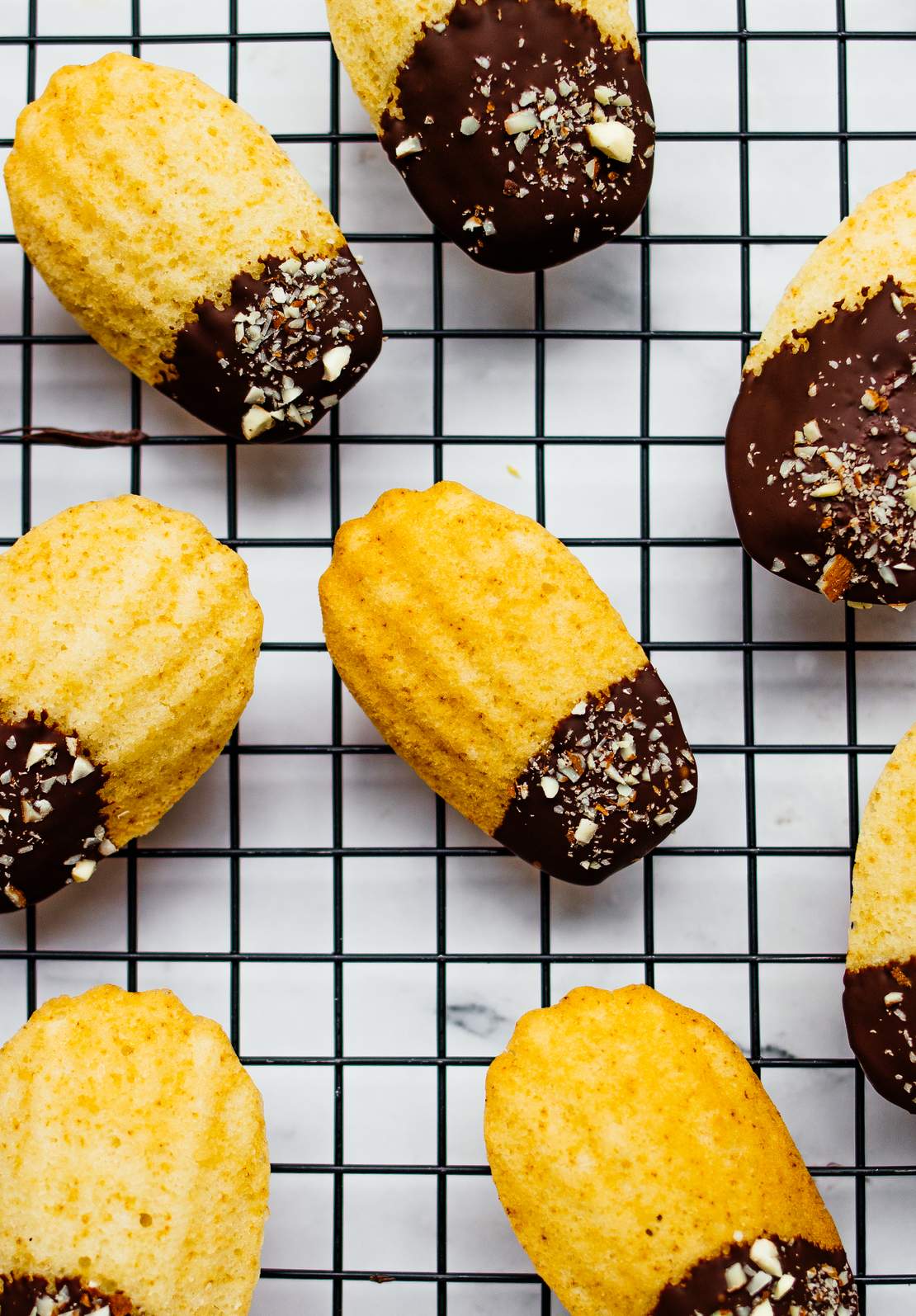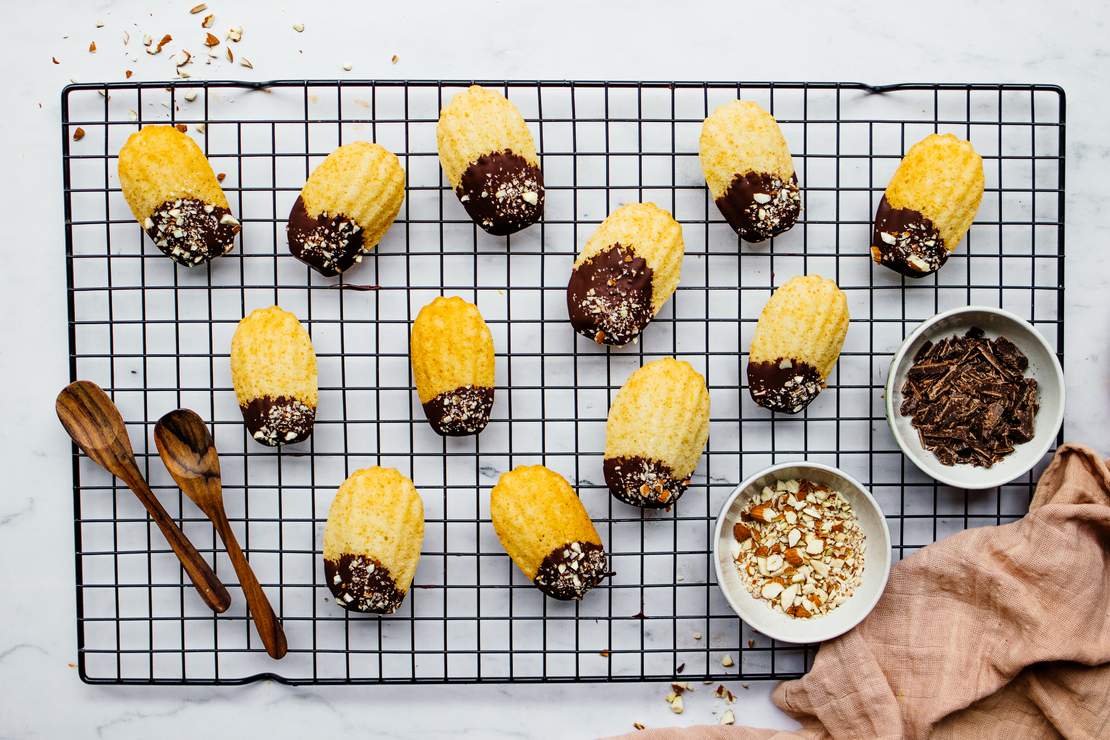 More Vegan Cakes & Cookies