Make a wish: In our series "Make a wish" we develop recipes to make your wishes come true - whether it's about vegan french toasts or doughnuts. If you also have a recipe that we should cook for you, send us a quick mail to hello@zuckerjagdwurst.com. Until then, find all your previous wished recipes here.
Today, a very special scent drifted through our office. If you know us well, you've maybe already guessed it: we've been deep-frying again! The reason was our recipe for vegan jelly doughnuts, which we wanted to revise after a few years. In addition, we wanted to test if doughnuts can also be baked instead of deep-fried and which version tastes better. So we actually made two batches of doughnuts, one in the oven and one in a frying pan. Afterward, even our neighbors had enough snacks for the day because we couldn't keep up with all the jelly doughnuts. Whoops.
But now you probably want to know the result of our intensive research. 15 minutes and a sugar shock later, we concluded that deep-fried doughnuts taste better. They simply rise a little better in the fat, become fluffier, and taste more intense. But still, the doughnuts from the oven also tasted very good, so we don't want to withhold this version from you. If you don't like it greasy or have less time, you absolutely can't go wrong with the baked version!
Anyway, our test kitchen is not over yet! Actually, we didn't only test the preparation, but we also tried two different flours - spelt and wheat flour. Again, both versions taste great, so you can either use a wheat flour type 550 or a spelt flour type 630. Both types of flour are ideal for sweet yeast doughs. Furthermore, you can, of course, choose whether you prefer jam or chocolate cream for the filling. Our favorite remains jam, but we always like to use different flavors to have a little variety.
By the way, we published this recipe because a dear follower requested this recipe. So if you have something that we should definitely cook or bake, feel free to comment under this recipe or write us on Instagram or Facebook.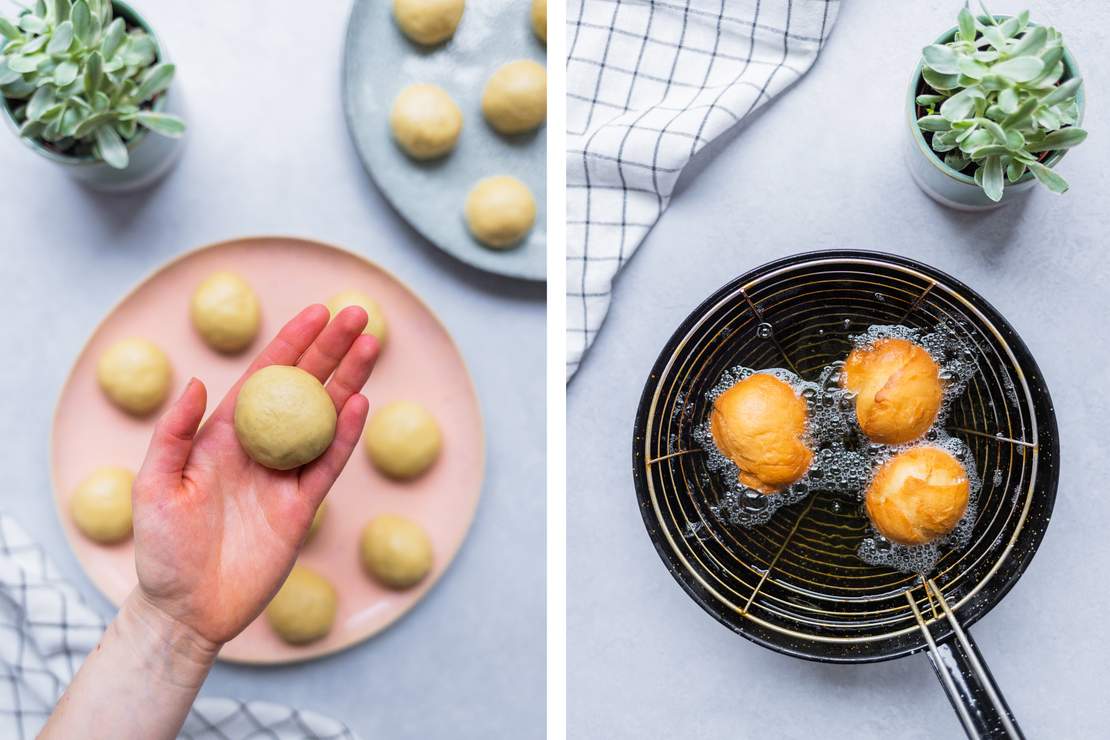 Vegan Jelly Doughnuts
20 Jelly Doughnuts
90 minutes (+ 90 minutes waiting time)
Ingredients
For the dough:
550 g (4.5 cups) wheat flour type 550 or spelt flour type 630
70 g (0.33 cup) sugar
120 ml (0.5 cup) plant-based milk
42 g (1.5 oz) fresh yeast
3 tbsp applesauce
100 g (1 stick) vegan butter
1 vanilla pod
1 pinch of salt
For the filling:
250 g (9 oz) jam (or chocolate cream)
Also:
1 l (4 cups) plant-based oil for deep-frying
icing sugar for serving
Important: Make sure you have a piping nozzle for long puff and reusable piping bags at home.
Instructions
Warm the plant-based milk until it is lukewarm, and pour into a small bowl. Crumble in fresh yeast and add a teaspoon of sugar. Let the mixture stand for approx. 5 minutes until small bubbles form on the surface.

In a large bowl, mix the remaining sugar, flour, vegan butter, applesauce, salt, and a vanilla bean's pulp. Then combine the yeast mixture with the remaining ingredients and knead everything into a smooth dough. Shape the dough into a large ball and let rise covered in a warm place for approx. one hour.

Remove the yeast dough from the bowl and form small balls (approx. 45 g (1.5 oz) per doughnut) with your hands. Make sure to knead each dough ball until it has a smooth surface. This prevents the doughnuts from riping during frying or baking. Then let the little dough pieces rest again for approx. 30 minutes.

If you want to deep-fry the doughnuts, heat vegetable oil in a pan to 160°C/320 °F. It's hot enough if you hold a wooden skewer in the hot fat and small bubbles form on it. Then deep-fry all the doughnuts one after the other until golden brown, turning them in between. Next, remove the doughnuts from the fat and let drain on paper towels.
Tip: You will need a little patience when frying, as it can take up to 10 minutes per doughnut. Make sure you keep a constant temperature and don't fry too many doughnuts at the same time to prevent the doughnuts from sticking together or becoming too dark on the outside.
If you want to bake the doughnuts in the oven, bake them in a preheated oven at 160°C/320 °F (convection oven) for about 15-20 minutes until golden brown. Then let cool on a cake rack.

Transfer the jam (or chocolate cream) into a piping bag with a long nozzle and fill the doughnuts with it. Sprinkle with icing sugar and serve still warm.