Let us introduce you to a perfect weeknight dinner that's done in less than 20 minutes and only needs five ingredients (we don't count spices and serving here). Well yes, in case you want to say that the cashews need to be soaked first... you're right, but we've mentioned more than once that it's always a good idea to have soaked cashews waiting for you in the fridge, ha! No worries if you don't have them though, you need to soak them in warm water for approx. 30 minutes which should be enough to blend them smooth in a good stand mixer. If your blender is not too powerful, better soak the cashews longer to soften them.
In the original recipe, fettuccine is tossed in Parmesan cheese and butter, but we just wanted to recreate a similar creamy, "cheesy" and rich, quick dish food. The silken tofu turns the cashew mixture creamier, and the pasta's cooking water will combine sauce and fettuccine. The vegan butter is optional but adds some cozy, tasty fat to the dish.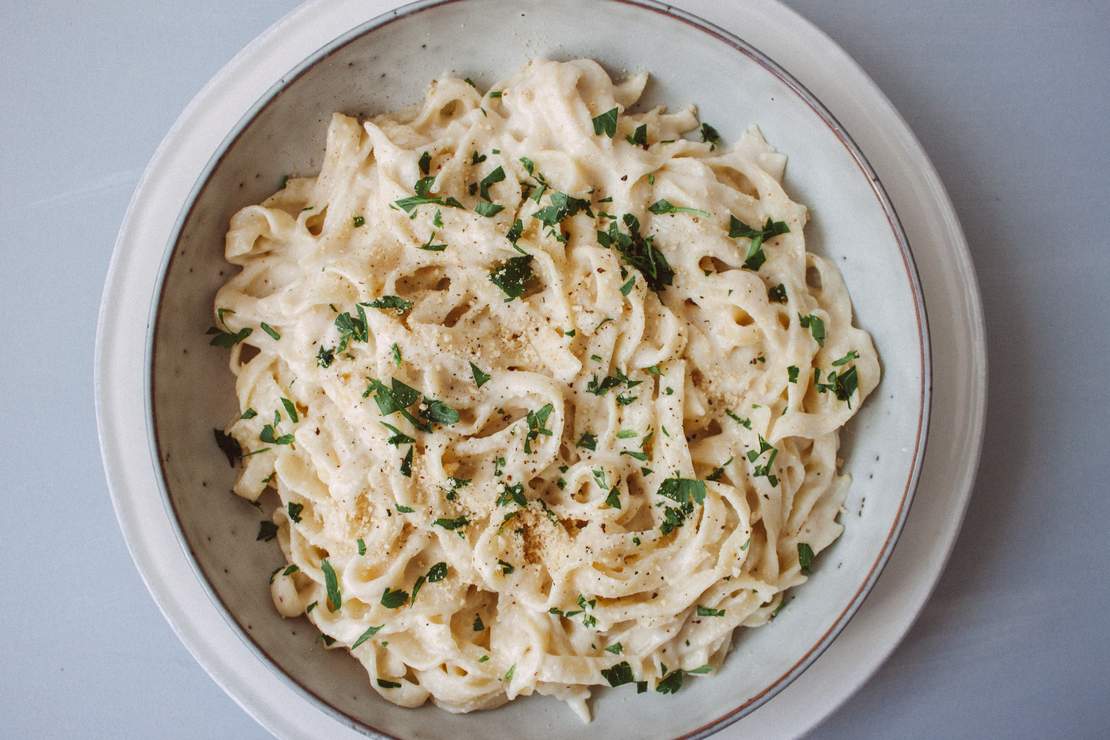 Vegan Fettuccine Alfredo
Ingredients
200 g (7 oz) fettuccine
250 g (9 oz) soaked cashews
400 g (14 oz) silken tofu
3 tbsp nutritional yeast
2 tbsp plant-based butter
salt
pepper
parsley for serving
vegan Parmesan cheese for serving
Instructions
Bring salted water to a boil and cook fettuccine according to package instructions until they are al dente.
In the meantime, add soaked cashews, silken tofu, and nutritional yeast to a stand mixer or use a blender to mix it until it's smooth. Season with salt and pepper to taste.
Before draining the pasta, reserve approx. 1 cup of the cooking water and set aside. Now you can drain the fettuccine.
Add the fettuccine and sauce to a frying pan over medium heat and toss to coat. Add the reserved cooking water little by little until the sauce combines and gets beautifully creamy. To finish. Add some vegan butter and stir to combine. Season with salt and pepper to taste and serve the pasta with fresh parsley, vegan Parmesan cheese, some more pepper, and chili flakes, if desired.
Vegan Parmesan Cheese
Ingredients
100 g (3.5 oz) cashews
50 g (2 oz) chopped almonds
3 tbsp nutritional yeast
1 tsp sea salt
0.5 tsp garlic powder
Instructions
Add all ingredients to a food processor and mix until you get fine crumbles. No worries, in case there should be bigger chunks left, that just makes your vegan parmesan a bit crunchy.

Store in an airtight container or jar and sprinkle on top of your pasta dishes or mix it into your pesto.