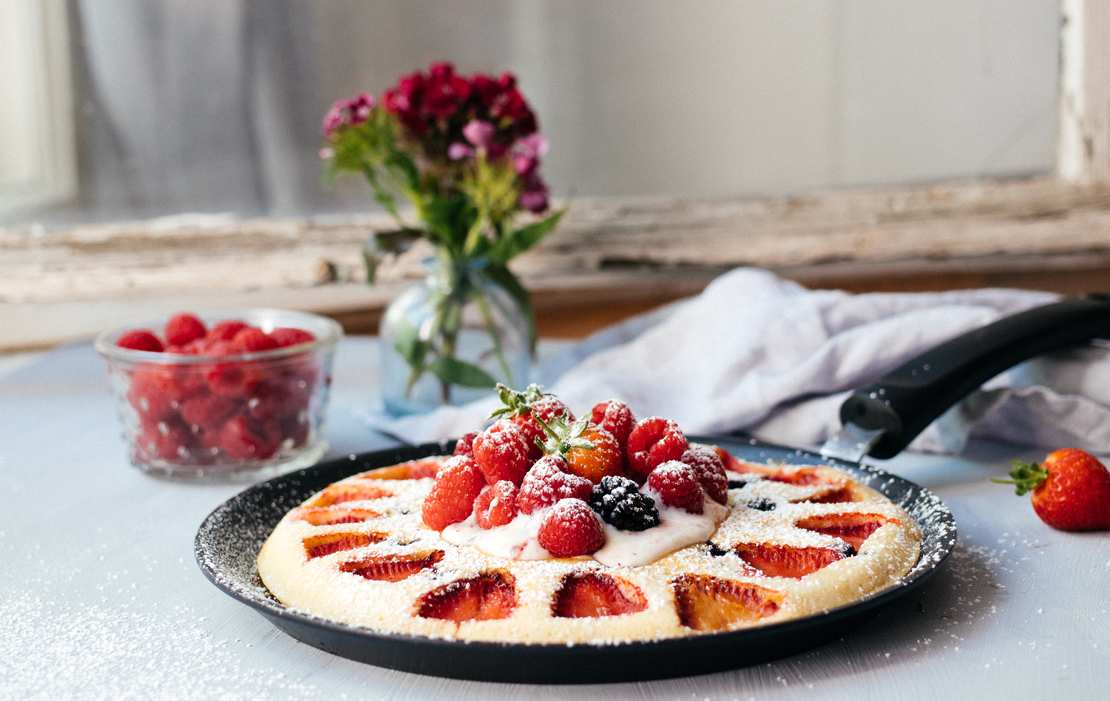 Quick, vegan Deep Dish Pancake with berries
Sometimes we are in the mood for pancakes but have absolutely no time to prepare some. No matter if you're too hungry, your work is calling or you just don't feel like standing in the kitchen for too long. This deep dish pancake is ready in no time and satisfies all you pancake feels.
What's the trick? Instead of baking ten to 15 pancakes in a pan and waiting for all of them, you just fill the whole dough directly into the pan. The best part of it: just place berries and fruits in the pan to create a quick and vegan deep dish pancake.
Quick, vegan Deep Dish Pancake with berries
1 pancake (2 servings)
10 minutes (+10 minutes waiting time)
Ingredients
pancake dough
125 g (1 cup) flour
7 g (1 tsp) baking powder
10 g (0.35 oz) vanilla sugar
25 g (2 tbsp) white sugar
pinch of salt
1 tsp apple cider vinegar
200 ml (0.8 cup) plant-based milk
1 tbsp plant-based oil (for greasing the pan)
100 g (3.5 oz) strawberries and blueberries
toppings
100 g (3.5 oz) plant-based yogurt or quark
2 tbsp jam (strawberry, raspberry ..)
50 g (1.7 oz) fresh berries
50 g (1.7 oz) powdered sugar
Instructions
Mix the plant-based milk with the apple cider vinegar in a bowl and set aside for 10 minutes.
Mix flour, sugar, salt, vanilla sugar and baking powder in another bowl.
Now add the plant-based milk to the dry ingredients and mix to a smooth dough. Set aside for 10 minutes.
Wash the strawberries and blueberries. Remove the strawberry stalk and halve the strawberries.
Grease a small, well-coated frying pan with a little oil (including the edges). Now place the strawberries and blueberries in it and then carefully fill in the dough.
Now turn on the stove and bake the pancake at low heat for at least 5 minutes. Turn once (with the help of a plate) and bake from the other side too.
Serve with plant-based yogurt, jam, fresh fruits or powdered sugar.