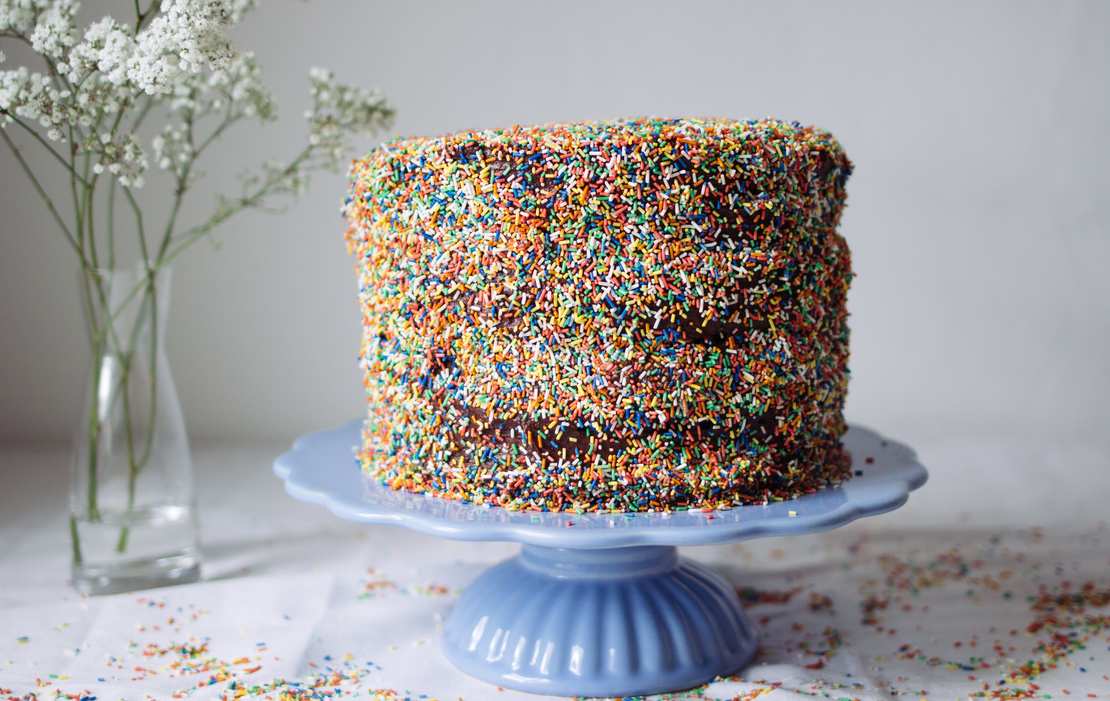 Vegan Chocolate Cake with Sprinkles
In April 2017, our little blog turned one. This is why we invited 15 friends who supported us throughout the first adventurous year. Inviting that many people means that you need to serve a lot of food. Ha! We're experts at this point! We wanted to have one big cake instead of a bunch of tiny desserts, so we baked this four-layered cake. We've never prepared a cake this size… and in the process of baking we noticed that we didn't even have a recipe for chocolate cake on the blog (shame on us!). So all together we had to celebrate the moment and decided to go over the top and throw some sprinkles on it in the end. All worth it! Everyone loved the cake and you'll love it too!
Vegan Chocolate Cake with Sprinkles
20 pieces
1 hour (+ baking time & time to chill)
Ingredients
FOR THE DOUGH (SERVES FOR 4 LAYERS)
250 ml (1 cup) strong coffee
750 ml (3 cups) plantbased milk
2 tsp apple cider vinegar
10 g (0.35 oz) vanilla extract
300 ml (1.25 cups) rapeseed oil
600 g (21.2 oz) apple sauce
700 g (5.8 cups) flour
500 g (2.2 cups)sugar
200 g (7 oz) unsweetened cocoa powder
2 packages baking powder
2 tsp soda
1 tsp salt
FOR CHOCOLATE FROSTING
500 g (2.2 cups) vegan butter (room temperature)
600 g (21.2 oz) powdered sugar
100 g (3.5 oz) melted dark chocolate (cooled down)
200 ml (0.8 cups) plantbased milk
100 - 200 g (3.5 - 7 oz) cocoa powder
FOR DECORATION
200 - 300g (7 - 10.5 oz) multicolored sprinkles
Instructions
CAKE DOUGH
Preheat oven to 180°C / 355°F. Cover the bottom of a cake pan (24cm) with parchment paper. Grease with oil using a baking pinsel. Add some cocoa powder and flour the cake pan with until it's all covered.
Cook coffee and let cool down.
In a large mixing bowl, mix plant-based milk and apple cider vinegar and let rest for approx. 5 minutes. If you have no large bowl, simply prepare the batter in two batches – it's going to be quite much batter in the end, so you'll need a LARGE mixing bowl if you do it in once.
Add coffee, vanilla extract, apple sauce and rapeseed oil. Using a hand mixer, stir to combine until smooth.
Little by little add flour, sugar, cocoa powder, baking powder, soda and salt and stir to combine until a smooth batter forms. Divide the batter into four equal-sized parts to four bowls (since we need four layers in the end). We can only recommend to really measure the dough in this step, so every layer is about the same size in the end. We had approx. 800 g of batter per layer.
Transfer the first part of batter to your cake pan and bake it at 180°C / 355°F for approx. 50 mintues.
As soon as the first layer is baked, cool down a bit and remove from cake pan to let cool down completely on a kitchen wrack. Repeat with remaining dough – if you have more cake pans of the same size – good for you! This will speed up the baking process! Always use a toothpick to test if the cake is done – if it gets too dark on the top, but is not done yet, simply cover it with aluminium foil and keep baking.
CHOCOLATE FROSTING
Place a heatproof bowl over a pot with boiling water. Add dark chocolate to the bowl and melt. Alternatively, you can also melt chocolate in a microwave. Afterwards let it cool down.
Add vegan warm butter, plant-based milk, cocoa powder and cool melted chocolate to a bowl and beat with a hand mixer. Add powdered sugar little by little until the frosting gets the right firm texture. It's perfect if you're able to spread it on your cake easily, but it should not drip down the cake anymore.
SERVING
Place the first layer on a cake plate and spread 2 tbsp frosting on it. Place the second layer on top of it, then spread 2 tbsp of frosting on it. Repeat until all four layers are on top of each other – always with some frosting in between.
If you assembled the cake, spread remaining frosting all around the cake smoothly. Crumb the cake with sprinkles from all sides. Refrigerate the cake until served. Hard but true: The cake tastest the best if it's refrigerated overnight.
More Vegan Cakes & Cookies