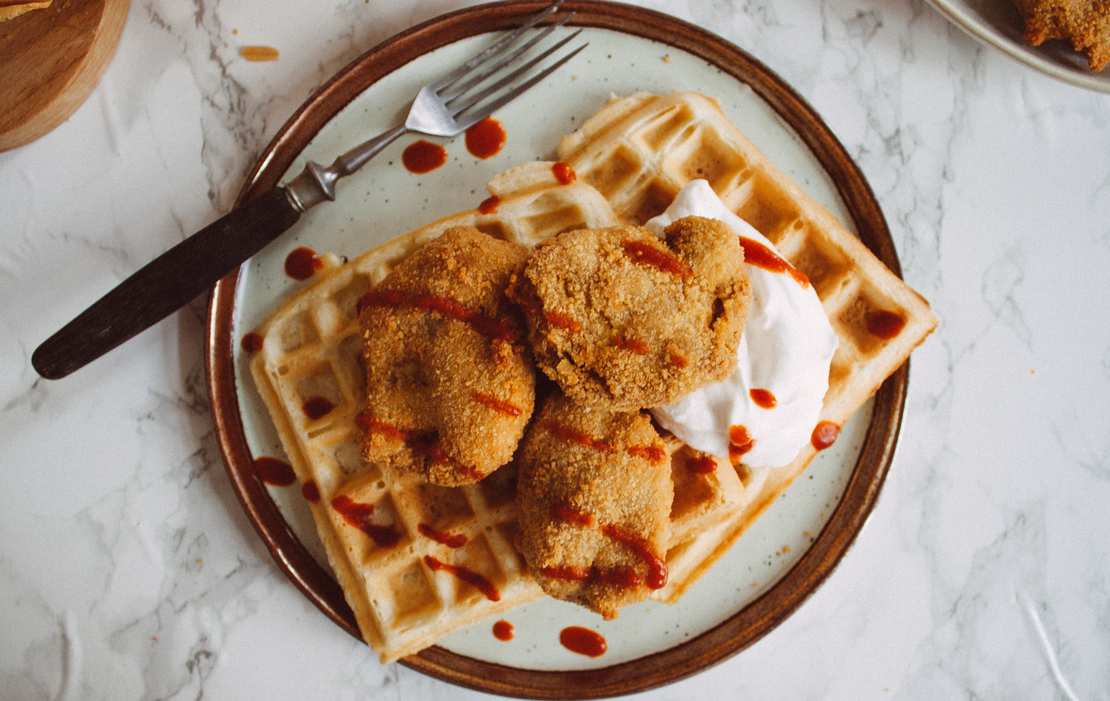 Sweet waffles meet fried vegan chicken. The one or other might shake his head in disbelief right now – what are those girls doing now? But nothing doing! This combination was not invented by us, but some genius … probably American. We heard a lot about it in New York and Julia even tried (and loved!) a vegan version at Champs Diner during her New York trip. The combination of sweet waffles, whip cream and deep fried chicken with hot sauce is something that you simply HAVE TO try. Unfortunately it's not that easy to get "Tom's Hot Sauce" that is the classic hot sauce for this dish in US. But of course you can simply use any hot sauce you find – we (Julia) love sriracha!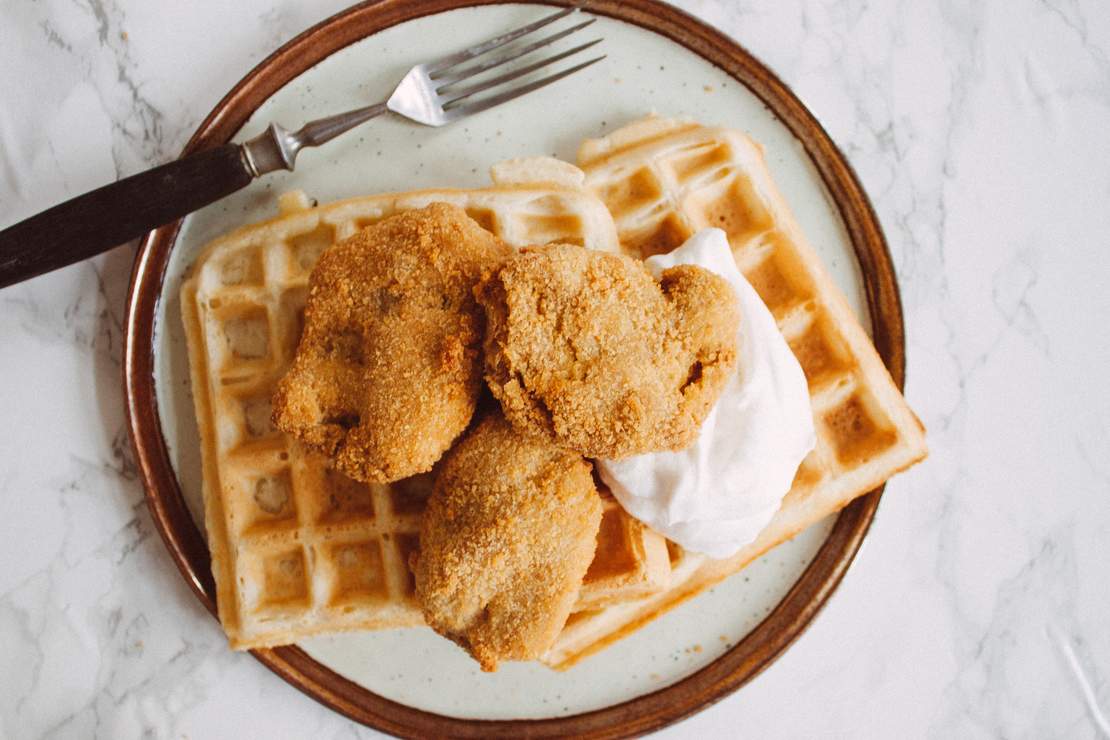 Vegan Chicken & Waffles
6 - 8 servings
1 hour 10 minutes
Ingredients
FOR WAFFLE BATTER
200 g (1.5 cup) flour
200 ml (9.85 cup) plantbased milk
3 tbsp sugar
50 ml (0.2 cup) fizzy water
1 pinch of salt
1 tsp baking powder
1 tsp vanilla flavor
3 tbsp oil
1 tsp lemon zest
FOR VEGAN CHICKEN
12 soy medaillons
1 l (4 cups) vegetable stock
salt&pepper
paprika
FOR CRUMBING AND DEEP-FRYING
100 g (0.8 cup) flour
100 g (3.5 oz) breadcrumbs
3 tbsp soy flour
8 tbsp water
1 l (4 cups) plantbased oil
TOPPINGS
vegan whipped cream
hot sauce, e.g. Sriracha
Instructions
Transfer soy medaillons in a pot or heatproof bowl and fill up with hot veggie broth until covered. Let it soak for approx. 10 minutes. Afterwards pour off water and squeeze out soy meat. Season with salt, pepper and paprika from all sides.
Prepare three deep plates. Add flour to the first one and breadcrumbs to the second one. In the third one, stir soy flour with water. According to the size of soy meat, you maybe need more of those ingredients at one point, so you may have to refill those plates.
Roll soy medaillons in flour first, then toss in soy-flour-water-mix and afterwards roll in breadcrumbs. Again toss in soy-water mix and roll one last time in breadcrumbs.
Heat up oil to 180°C / 350°F in a medium-sized sauce pan. Start deep-frying soy medaillons one at a time and stay careful. It's totally fine to only deep-fry 2-3 medaillons at the same time. Afterwards degrease with kitchen paper.
For waffles, stir together all ingredients needed in a large bowl. Start with dry ingredients and add liquids little by little until batter is smooth.
Preheat waffle maker and spread some neutral oil on it with a pastry brush. Add one ladleful of batter and bake waffle until goldenbrown. Repeat until batter is used up.
Serve waffle and vegan chicken with vegan whip cream and hot sauce.