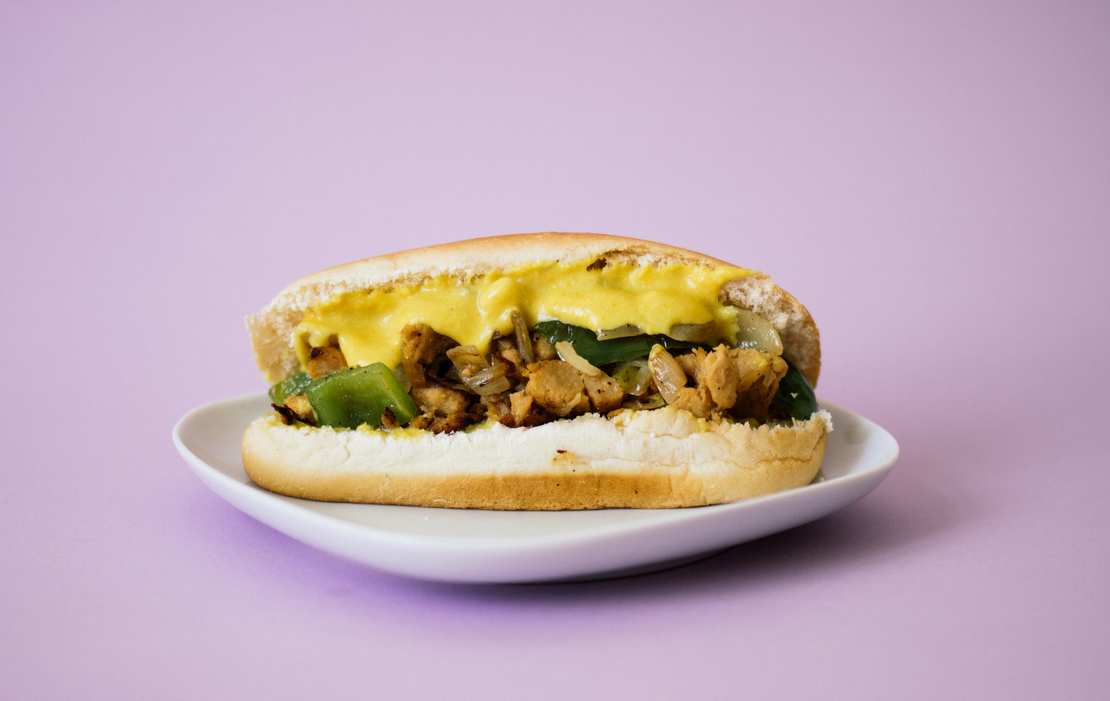 Vegan Cheesesteak Sandwich
Sandwich Sunday: We love sandwiches, but unfortunately, most of the classic and famous ones are not vegan. This is why we're celebrating vegan Sandwich Sunday and present a new veganized classic sandwich each month. From Grilled Cheese Sandwich to Pastrami Sandwich – you can find all our vegan sandwich recipes here.
Say hello to: Cheesesteak Sandwich
About the how and why: The legend of the cheesesteak sandwich sounds too sweet to be true. At this point, we often have to write a vague origin story, but the tale of the cheesesteak sandwich is quite romantic. It is said that Pat and Harry Olivieri from Philadelphia had a hot dog stand where they once made a sandwich with beef and grilled onions (the cheese ended up on the sandwich much later). A random passing taxi driver tried one of the sandwiches and was so impressed that they started to sell the sandwich at the hot dog stand and later opened a restaurant called "Pat's King of Steaks" that still exists today.
What's usually on it: In addition to beef, you'll often find onions and green bell pepper on the sandwich, as well as ketchup, hot sauce, and cheese such as the Italian Provolone cheese. For the bun, Americans love to use the ones by "Aromoso's Baking Company," a family company producing these perfectly soft, long buns.
How we do it: The cheesesteak sandwich is comparatively easy to veganize. Buns (unfortunately we can't get the ones from Amoroso's), onion and bell pepper are vegan anyway. Instead of Provolone, we're adding our vegan cheese sauce based on this recipe for vegan queso dip, only kicking out the jalapenos this time. The beef is substituted with soy meat cut into strips.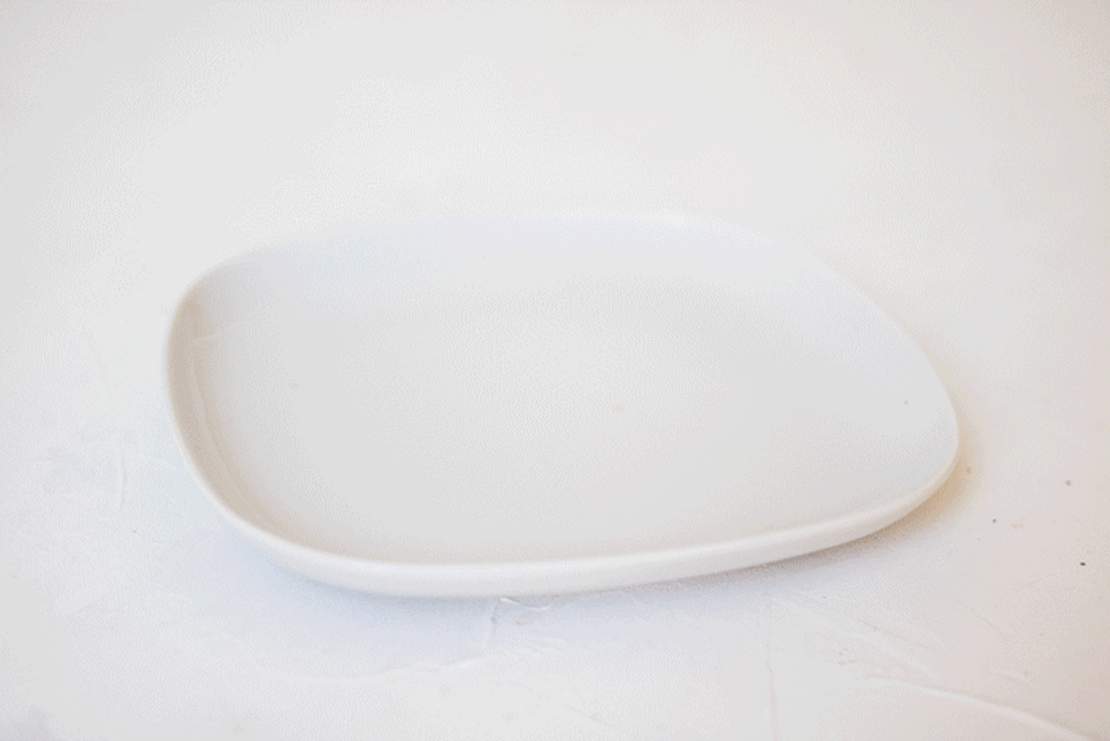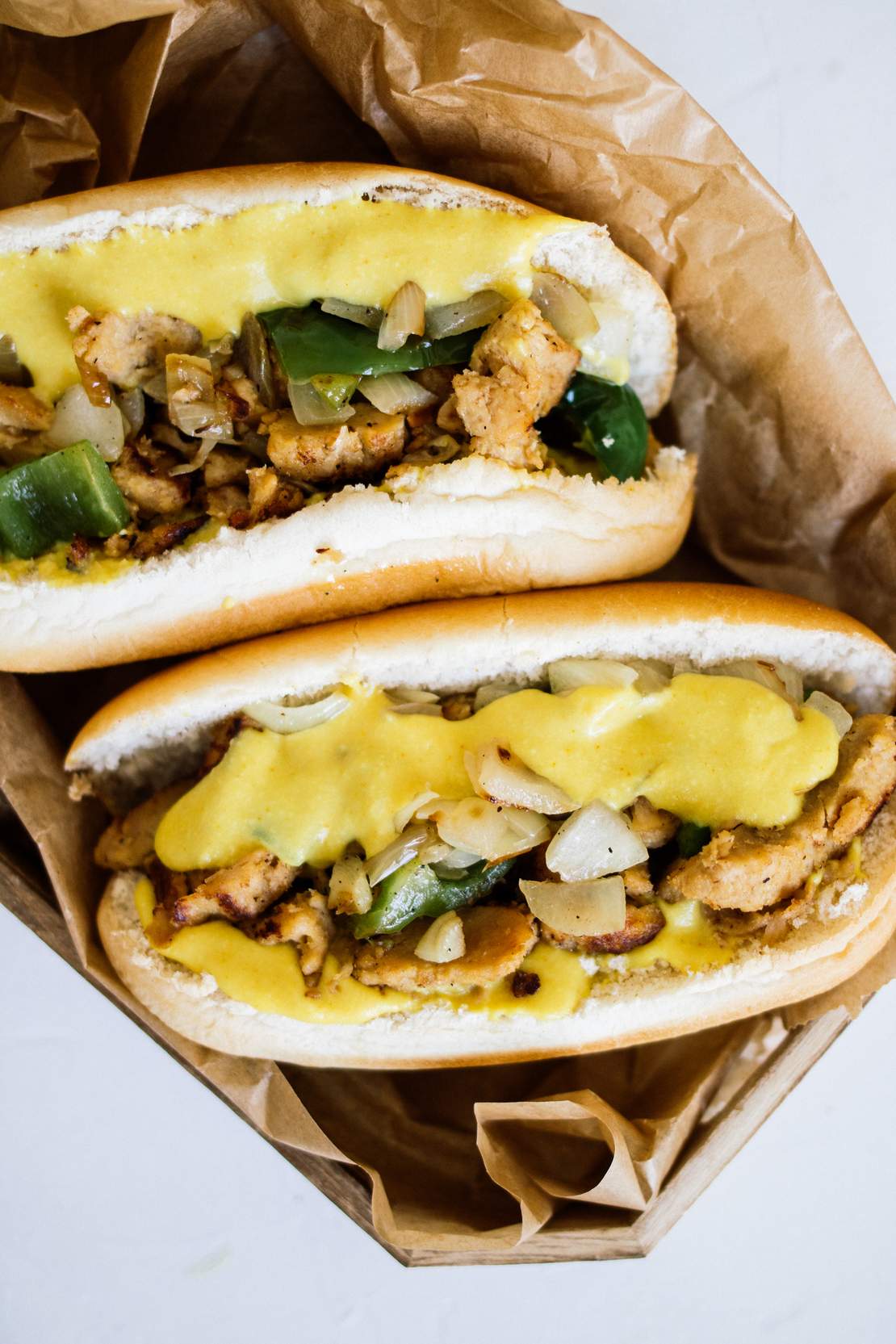 Vegan Cheesesteak Sandwich
Ingredients
4 longer baguette buns
1 green bell pepper
3 onions
oil for frying
vegan cheese sauce (recipe below)
For the soy meat:
150 g (3.5 oz) dried soy meat (cut in smaller chunks)
500 ml (2 cups) hot vegetable broth
3 tbsp mustard
2 tbsp vegan Worcestershire sauce
1 tbsp soy sauce
1 tbsp agave syrup
oil for frying
salt
pepper
Instructions
Did you already prepare the vegan cheese sauce? You can find the recipe on the blog. For this sandwich, we didn't use any jalapenos, though.
Start by soaking the soy meat in hot vegetable broth for approx. 10 minutes. Then drain and squeeze out water.
Add soaked soy meat to a bowl. In another bowl, mix mustard, vegan Worcestershire sauce, soy sauce, and agave syrup. Season with salt and pepper to taste. Add the mixture to the soy meat and toss to coat.
Heat some vegetable oil in a large frying pan and fry soy meat for several minutes until it's browned from all sides. Remove from the pan.
Wash and cut green bell pepper and peel and dice the onions. Heat some more oil in the frying pan and fry onions for approx. 3 minutes until translucent. Then add green bell pepper and fry for another 10 minutes until it's softened. Season with salt and pepper to taste.
Warm up buns and halve them. Spread some vegan cheese sauce on them, then top with fried soy meat, bell pepper, and onion and drizzle more vegan cheese sauce on top.
Vegan Queso Dip
Ingredients
400 g (14.1 oz) potatoes
1 carrot
1 small white onion
60 g (2.1 oz) cashews (soaked in overnight, or in warm water for at least 30 minutes)
30 g (1 oz) nutritional yeast
50 ml (0.25 cup) plant-based milk
0.5 tsp garlic powder
0.5 tsp onion powder
3 tbsp juice of jalapenos + 5 pickled jalapenos
1 tbsp lemon juice
salt & pepper
cayennepepper
Instructions
First: Veggies! Peel potatoes, carrot, and onion and cut them in equal sized pieces. Put them in a small pot and cover with salted water. Let it cook until your veggies are soft, then drain them, but reserve the cooking water.
Get your food processor ready. Put in your soft vegetables, cashews, jalapenos and nutritional yeast and pour in approx. 100 ml (1/2 cup) of reserved cooking water, soy milk, and juice of jalapenos. Turn on your processor and watch it getting creamier and creamier.
Now it's time for seasoning. Put in some garlic powder, onion powder, lemon juice, pepper, salt, and cayenne.
For those of you who like it really cheesy: Add some more nutritional yeast. Serve warm with your favorite nachos!
More Sandwich Sunday - Vegan Sandwich Recipes