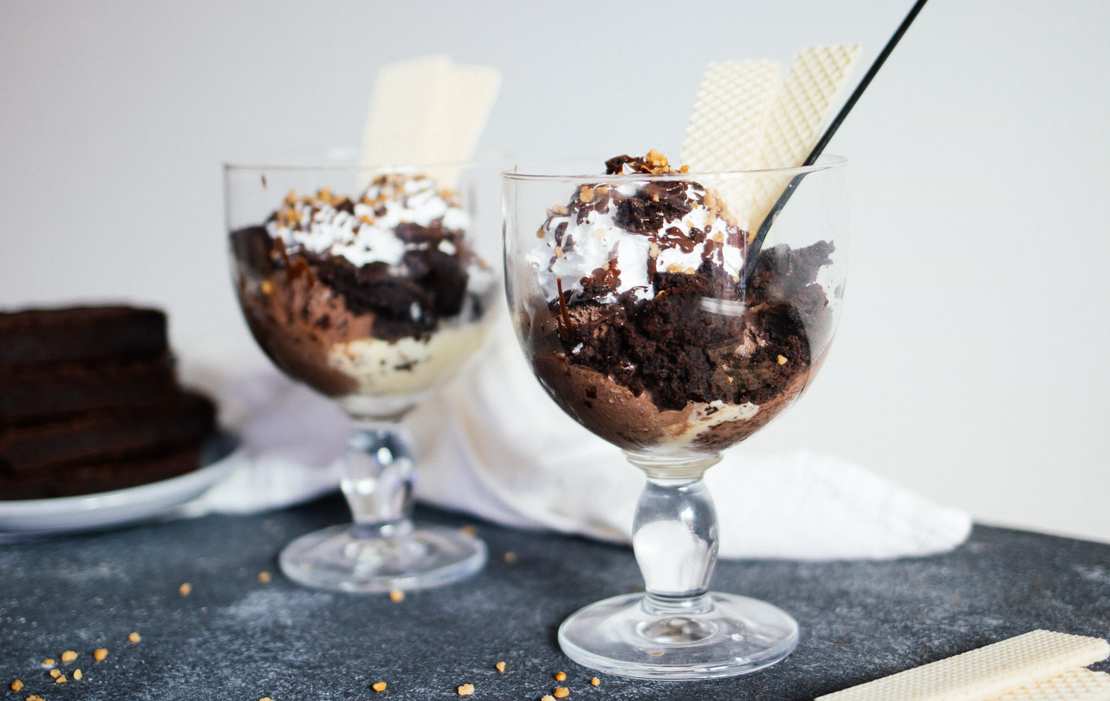 We enjoy the last warm evenings on the balcony. How long will we still have temperatures above 25° C? But instead of becoming sentimental in late summer, we simply enjoy August and September to the fullest. And how do you do that best? Of course with ice cream!
So we developed a vegan sundae for you that's far above chocolate heaven. For our vegan brownie sundae, we combined freshly baked and still warm brownies with cold whipped cream, creamy chocolate ice cream, melted chocolate and crunchy brittle. If you don't have time to bake brownies yourself, then you can use store-bought brownies - but homemade is always the best choice!
__ [LUVE] (https://madewithluve.de/start)__ supported us with this recipe. All products from LUVE are based on local lupins (from Mecklenburg-Western Pomerania) and thus support the regional agriculture - completely without genetic engineering. LUVE's ice cream is naturally lactose-free, gluten-free (except for the biscuit flavors), soy-free and super delicious. Besides the packaging is 100% biodegradable! You can find the products of LUVE at Kaufland, Aldi Nord, Veganz or at online delivery services.
Fudgy Vegan Chocolate Brownies
9 brownies (baking dish: 20x25 cm/8x10 inches)
20 minutes (+ 30 minutes baking time)
Ingredients
For the batter:
200 g (7 oz) dark chocolate

200 g (1.66 cups) wheat flour type 405 (or spelt flour type 630)

200 g (1 cup) sugar

50 g (0.5 cup) unsweetened cocoa powder

1 pinch salt

100 g (0.5 cup) apple sauce

100 ml (0.5 cup) vegetable oil

200 ml (0.75 cup) plant-based milk
Also:
50 g (1.75 oz) chocolate drops
vegan butter for greasing
Instructions
Preheat your oven to 180°C/350°F (convection heat). Melt the dark chocolate in a double boiler or a microwave.

Mix flour, sugar, cocoa powder, and salt in a bowl. Add the melted chocolate, apple sauce, vegetable oil, and plant-based milk and stir until combined.

Grease a baking dish (20x25 cm/8x10 inches) with vegan butter, pour in the batter, and smooth it out. Sprinkle the chocolate drops evenly over the batter.

Bake at 180°C/350°F (convection heat) for approx. 25-30 minutes. After cooling, the brownies will keep for about five days in an airtight container.
Vegan Brownie Sundae
2 servings / 2 cups
15 minutes
Ingredients
4 scoops vegan chocolate ice cream (e.g., LUVE)
2 scoops vegan vanilla ice cream (e.g., LUVE)
2 pieces vegan brownies (recipe on the blog)
2 tbsp brittle
100 g (3.5 oz) dark chocolate
100 ml (0.4 cups) plant-based cream for whipping
1 tbsp cream stabilizer
vegan waffles for decoration
Instructions
Bake the brownies according to our recipe. In the end, you get nine pieces, but you need only one brownie per sundae. After baking, let the brownies cool down.
In a tall container, whip the vegan cream with the cream stabilizer.
Melt the dark chocolate in a water bath and let it cool down as well.
Place two scoops of vegan chocolate ice cream and one scoop of vegan vanilla ice cream in an ice cream bowl. Decorate with lukewarm brownies, cold whipped cream, melted chocolate, brittle and small waffles and serve the vegan brownie sundaes immediately.