Vegan Black and White Cookies
My grandma used to prepare an enormous box of Christmas cookies every year. And although every activity became heavier and more strenuous with age, there was hardly a Christmas without cookies from her. In addition to coconut macaroons, vanilla crescents, and the like, black-and-white cookies have also been a staple of the ensemble.
The black and white cookie dough is an ordinary shortcrust pastry made from flour, sugar, and cold vegan butter. Half of the dough is colored with cocoa to get a lighter and darker dough. Often, a pinch of cinnamon is added to the cocoa dough or some rum or vanilla flavoring to the light dough. Of course, this decision is entirely up to you.
Which pattern would you like today?
There are many ideas on how to shape black and white cookies. Below, we have summarized the procedures for the most popular ones. For all variations, you always start by preparing a light and a dark dough.
The spiral pattern: Let's start simple! This pattern is probably the best choice if you make black and white cookies for the first time. Roll out both doughs to the same thickness and into a rectangle, place them on top of each other, roll the whole thing up tightly, and slice the dough, and your spiral pattern is ready!
The circle pattern: To be honest, this isn't the most beautiful pattern in the world, but for completeness, we want to mention it. For a circle pattern, roll out one dough into the shape of a rectangle, as if you were about to cut out cookies. The other dough, however, is formed into a large thick roll. The thinly rolled-out dough then covers this roll. Finally, slice the dough to create the cookies.
The cookie cutter pattern: This variant probably reminds you of the classic cut-out cookies. Roll out both doughs and cut out a large shape, such as a heart, circle, or square. Now take a much smaller cookie cutter and cut out even smaller shapes from the large shape. Instead of leaving these areas empty, fill them with the same shapes but from the other dough. For example, you could cut out a large heart from the light dough and cut out many tiny hearts in this heart. These many small hearts are then "filled" with many little dark hearts, and bang, you have a large white heart filled with small dark hearts.
The checkerboard pattern: Let's move on to the most challenging and time-consuming variant because you have to work quite precisely for a checkerboard pattern, and you also need a lot of patience. The crux lies in forming nine equally thick and equally long rolls of dough and then arranging them together as accurately as possible. If one dough roll is too thick, the pattern won't look even. If one is too short, only half of your cookies will look how we want them to. That's why it's worth weighing and measuring the dough rolls if you want to be precise. You can read the detailed instructions in the recipe below.
Random patterns: If you want to make your life the easiest, you can, take both doughs, knead them briefly, form them into a roll, and slice your cookies (or roll out the dough and cut them out). To be honest, this is always the "pattern" I go for when I run out of patience or already have enough "nice cookies." This could be sold as a cow spot pattern or a batik pattern, but I'd say it's the perfect variation for anyone who wants to reach their goal quickly. Fair enough!
Lastly, a quick note: In many recipes, you brush the light and dark dough with egg whites to help them stick together. We skip this step anyway since we're baking vegan. But you don't have to worry. The doughs still hold together well, even without egg whites. We didn't include a substitute in our recipe because we don't think it's necessary.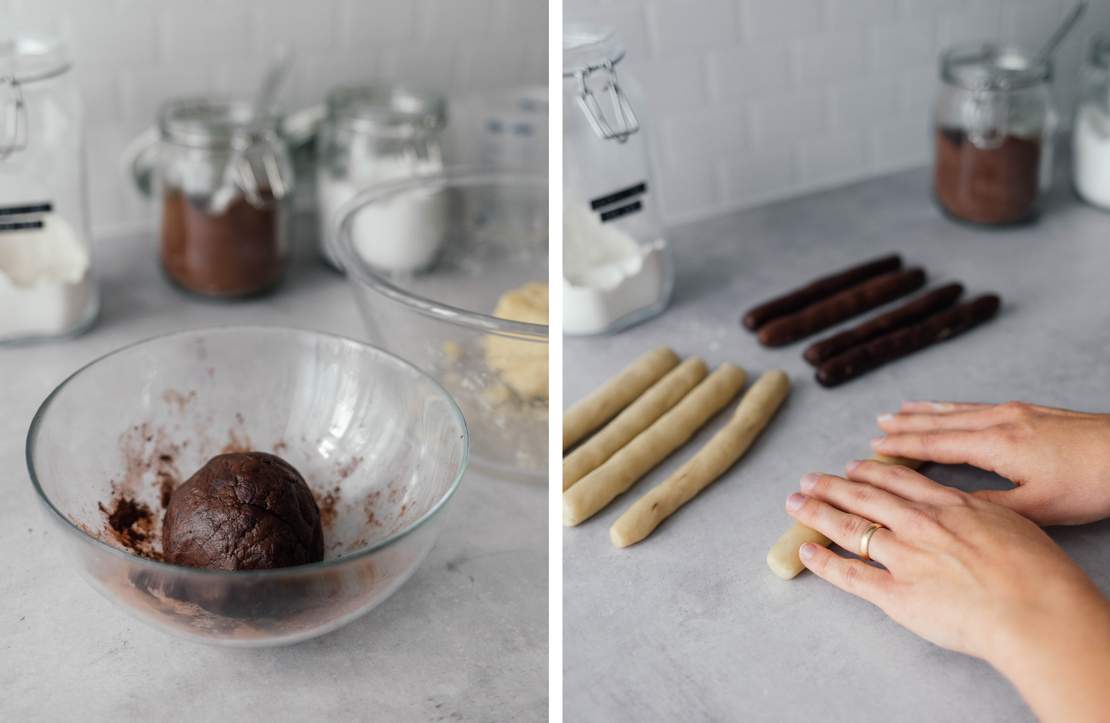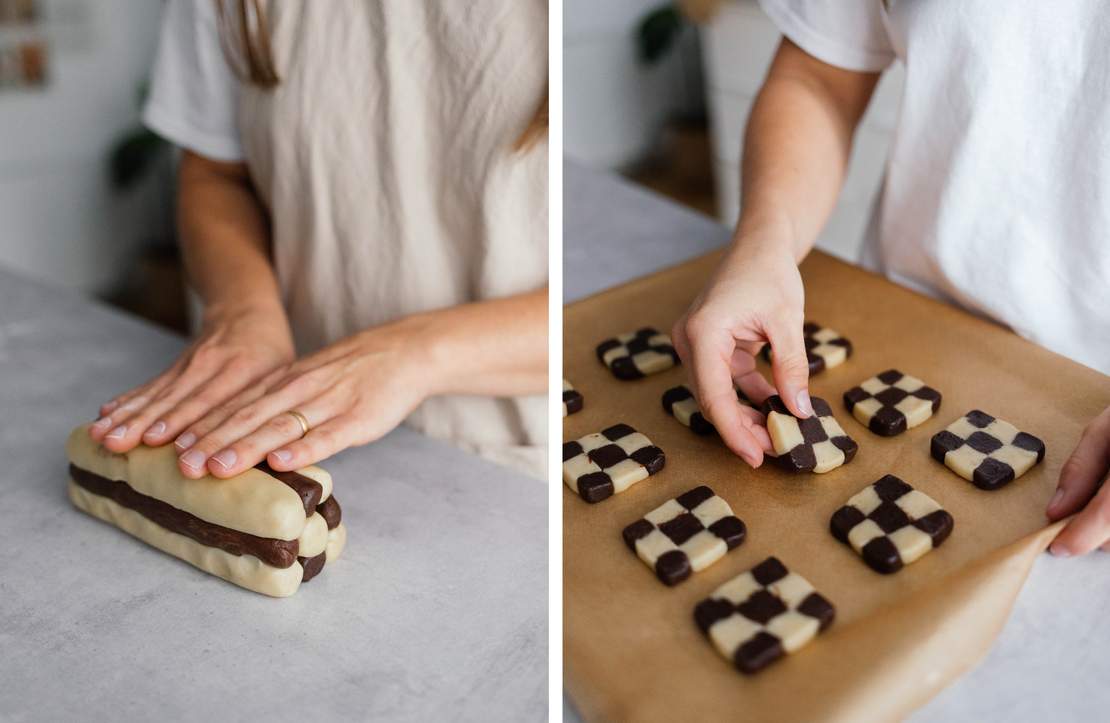 Vegan Black and White Cookies
approx. 25 cookies
30 minutes (+ 90 minutes cooling time + 10 minutes baking time)
Ingredients
300 g (2.5 cups) wheat flour (type 405)
100 g (0.5 cup) sugar
1 pinch of salt
200 g (1.75 sticks) cold vegan butter
1-2 tbsp unsweetened baking cocoa powder
cold water (if needed)
vanilla flavoring, rum flavoring, or cinnamon (optional)
Instructions
Mix flour, sugar, and salt in a large bowl. Add the cold vegan butter in flakes and knead all ingredients with cold hands until you get a smooth dough. If the dough doesn't come together, add some cold water.

Halve the dough, add unsweetened cocoa powder to one of the dough halves, and incorporate it to get one dark and one light dough. Optionally, add vanilla flavoring, rum flavoring, or a pinch of cinnamon. Refrigerate both doughs for about 60 minutes.

Roll out each dough into an oblong rectangle and trim the sides. Cut the light dough into four and the dark dough into five oblong strips, about 0.5 - 1 cm (0.2-0.4 inches) thick and of equal length. Roll each strip slightly "round" so that you have nine dough rolls of equal length.

Arrange the nine dough rolls together to create a square (3x3) that looks like a checkerboard pattern. Press it together, then let the dough chill for another 30 minutes.

Preheat the oven to 180°C/355°F (convection heat). Cut the chilled dough with a sharp knife into slices about 0.5 - 1 cm (0.2-0.4 inches) thick and arrange the cookies on a lined baking sheet. Bake for approx. 8 minutes.
More Vegan Christmas Recipes