There are two types of people: the ones that love to eat sweet breakfast and the ones that instead start their day a bit heartier. Isa already shared two of her favorite granola recipes: a chocolate granola with bananas and apple sauce and a quick rolled oats and nuts granola, that you can even bake into small edible serving bowls.
But I am definitely in team savory when it comes to breakfast. Half a roll with jam is fine as long as I eat one and a half roll with a hearty spread afterward. Still, crunchy cereal sounds also good to me, so I've ended up with a more hearty version of granola that I love to eat on (unsweetened, of course) plant-based yogurt and fresh fruits. The secret ingredient is tahini. I could eat the sesame pasta alone for breakfast.
Depending on your taste and what's in your kitchen currently, it's great to add some nut butter to the granola such as almond butter, but it's really optional.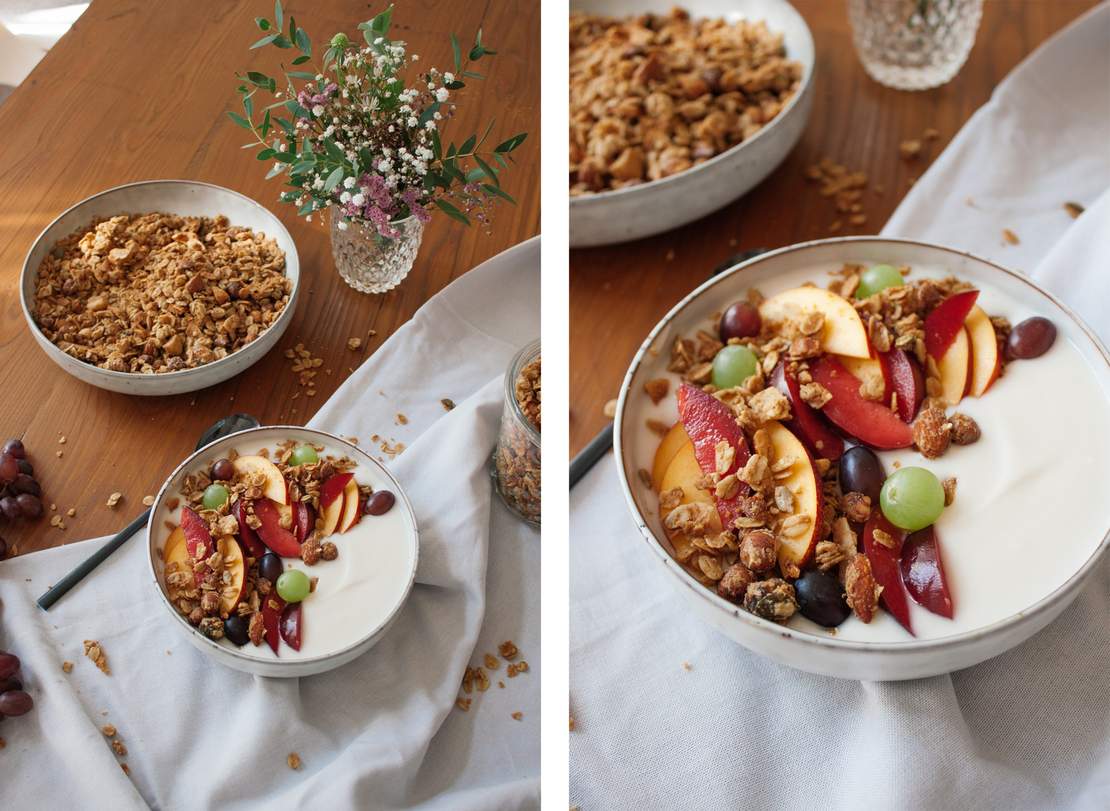 Homemade Tahin Granola
Ingredients
200 g (2 cups) rolled oats
30 g (0.5 cup) roasted coconut chips
approx. 250 g (9 oz) mixed nuts (e.g. almonds, hazelnuts, pecan nuts, sunflower seeds, pumpkin seeds)
1 tsp ground cinnamon
0.25 tsp ground ginger
0.25 tsp sumach
0.5 tsp ground nutmeg
0.5 tsp fine sea salt
125 ml (0.5 cup) tahini
2 tbsp white almond butter (optional)
80 ml (0.33 cup) melted coconut oil
80 ml (0.33 cup) maple syrup
Instructions
Roughly chop nuts of your choice and add to a bowl with rolled oats and roasted coconut chips. Season with cinnamon, ground ginger, sumach, nutmeg and salt and stir to combine.
In a separate bowl, mix tahini, coconut oil, maple syrup and if desired almond butter. Add this mixture to the nut mixture and toss to coat.
Transfer the tahini-nut mixture onto a parchment-lined baking sheet. Bake in the preheated oven at 150°C/300°F for approx. 30 - 35 minutes, stirring once or twice during baking. Make sure to keep an eye on the granola, so it doesn't burn.
Store in an airtight jar and eat with plant-based yogurt of your choice and fresh fruits (or snack it).
More Vegan Breakfast Recipes