Vegan Summer-Taco with Peach Salsa
We have a soft spot for tacos and love to experiment with them. Besides classics such as fish tacos (vegan, of course!), tostadas or taquitos, we also serve Korean tacos, ramen tacos, chanterelles tacos or even chocolate tacos. You can find all our taco recipes here.
It's hot outside and you don't know what to eat? This taco comes just in time! After we got over-the-top-excited last week and partied with our sushi taco or taco sushi, we take it easy and fresh this time. Because it's summer and everybody likes something to eat that makes you feel full, but is not heavy in your tummy. This taco is just perfect and surprises you with a nice hot pesto.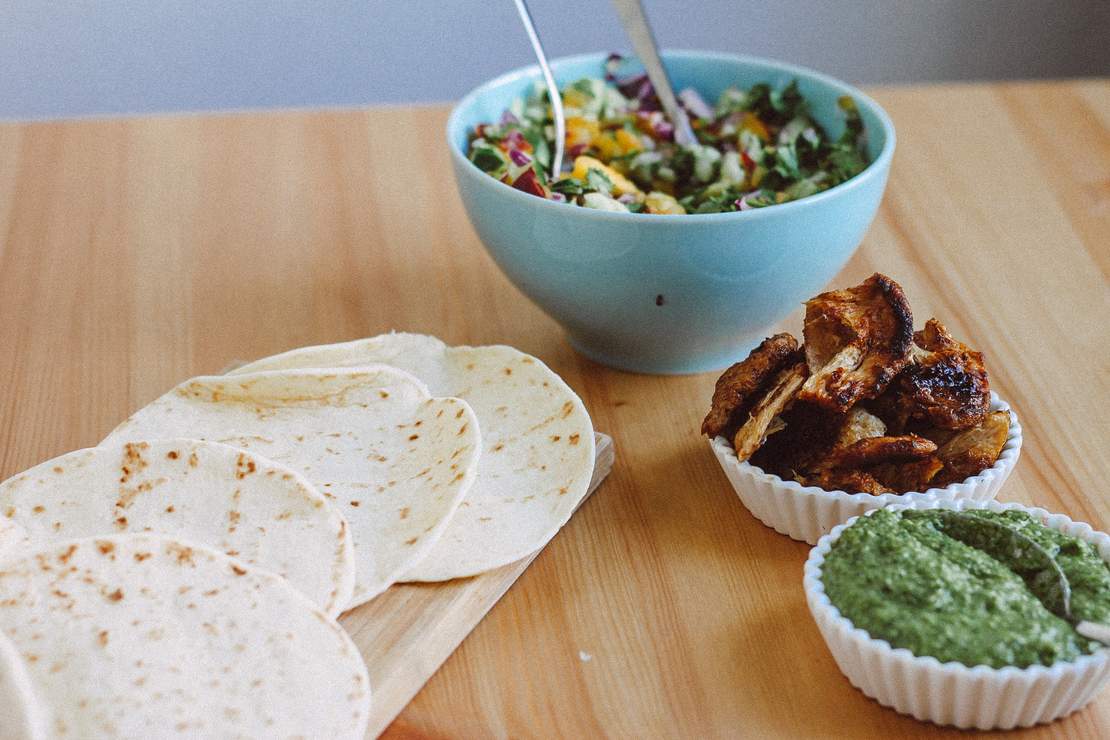 Summer-Taco with Peach Salsa
Ingredients
6 soft tacos
1 handful soy meat
veggie stock
olive oil
soy sauce
salt&pepper
FOR YOUR SALSA
3 peaches
1/2 cucumber
1/2 red onion
1 handful cilantro
FOR YOUR SPICY PESTO
2 jalapeno slices
1 bunch parsley
50 g (1.7 oz) pine nuts
some more olive oil
salt&pepper
Instructions
Take a bowl, put in dry soy meat and cover it with enough hot veggie stock, until the soy meat is swimming in it. Let it soak in the water, until it's soft. That should take 10-15 minutes. Afterwards, squeeze out the water and season with salt and pepper.
Heat some oil in a large pan and roast soy meat from both sides, adding a nice shot of soy sauce.
To prepare your salsa, you only have to finely dice peaches, cucumber and onion. Finely chop cilantro and mix everything in a bowl.
To prepare the spicy pesto, just purée all ingredients until you get a smooth pesto. Season with salt and pepper.
Now it's time to finish your taco. Spread some pesto on a soft taco, add salsa and soy meat and top it with some more pesto. Of course you can use more jalapeno slices, if you'd like your pesto more spicy.
More Taco Tuesday - Vegan Taco Recipes