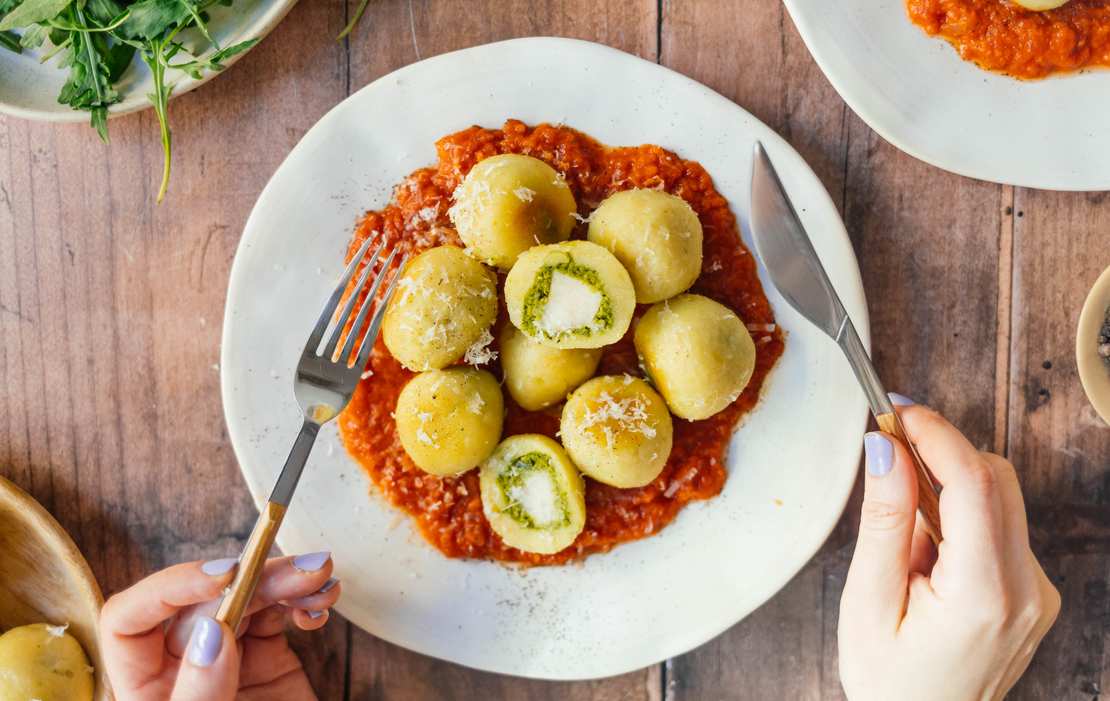 Spinach-stuffed Gnocchi with Vegan Mozzarella Cheese
When I first went vegan, I ate one dish every other day for at least half a year: fried gnocchi with baby spinach, garlic, olive oil and lemon juice. And I do mean every other day, much to the amusement of my best friend Toni, who always had to go to the supermarket with me on the way home to buy spinach.
You can imagine how excited I was when Julia said it was time for a new gnocchi dish. Next to the gnocchi in walnut sauce, the pumpkin gnocchi and the numerous other gnocchi recipes, there is now spinach-stuffed gnocchi with vegan mozzarella cheese on the blog. A tribute to my first days on a vegan diet. Instead of in a sauce, we used the spinach as a filling. First, we have to prepare the dough for the gnocchi. It's relatively easy to make the small potato dumplings yourself. All we need are floury potatoes, some flour and durum wheat semolina. We start by mashing the cooked potatoes. Let the mash cool before adding the rest of the ingredients. To make the filling, we add spinach, arugula, hazelnuts, lemon and vegan cream cheese to a bowl and process everything with an immersion blender.
Next, we add breadcrumbs so we can form the filling into small balls. If you use the vegan mozzarella pieces in the filling (which I highly recommend), place them in the middle of the little filling balls. Then wrap the filling with the gnocchi dough. This requires a bit of skill, but practice makes perfect! You can vary the size of the gnocchi as you like. For us, the amount of ingredients was enough for 25 pieces. Depending on your mozzarella pieces and how much filling you use, the gnocchi will be bigger or smaller. Next, the gnocchi are boiled in salted water and then fried. This is optional, but we like them best fried, especially if you fry some garlic in the pan simultaneously. Finally, serve the gnocchi with a simple tomato sauce and (if you like) lots of vegan parmesan.
Spinach-stuffed Gnocchi with Vegan Mozzarella Cheese
4 servings (25 gnocchi)
80 minutes
Ingredients
For the gnocchi:
600 g (1.33 lb) floury potatoes
120 g (1 cup) wheat flour (type 405)
120 g (0.75 cups) durum wheat semolina
salt
pepper
nutmeg
For the filling:
50 g (1.75 oz) fresh spinach leaves
25 g (1 oz) arugula
1 garlic clove
1.5 tbsp nutritional yeast
25 g (1 oz) ground hazelnuts
125 g (0.25 lb) plant-based cream cheese
approx. 100 g (3.5 oz) plant-based mozzarella (optional)
breadcrumbs for firming
salt
pepper
lemon juice
For the sauce:
1 onion
1 garlic clove
600–800 g (1.33–1.75 lb) canned chopped tomatoes
1 tbsp vegan butter (optional)
vegetable oil for frying
salt
pepper
To serve:
olive oil (or vegan butter) for frying
1–2 garlic cloves (optional)
plant-based parmesan cheese as topping
Instructions
For the gnocchi, place unpeeled potatoes in a pot and cover with plenty of water and salt. Then bring to a boil, reduce the heat and cook the potatoes for about 20 minutes until they are soft and you can easily prick them with a fork.
In the meantime, peel and finely dice the onion and garlic for the sauce. Heat some vegetable oil in a small pot and sauté the onion and garlic. Then add chopped tomatoes from the can and simmer over low heat. Season to taste with salt and pepper and add some vegan butter to the sauce if desired.
For the filling, add fresh spinach, arugula, a peeled garlic clove, nutritional yeast, ground hazelnuts and plant-based cream cheese to a bowl and blend with an immersion blender. Be patient – this may take more or less time depending on your blender, but wait before adding water, otherwise the filling might become too runny. Then gradually add breadcrumbs until you can just about form the filling with your hands. Then season to taste with salt, pepper and lemon juice.
Cut the vegan mozzarella into small pieces.
When the potatoes are soft, drain, peel carefully and mash thoroughly. Then allow to cool until the mashed potatoes are lukewarm at most. Then add wheat flour and durum wheat semolina and knead well. Season to taste with salt, pepper and nutmeg.
To fill, coat each piece of vegan mozzarella with some spinach filling until you have a small ball. Then, flatten some of the gnocchi dough in your hand, so it looks like a little disk. Next, place the spinach ball on top and wrap the dough around it, forming everything into a ball.
Tip: You get a feeling for how big you want the gnocchi to be after a while. If they get too big, you can use smaller pieces of cheese, less spinach filling, and, therefore, less dough.
Bring salted water to a boil in a saucepan and cook the stuffed gnocchi until they start to rise to the surface.
At the same time, heat some olive oil (or vegan butter) in a pan and fry the gnocchi briefly.