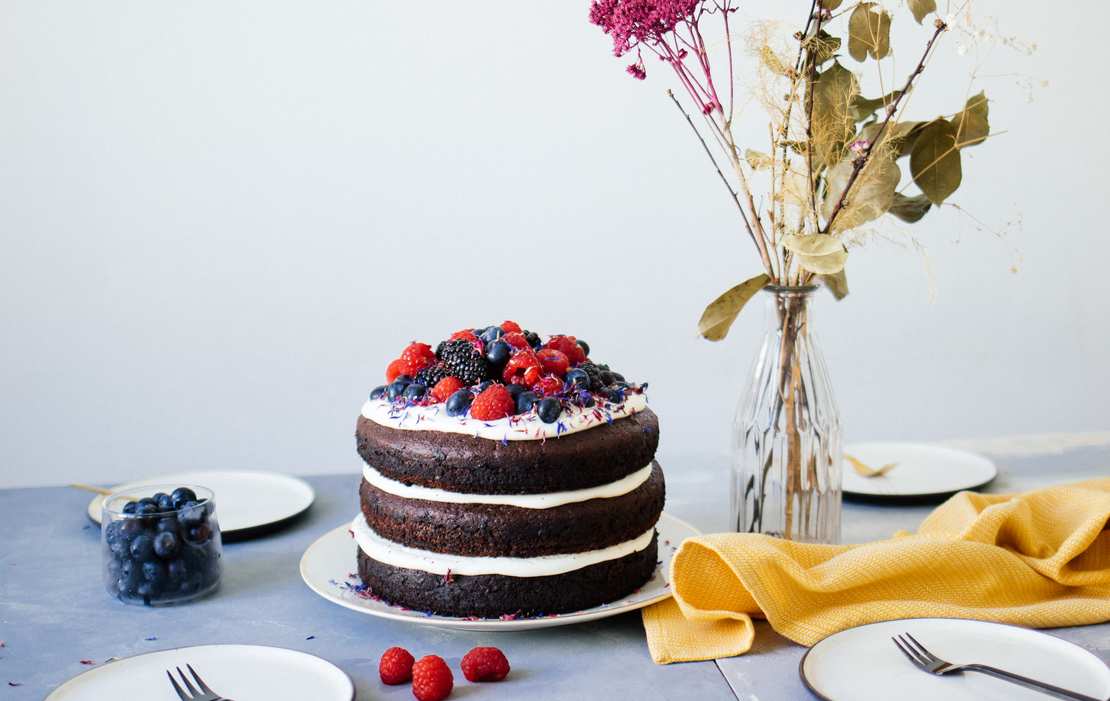 Simple, vegan chocolate cake with berries
Baking a summer cake always seems to be quite complicated. Therefore we created a very simple chocolate cake, which consists of only 10 ingredients. You still need a lot of time to prepare the cake, but the rest of it is very easygoing.
__Here are three tips for preparing the cake: __
You should bake all three cakes under the same conditions. Otherwise, you get one flat cake and one domed cake. Pay attention to the same oven temperature, the same baking time, and the same cake pan. If your cake comes out domed, you can simply use a knife and make it flat by yourself.

Bake the three chocolate cakes the day before! So you can give each cake enough time to cool down! The worst thing that can happen is to spread the cold creme on a warm cake, so the creme simply melts away.

You can use three alternatives for the creme: plant-based "quark" (curd), skyr or yogurt. "Quark" and Skyr are the best options, as they are much firmer than yogurt. If you use plant-based yogurt, don't use too much of it. Otherwise, the creme is not firm enough for all the three layers.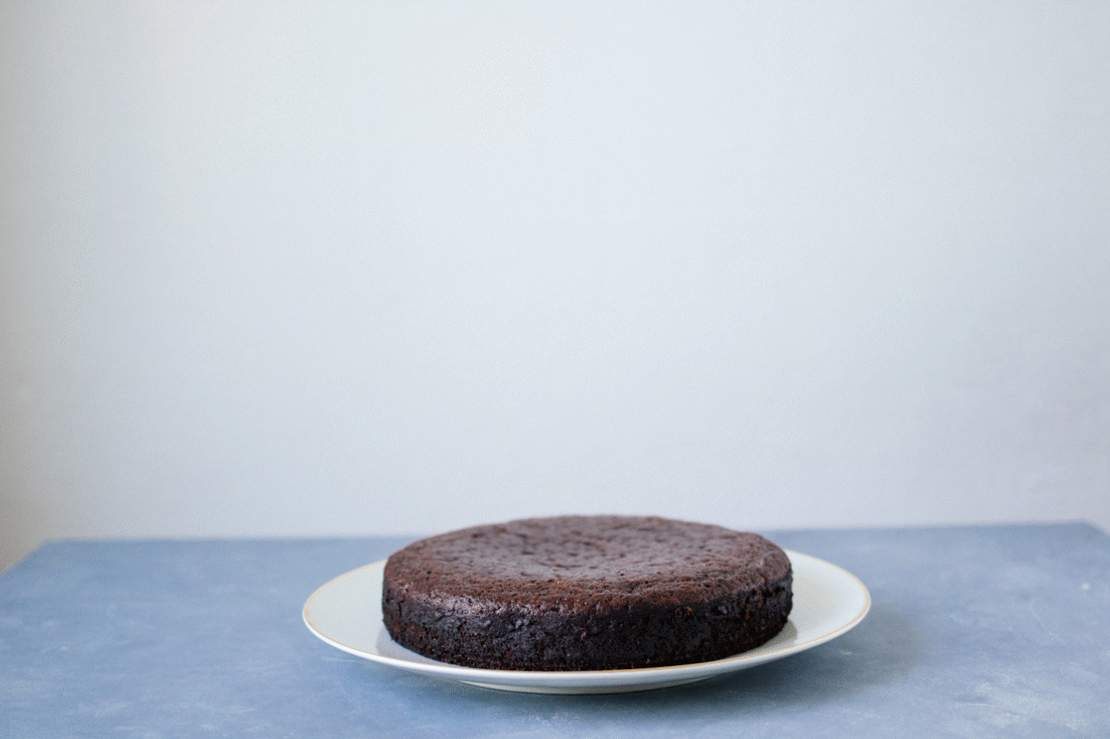 Simple, vegan chocolate cake with berries
12 servings
3 hours (+ time to cool down)
Ingredients
cake base (amounts per cake)
200 g (1.6 cups) flour

25 g (0.8 oz) cocoa powder (unsweetened)

150 g (1.4 cups) white sugar

250 ml (1 cup) sparkling water

50 ml (0.2 cups) plant-based oil (rapeseed or sunflower oil)

15 g (0.5 oz) baking powder

8 g (0.28 oz) vanilla sugar

1 tbsp plant-based butter (for greasing)
plant-based creme
200 g (7 oz) plant-based cream for whipping
8 g (0.28 oz) cream stabilizer
100-200 g (3.5-7 oz) plant-based quark, yogurt or skyr
1-2 tbsp agave syrup
toppings
100 g (3.5 oz) blueberries
100 g (3.5 oz) raspberries
100 g (3.5 oz) blackberries
dried flowers for decoration
Instructions
Baking 3 cakes
First of all, we bake three cakes that we can stack on top of each other. For this, we repeat the following steps three times. In the end, we get three identical-looking chocolate cakes, which are cooled down completely before decorating.
Mix flour, cocoa powder, sugar, vanilla sugar and baking powder in a bowl.
Add the sparkling water and the oil and stir to a smooth dough. Stir the dough as long as necessary (not longer).
Grease a round cake pan (diameter: 22 cm) with the plant-based butter and, if necessary, lay out the bottom of the pan with baking paper.
Pour the dough into the cake pan and bake at 180 ° C for about 40-45 minutes. Take a wooden stick, to poke the top of the cake slightly in the middle until there is no wet batter left on it. If the dough turns out too dark, cover with aluminum foil. Let the cake cool down after baking.
Mixing the curd creme
For the creme, whip the plant-based cream with the cream stiffener.
Mix the whipped cream with the plant-based quark or skyr or yogurt and add agave syrup. The cream should be firm and not too liquid. Store in the refrigerator.
Serving
Place the first chocolate cake on a plate or cake plate and top with some creme. Don't put too much creme on top of the cake!
Continue until all three cakes are topped with the creme.
Wash the berries. Decorate the cake with the fresh berries and dried flowers. Place in the refrigerator until serving.
More Vegan Cakes & Cookies