Jackfruit Fricassee with Rice
Yes, probably a fricassee won't ever win a model competition, but hey, it's the inner values that count - and on the inside this fricassee is: YUMM!
I remember that we often ate fricassee on weekends at home and I always loved the combination of a creamy sauce and rice that could be "mashed" together in a way. So we had to have a vegan recipe for this on the blog.
I actually eat this dish quite often and experiment with different meat alternatives. My favorite is this version with jackfruit because it gets pretty close to the chicken-like texture that I remember from my childhood.
My mom sometimes also used canned mushrooms and this is my true guilty pleasures. I know, it's a bit digusting, but this is why it's a guilty pleasure, right? Only to pretend to be super professional today, I switched them out with fresh mushrooms and obviously they turn out great. So you can decide for yourself.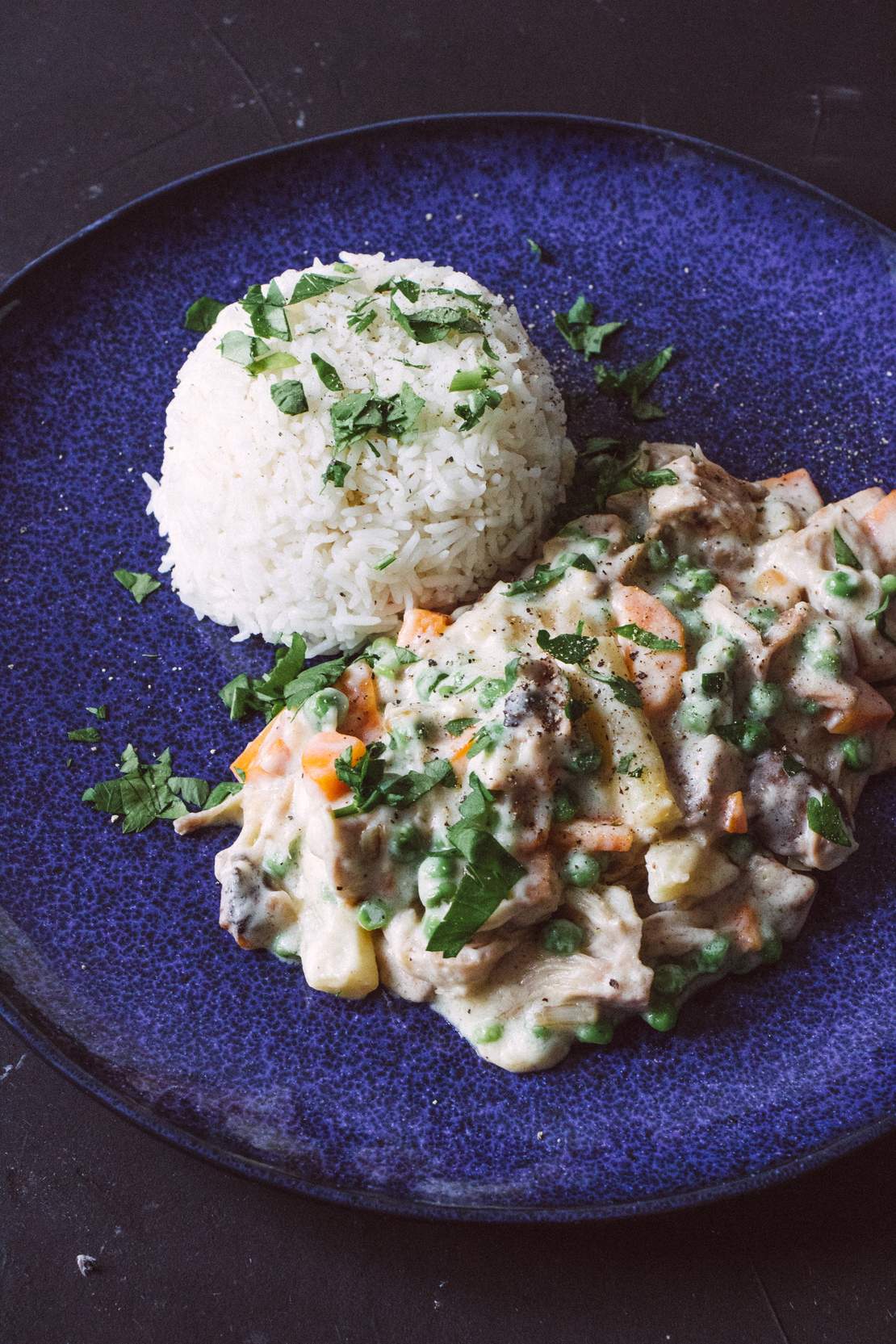 Jackfruit fricassee with rice
Ingredients
250 g (1.25 cups) basmati rice
2 cans jackfruit (drained weight 500 g, 18 oz)
100 g (3.5 oz) frozen peas
1 carrot
1 onion
50 g (1.75 oz) button mushrooms
100 g (3.5 oz) white asparagus tips
50 ml (0.25 cup) vegan white wine
1 tsp mustard
250 ml (1 cup) plant-based cream
250 ml (1 cup) vegetable stock
4 tbsp flour
4 tbsp vegan butter
1 lemon (juice)
oil for frying
parsley for serving
nutmeg
salt
pepper
Instructions
Add rice to a saucepan and cover with the double amount of cold salted water. Bring to a boil, then reduce the heat and let it simmer for approx. 20 minutes. The water should be completely soaked in by the rice. If it's not as soft as you'd like, then add some more water and simmer again until all water is soaked in.

Peel and chop onion. Cut carrot. Clean und quarter mushrooms and drain asparagus tips. Drain jackfruit as well and put out frozen peas.

Heat oil in a frying pan and add jackfruit and mushrooms. Sear for approx. 5 minutes over medium-high heat. Then reduce the heat, add onion, carrot and peas and let fry for approx. 15 minutes on low heat. After 10 minutes you should be able to pull apart the jackfruit chunks with two forks.

Melt butter in a saucepan and stir in flour. Deglaze with vegetable stock and add plant-based cream and vegan white wine. Stir in mustard and season with salt, pepper, nutmeg and lemon juice to taste. Let the sauce simmer on low heat for approx. 10 minutes.

Add fried vegetable and jackfruit to sauce and toss to coat. Serve with rice and some chopped parsley on top.