How to Eat Vegan in Copenhagen: Our favorite restaurants
Z&J Traveling: Even when traveling, we spend most of our time eating and want to share this with you, too. You want to know where to eat vegan in Barcelona, Athens, and Copenhagen and what to not miss in New York City, Lisbon or Mallorca? Check out all of our travel guides here.
Oh Copenhagen, you wonderful, wonderful, city! I was immediately in love with the city when I was there for the first time. It just looks like Leipzig (my favorite city so far), but is situated directly at the sea. Jackpot. After a few hours you don't feel like on vacation anymore, but more like home (how greasy, I know). But honestly: Copenhagen is just an incredible enjoyable place and somehow all people there are easygoing. The "hip districts" are currently Vesterbro and Noorrebro, but you should definitely spend at least half a day at the autonomous community Christiania. Pay with cash and you'll be looked at slightly suspicious because you can pay every little thing by card in Copenhagen. Everywhere! Great! But be careful with the money, since the city is known to be one of the most expensive ones worldwide…. but then, Danish people are statistically some of the happiest in the world. I'm planning to go there once a year from now on, so this list of my favorite vegan spots is likely to be updated regularly.
Astrid och Apornas Spiseri
Astrid och Apornas Spiseri is a small place providing you with delicious burgers and hot dogs served with yummy relish. The coleslaw is one of the best I've ever eaten. In summer, you can eat outside, but since there's a park nearby, I'd always recommend to just walk a few minutes and eat there – if you haven't already eaten it on the way there.
døp – Den Okologiske Polsemand
If you cannot miss something in this city foodwise, it's hot dog. There are stalls at every corner and I could get mad because most of them don't offer vegan sausages, although it would be so easy as one can see at døp. Vegan sausages out of tofu are waiting for you in various forms and with various toppings. Ask the staff for help if needed. I think there are currently two stalls in the city center – one at Amagertorv 31, 1160 Kopenhagen and the second one around Kobmagergade.
Copenhagen Street Food Hall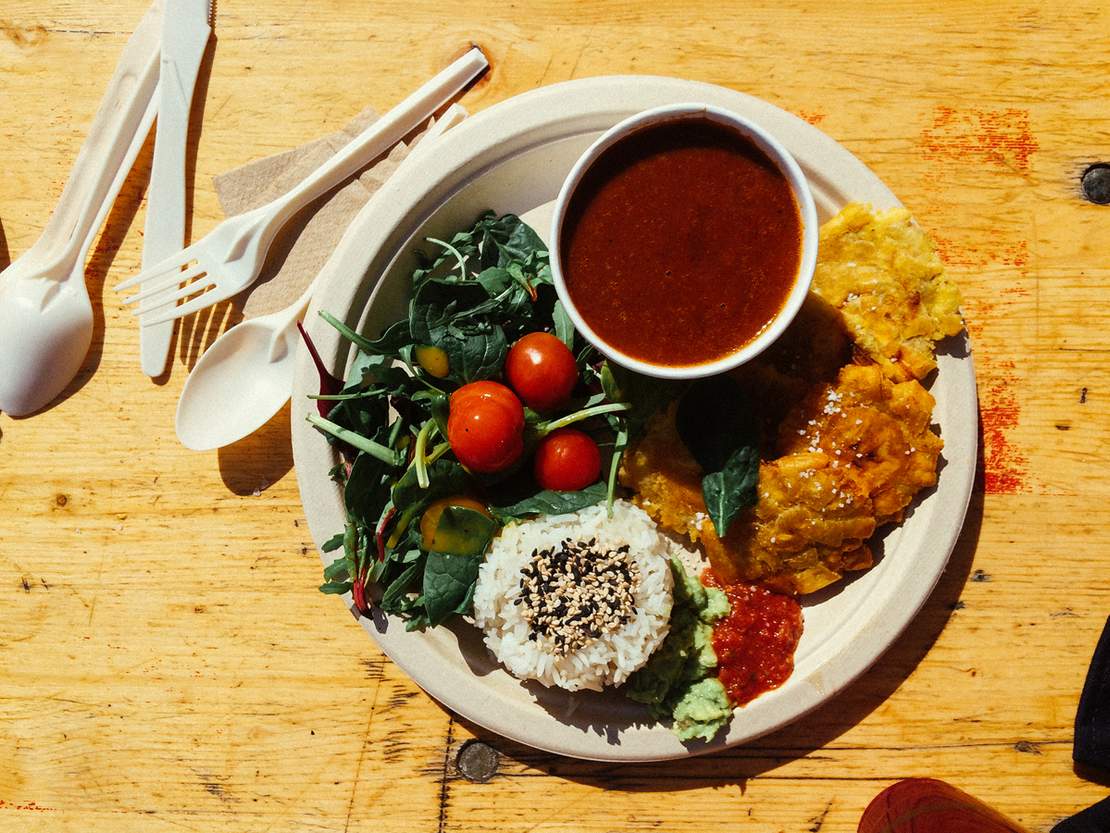 We drove by the Street Food Hall nearly by chance with our bikes and we were truly happy about afterwards. If you know Berlin's street food markets, you'll know the quite long queues, paying entry and being just crowded. Well, here in Copenhagen you don't have to pay anything to get in there, it's a lot more relaxed, but like everywhere also quite expensive. You can find all kinds of food stalls: Asian, Turkey, there's a whole cheesecake stall and "Latienda" where they serve Colombian food. Normally they serve it with eggs but you can counter-order them. It's really delicious and I have to try out those fried plaintains myself.
Kalaset
Kalaset, you breakfast paradise! This place has to be a a MUST GO TO on your Copenhagen list. You'll get organic food all day for comparatively little prices. All sauces, jams, ketchup and mayo are homemade. In the morning you'll get breakfast (also with a vegan option), but also pancakes and scrambled eggs (unfortunately not vegan) and of course juices and smoothies. You can refill jams and sauces as often as you like. Moreover they offer salads, sandwiches, burgers and evening dishes. So always keep time in your mind, because the card changes throughout the day.