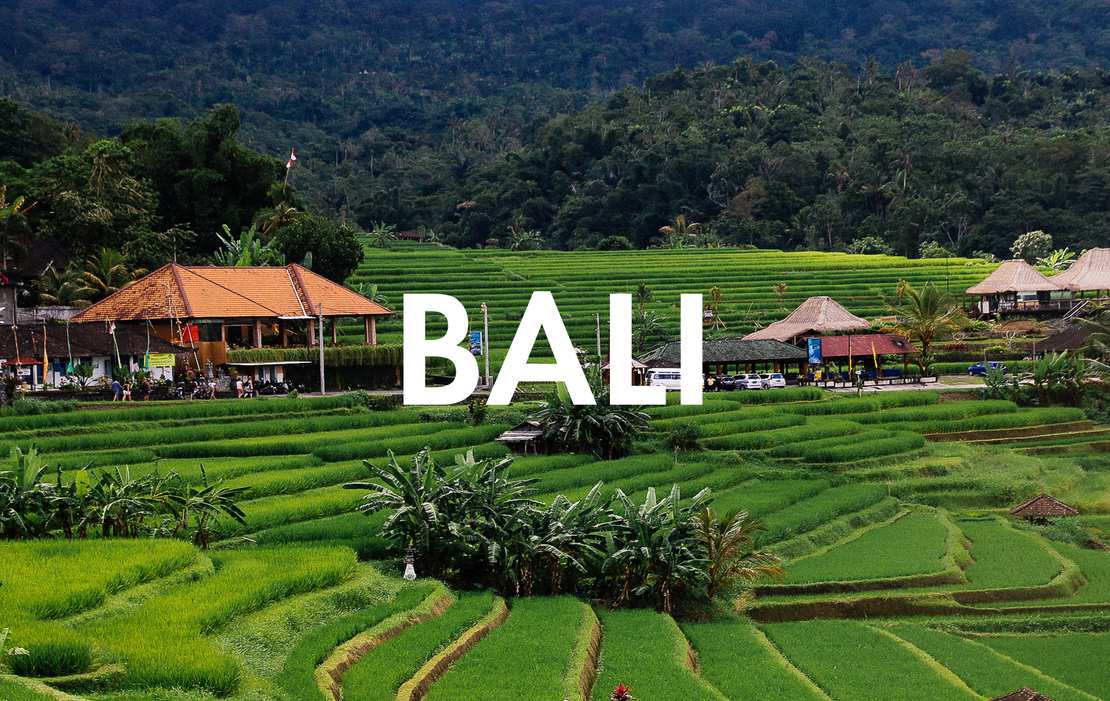 How to Eat Vegan in Bali: Our favorite restaurants
Z&J Traveling: Even when traveling, we spend most of our time eating and want to share this with you, too. You want to know where to eat vegan in Barcelona, Athens, and Copenhagen and what to not miss in New York City, Lisbon or Mallorca? Check out all of our travel guides here.
You can do everything in Bali. Surfing? No problem! Eating fresh and yummy food? Easy! Learning something about different cultures? Sure! Having a Party? uhu! Chilling on the beach? YAY! Having some city-trips? not a problem at all! Whatever you want to do in Bali, you just can go for it. We spend our first four days in the nothern part, in Ubud. Afterwards we went to the southern part, to Jumbaran. Bali works also good for a roadtrip or a trip around the island. Whatever you want to do: you will love Bali. I was extremely excited for all the fresh fruits, vegetables, coconut-puddings, litres of watermelonjuice and hot currys. Mhhh! And Bali was that delicious like I imagined before. After two weeks travelling through Bali I was sick of the sight of currys, but never mind! I collected some vegan spots for you here. When you're visiting this beautiful island, you have to check them out and complete this list. Ok?
Giridhari Warung
The Giridhari in Jimbaran is a very small and typical indonesian warung. No dish costs more than three euros, theres no space for more than ten persons and the "kitchen" is a small kitchen unit in the room. The owner of the warung is a very heartful and kind person and explains you alle the crazy ingredients and dishes. We ordered a orange juice without sugar, Nasi Campu, Siobak and Cap Cay. In the end we tried five or six different vegan meat-alternatives with alle kinds of flavours, structures and spices. That was kind of cool. You should definitely go to this place!
Balinese Snacks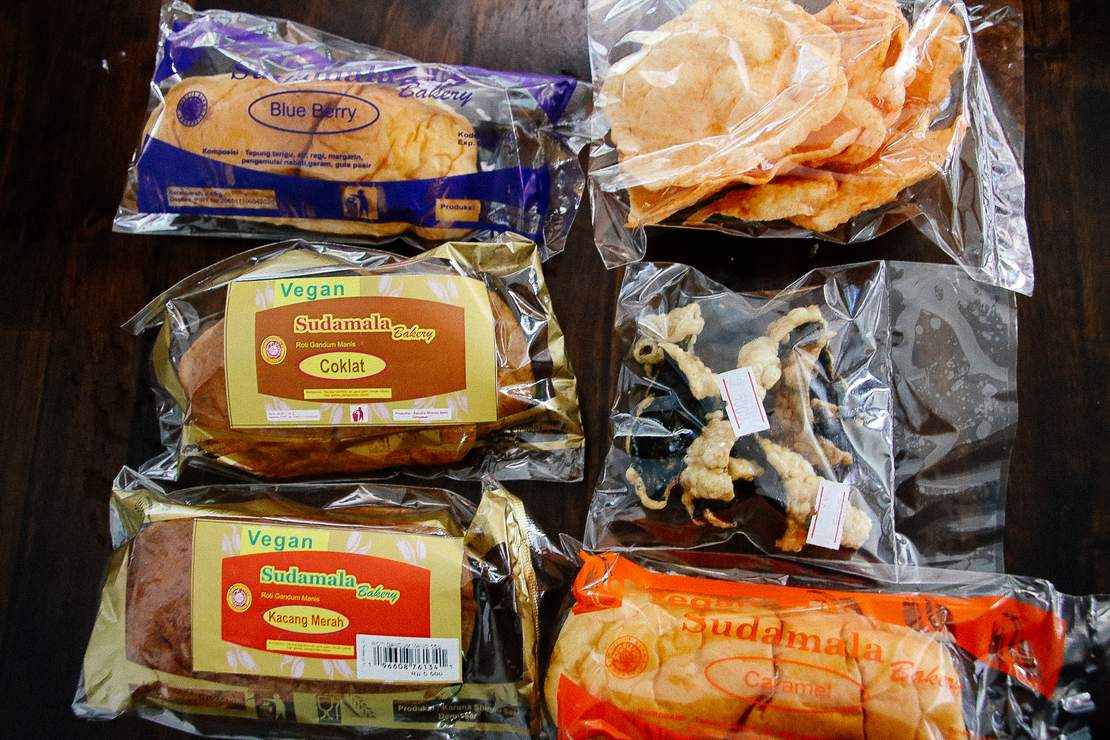 On Bali you can find a lot of different small shops, that offer you a varity of cold drinks and snacks. There is often a small table filled up with snacks, chips and cookies, packed in plastic bags. Try some of them, sometimes they are yummy, sometimes they are a bit weird. You can asked the owner of the store for the ingredients. Sometimes they understand you, sometimes they do not. But go for it!
Billy's 69 Terrace Cafe
The view at Billy's Bar is really incredible. "Wow, that's just amazing!" was my first thought, standing infront of this huge rice terrace. At lunchtime you can have a buffet for ten euros where you get rice, curry, tempeh, vegetable, black rice pudding, tofu with peanut-sauce and all the stuff. Ask the waitresses for the ingredients, they will help you. The lunch was yummy, but this view: stunning.
Mangosteen Fruit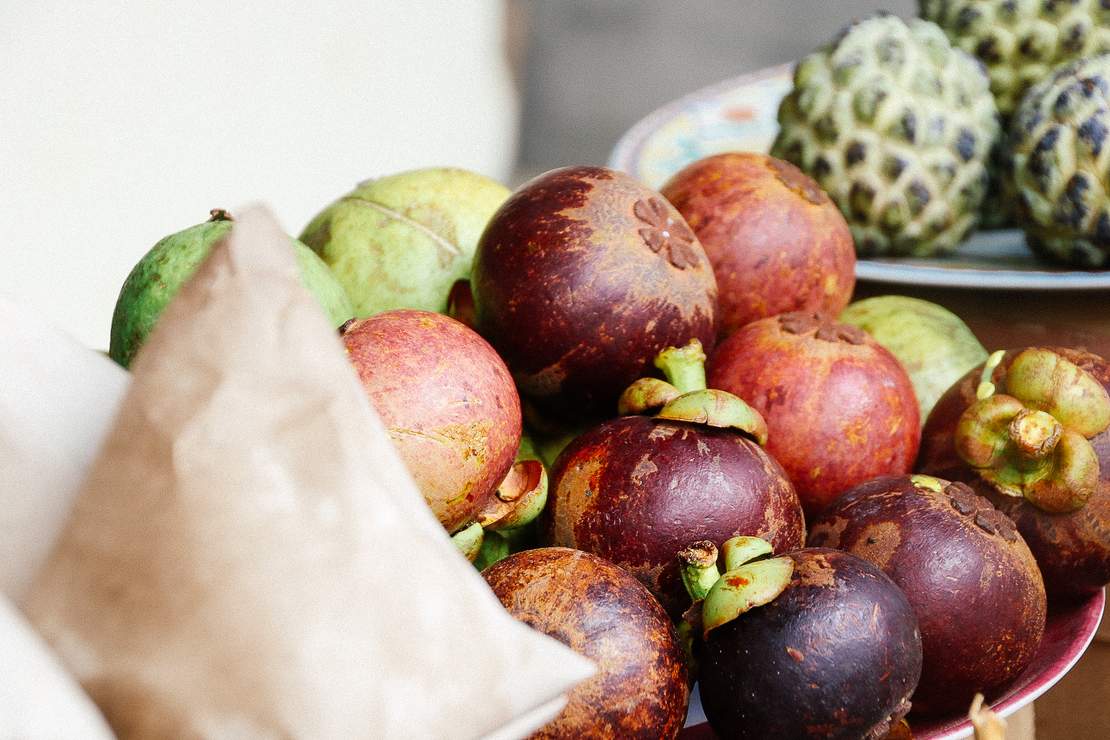 At every turn you can find a market stall with fresh fruits. Thats amazing! You will be overwhelmed by the variety of fruits, because you don't know 90% of it. They are colourful, look great but you don't have the slightest idea what kind of fruit it could be or how you should eat that. The Mangosteen fruit was definitely our favorit. But try all the different kind of fruits they have. Its just way to crazy! Certainly they have also fresh coconuts, but I don't like that so much anyway. While we're on it, … try out the small bananas you can buy at some street-markets. They are much creamier and taste more natural then the ones we get in Germany.
Zula Vegetarian Paradise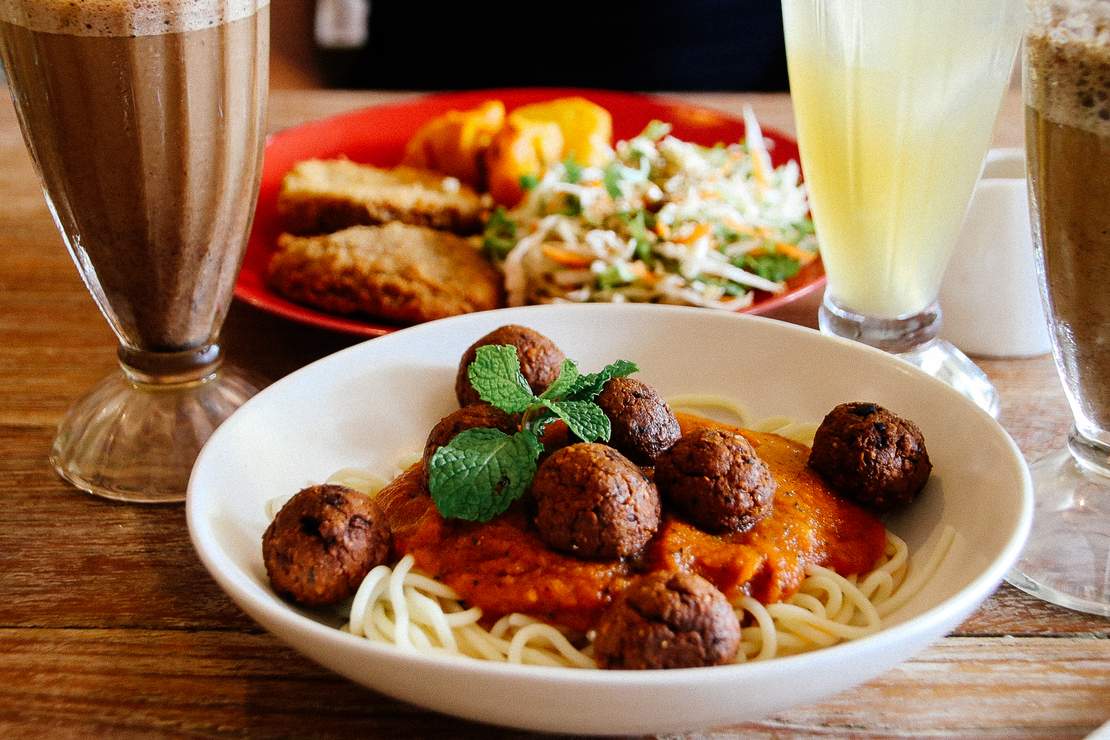 You will quickly notice that restaurants that are not that into vegetarian or vegan food will often serve you indonesian or indian currys, because they are overwhelmed. At the end my tummy was a bit bored of eating currys every day. So we searched for a new spot and found "Zula". We spend 20 minutes infront of the menu card because we could't decide what to eat: Schnitzel, Burger, Spaghetti, Döner,Falafel, Salds, Soups. They have everything you want. I swear! AND CHOCOLATE ICE CREAM. Argh! So I ordered Spaghetti with Meatballs and Lisa a Schnitzel with salad. Hello! We were both satisfied with our choices. Very mean that they also serve breakfast. All day long! Argh again! So you also can order: Gluten Free Crepes, Chia Pudding, Quinoa Pancakes, Buckwheat Pancakes, Oat Porridge, Granola Fruit Mix, Scrambled Tofu, Tofu Omelette or Balinese Black Rice Porridge. Please? Is that heaven? Could you please try that and send me a postcard!? So mean!
Teba Sari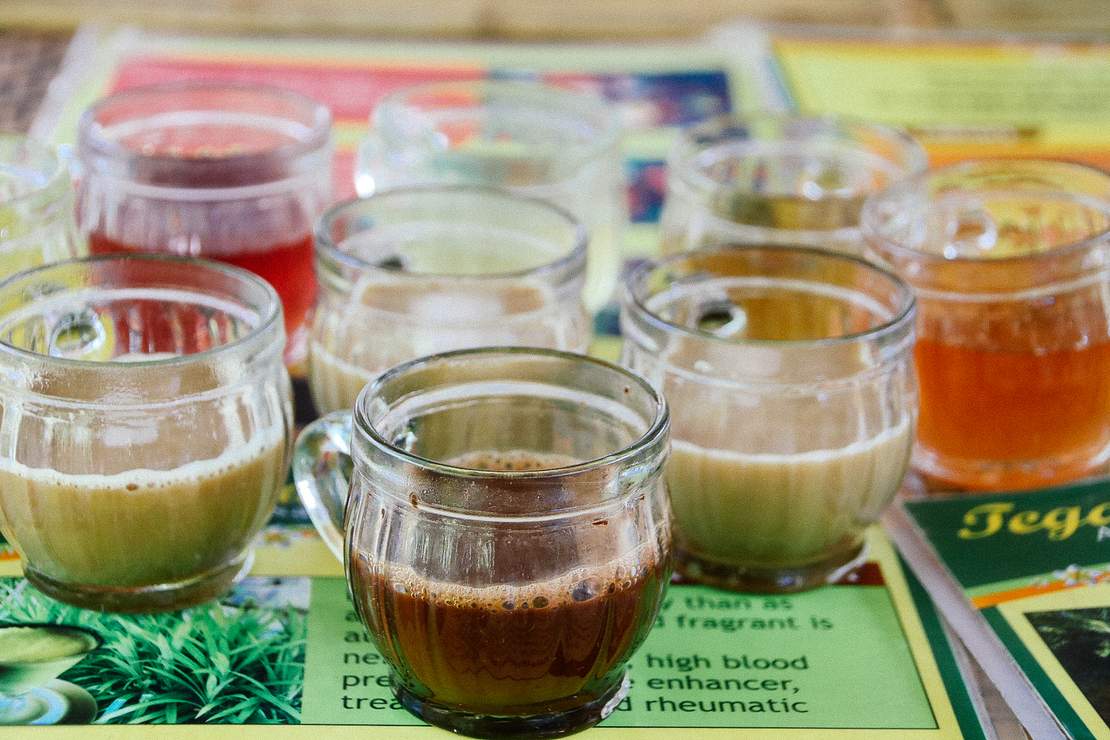 The "Teba Sari" Cafe is also a great place. It's all about coffee and teas. When youre visiting this lovely place you go through their garden, where you can have a look at all the ingredients of thir stuff, growing infront in their garden. Wow! Everything tasted just extremely good here. Saffron tea, Cocconut Coffee, Ginseng-Coffee, Curcumy-Tea – everything was so good. Obviously we killed their shop afterwards.
Drinks
Balinese people love soymilk. They even sell them in mostly every shop on the streets. But they also got some other drinks that are markes as "vegan" you should try. They are often extremely sweetand tastes a bit weird, but you have to check that out.
Earth Cafe
The Earth Cafe in Seminyak is a restaurant, a café and a Shop in one. Somehow they are part of the Zula Restaurant. On the left side of the Earts Cafe you see a lot of fridges, filled with raw, vegan and vegetarian sweet stuff like Chocolate Mud Cake with Vanilla Gelato or raw Banana-Pancake. Everything tastes great, but you should like the raw kitchen and be very hungry. On the other site of the restaurant you can have wraps, burgers, juices and some more sweets.
We had no time left for: Banana Leaf, Deity of Miracle Vegan Resto, Happy Buddha