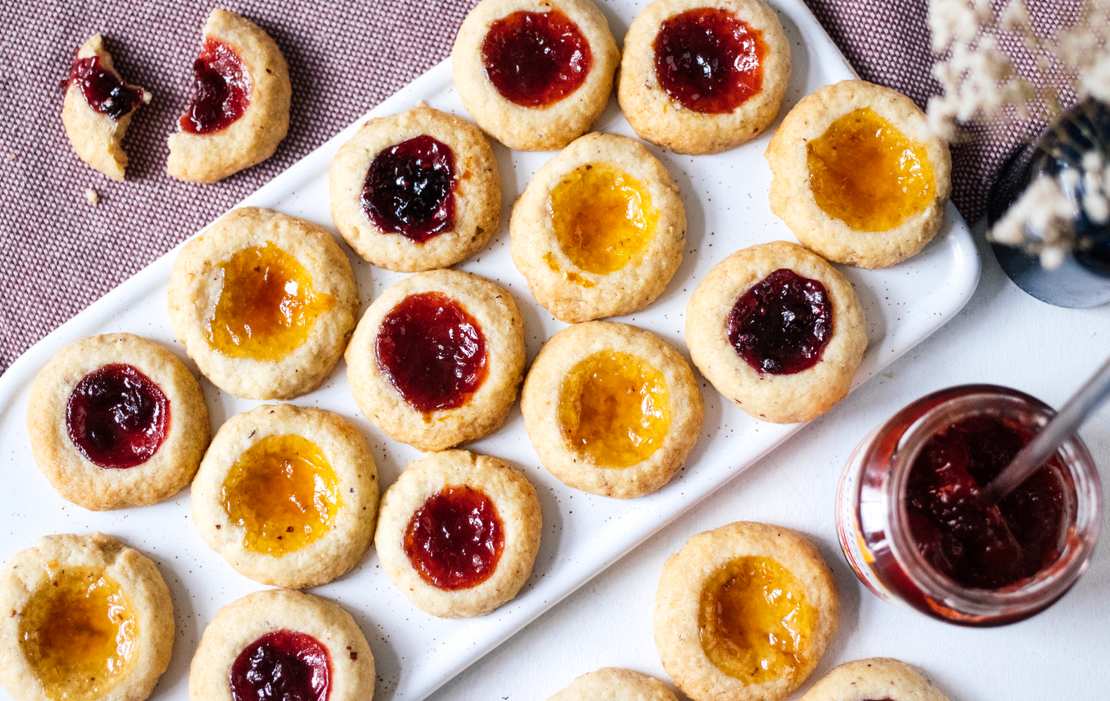 These cookies are part of my Christmas childhood memories, and they belong to the classic repertoire of German Christmas baking. In German, we call these "Husarenkrapfen" or "Engelsaugen, " and although we now call them thumbprint cookies in this recipe, their ingredients actually differ from the classic American version. Instead of raspberry jam, you can fill these with any kind of jam. The dough also contains ground hazelnuts, which add a more interesting flavor to a basic sugar cookie, in our opinion.
Although the name "thumbprint" is wonderfully pragmatic, my family used to use the stick of a wooden spoon to form hollows in the dough. But as you can imagine, these hollows are not too large, which means that there's only a little space for the jam filling. I tried using my thumb but eventually came up with the idea to use small measuring spoons (tsp or tablespoons work just as fine). They provide perfectly round and quite large hollows to fill in your favorite jam (or even vegan chocolate spread). Since these cookies are made with shortcrust pastry, it's best to refrigerate the dough for approx. one hour before forming the cookies. You can also prepare the dough a day ahead and enjoy some cookies for breakfast.
Vegan Thumbprint Cookies
approx. 25 cookies
20 minutes (+15 min. baking time + 1 hr. resting time)
Ingredients
150 g (1.25 cups) flour
50 g (0.25 cup) sugar
40 g (0.33 cup) ground hazelnuts
1 tbsp vanilla sugar
125 g (1 stick) cold vegan butter
one or more jams of your choice for filling
Instructions
Mix flour, sugar, ground hazelnuts, and vanilla sugar in a large bowl.
Add vegan butter in flakes and first stir to combine, then knead into a soft dough. Roll the dough into a thick "log." Wrap in plastic wrap and refrigerate for at least 1 hr.
Preheat oven to 180°C/355°F. Remove the dough from the fridge and slice it into approx. 1 cm (0.4 inches) thick slices. Roll each slice first into a ball, then slightly press it "flat." It should be formed like a really thick disc.
To form the hollows for the jam, either use the end of a wooden cooking spoon, your thumb, or tsp/tbsp measuring spoons. Dust them with some flour, so they won't stick on the dough, then press them into the middle of each cookie dough to form the hollow. Fill these with one or several jams of your choice.
Bake the cookies at 180°C/355°F for approx. 12-15 minutes, or until golden brown on the edges. Let the cookies cool out on a wire rack and dust with confectioner's sugar if desired.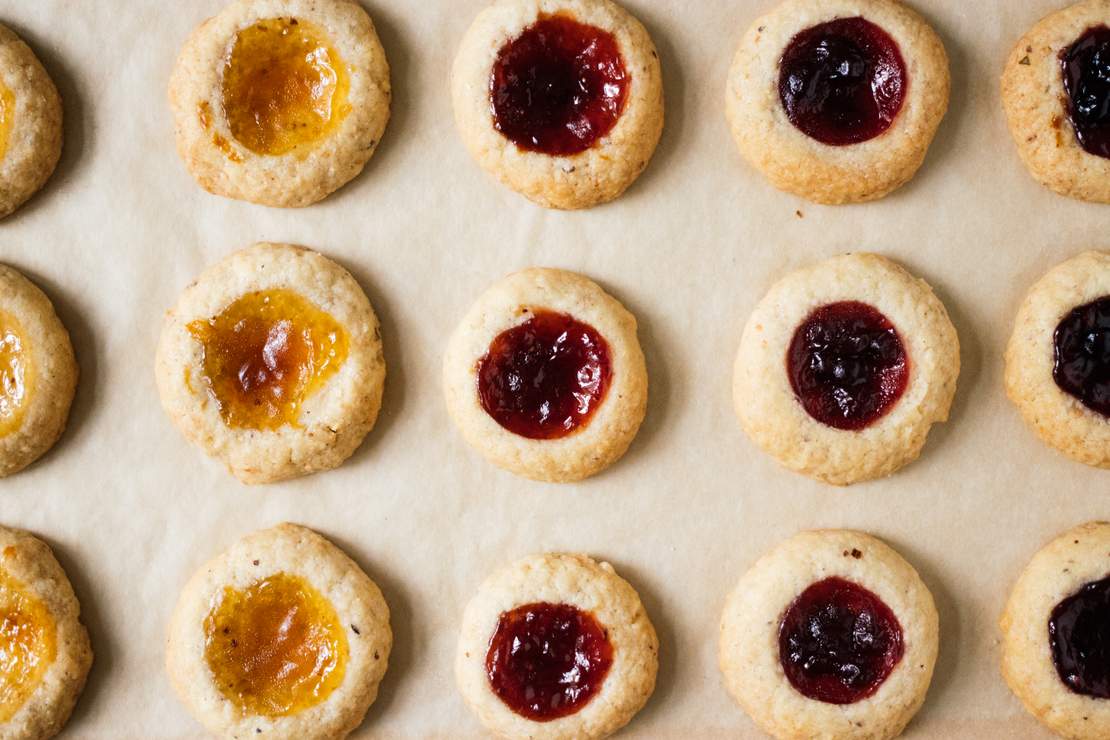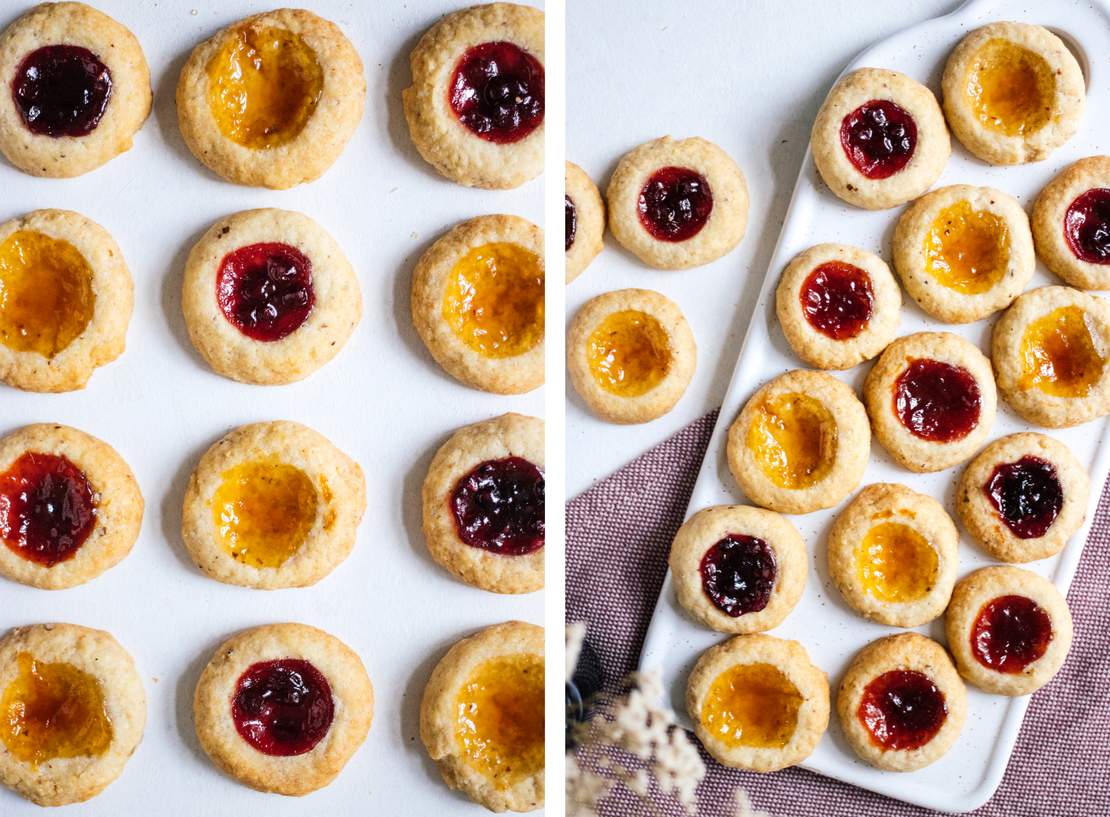 More Vegan Christmas Cookies