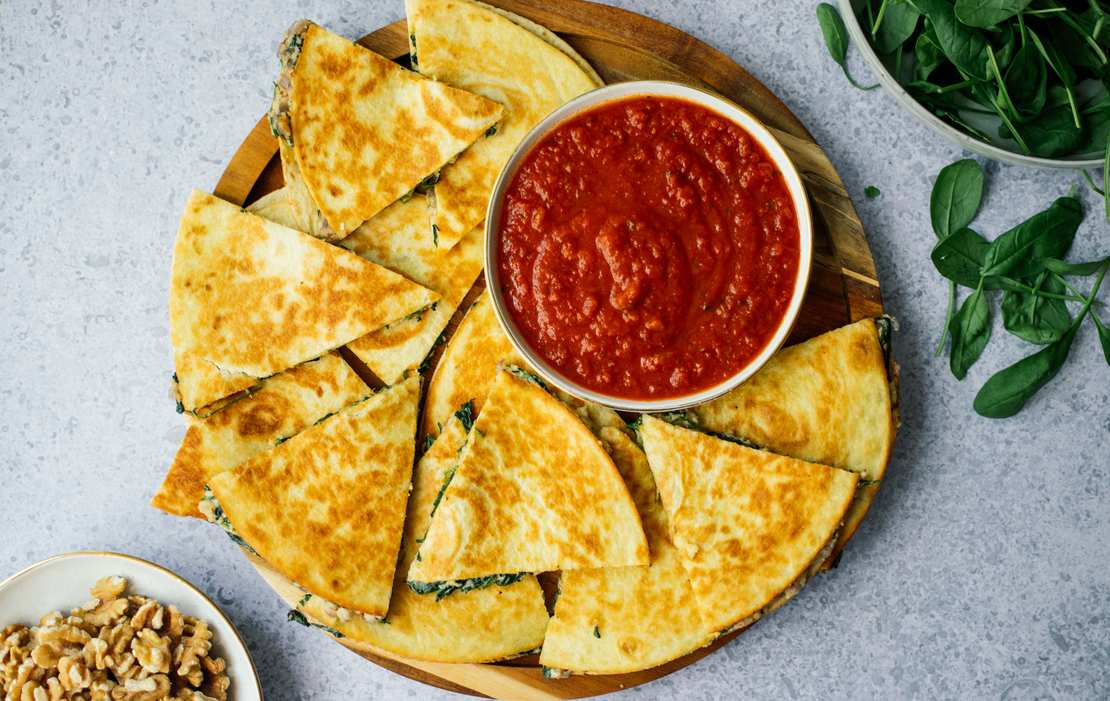 Vegan Spinach Quesadillas
There are a few ingredients that are always practical to have in your pantry because they can be turned into various, versatile dishes in no time. One of these ingredients is a tortilla that can be made from wheat (more common in Tex Mex cuisine), but also from corn (rather classic in Mexico).
Having them in your kitchen means that the world of quick dinners is in your hands: from wraps to burritos or quesadillas – you name it. In Mexico, quesadillas are filled with cheese, sometimes meat, beans, or vegetables, and you can get them "half" and "full". Half means that it's one tortilla that's filled, then folded. "Full" means that the filling is nestled in between two tortillas, and this is what we'll do today.
Today we're using spinach and a fresh cashew cream that serves as a cheese substitute to keep both tortillas together. It's done in 20 minutes, are you ready?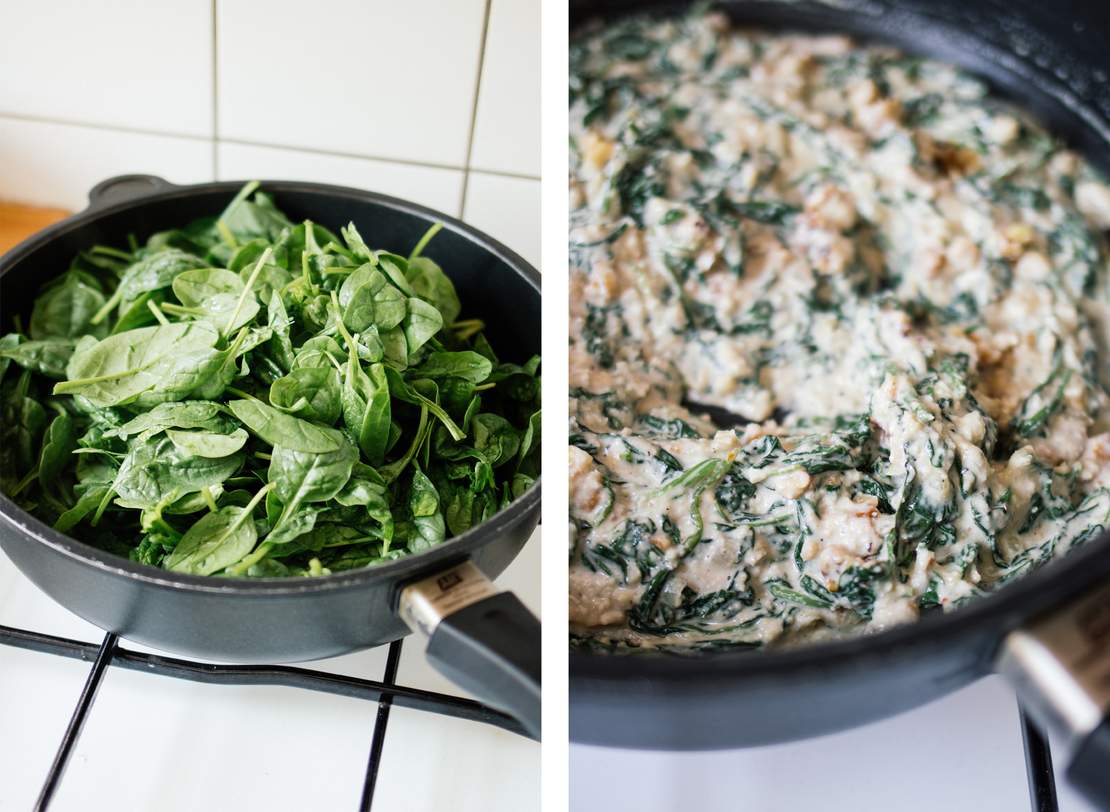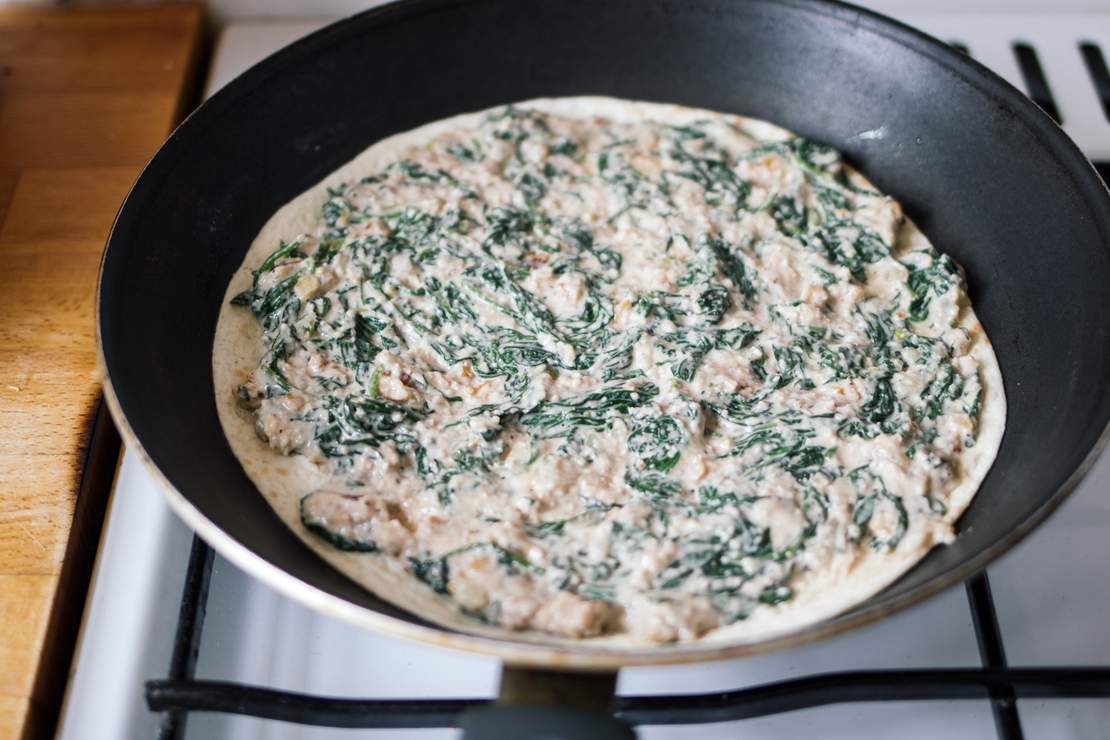 Vegan Spinach Quesadillas
Ingredients
4 wheat tortillas
1 onion
2 garlic cloves
250 g (9 oz) fresh spinach
100 g (3.5 oz) cashews (soaked for at least 2 hrs.)
50 ml (0.25 cup) water
3 tbsp vegan mayonnaise
50 g (2 oz) walnuts
1 tbsp nutritional yeast
salt
pepper
chili flakes
nutmeg
tomato dip for serving (find our favorite recipe here
Instructions
Peel and finely dice onion and garlic. Heat vegetable oil in a frying pan, then add onion, garlic, and chili flakes and fry until the onion is translucent. Add fresh spinach and fry until it wilts, this should only take a few minutes. Season with salt, pepper, and nutmeg to taste.

Add soaked cashews, water, nutritional yeast, and vegan mayonnaise to a liquid measuring cup and blend until it's a smooth mixture. If needed, add more water. Season with salt and pepper.

Add the cashew mixture to the frying pan and stir to combine. Chop walnuts, add them to the pan and stir to combine. Season the filling to taste.

Heat vegetable oil in a second large frying pan. Add the first tortilla and spread half of the spinach filling on top, then add a second tortilla on top and slightly press it down. Fry from both sides until golden brown.

Remove quesadilla from the frying pan and repeat with the remaining tortillas and filling. Let quesadillas rest for approx. 2 - 3 minutes before cutting it. Serve with tomato dip or a dip of your choice.