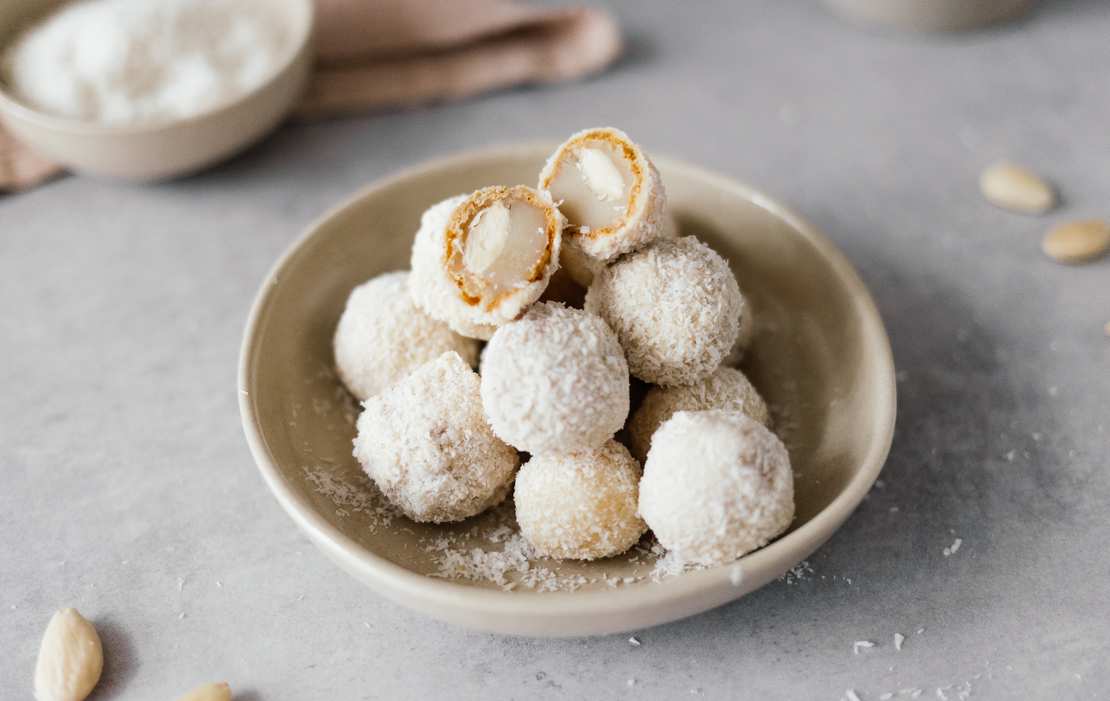 Vegan Raffaello (Coconut-Almond Truffles)
It was time for another round of "Make a wish," and this time, the majority of you asked for these wonderfully creamy coconut-almond truffles: vegan Raffaello. I was very happy about this because I am a big coconut lover and have always loved Raffaello! Unfortunately, the original coconut balls are filled with milk cream and, therefore, not vegan. But from today, that's no longer a problem because, with this recipe, you can make the coconut chocolate truffles yourself with just a few ingredients – all vegan, of course.
This is how it's done:
The vegan coconut cream inside the Raffaello is easily mixed together. Simply melt all the ingredients in a saucepan and stir to create a cream. Then let it cool in the refrigerator until it becomes a bit firmer and easier to work with.
The real challenge of the recipe is that the cream of the original Raffaello is encased in a thin wafer, which is coated with shredded coconut. But how can you make vegan waffle balls at home and then fill them?
I asked the internet, and after reading countless Raffaello recipes that all omitted the wafer completely, I found the solution. If you moisten vegan wafer sheets, they can be shaped and become little Raffaello wafer balls. More precisely, the wafer sheets are moistened with water, then cut into small circles using a round cookie cutter, and pressed into silicone molds. Then the waffle halves are baked until they are crispy again. Let them cool down, fill them with the coconut cream and a blanched almond and place a second wafer halfon top of the first one so that the cream is completely enclosed. If you now dip the wafer balls in melted chocolate and let them cool one more time, the wafer halves will even hold together. Before cooling they are rolled in shredded coconut flakes – wonderful!
We are already quite curious about how you like our vegan Raffaello. They are not only suitable as a sweet snack but also make a nice gift. If you're very motivated, you could even pack together a whole box of homemade chocolates and add vegan hazelnut truffles or vegan chocolates filled with almond cream and jam.
By the way, you can often find vegan wafer plates in Russian or Arab supermarkets. Coconut puree can be found in health food stores, for example.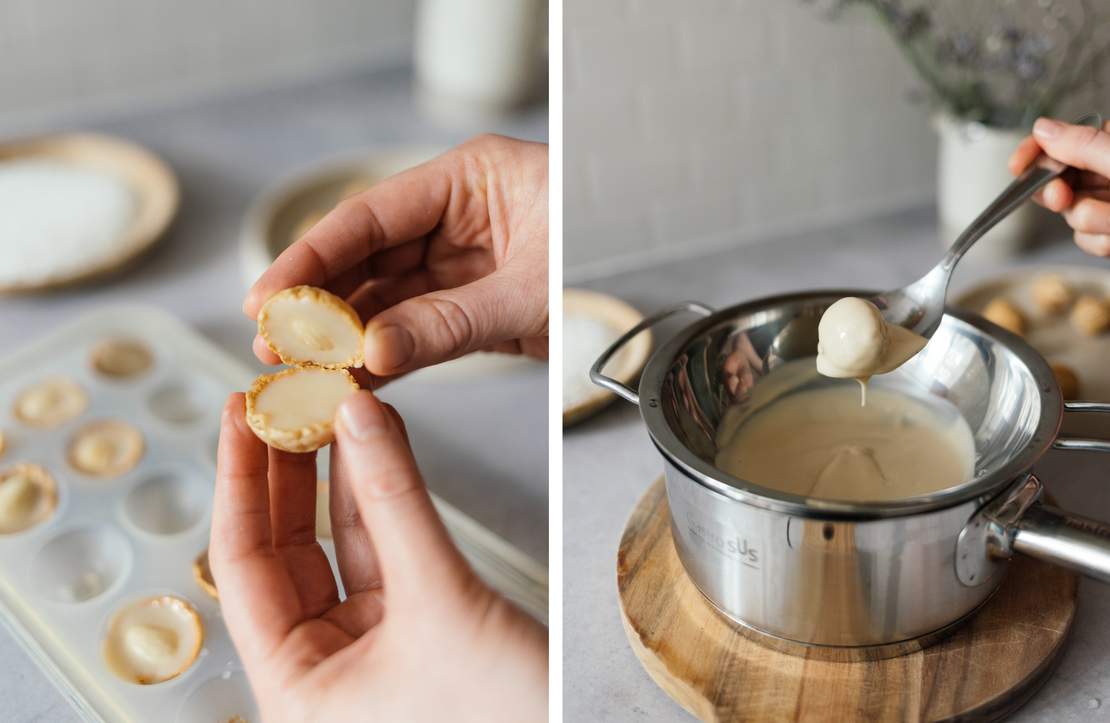 Vegan Raffaello (Coconut-Almond Truffles)
45 Raffaello
40 minutes (+ 20 minutes baking time + 1 hour cooling time)
Ingredients
1.5 vegan flat wafer sheets (each 25 x 25 cm / 10 x 10 inches)
50 ml (0.25 cup) vegan whipping cream
25 g (1 oz) coconut puree
35 g (1.33 oz) coconut oil
200 g (7 oz) vegan white chocolate
45 blanched almonds
shredded coconut
Instructions
Preheat the oven to 180°C/355°F (top/bottom heat). Moisten the wafer sheets with a little water. Then cut out circles from the wafer sheets using a round cookie cutter (⌀ 5 cm/2 inches). Transfer the waffle circles to a silicone mold and gently press them into the molds. Bake for about 20 minutes until the waffles are crispy again. Then allow cooling completely.

In the meantime, prepare the cream. To do this, heat vegan whipping cream, coconut puree, coconut oil, and 100 g (3.5 oz) of the vegan white chocolate in a saucepan over low heat until all ingredients are melted and can be stirred into a homogeneous mixture. Remove from heat and let cool at room temperature or in the refrigerator. It's normal for the cream to be very runny first. However, once it cools down, it will become more solid.

Once the waffles and cream have cooled, fill each waffle half with about one teaspoon of the cream. Add a blanched almond to half of the waffles. Then place one wafer with an almond on one wafer without an almond and press down lightly. Then refrigerate the filled waffle balls.

Melt the remaining vegan white chocolate and dip each vegan Raffaello in the white chocolate until they are completely coated. Then roll in shredded coconut and refrigerate again. Remove from the fridge about 30 minutes before eating to soften the coconut cream inside. The vegan Raffaello will keep in the refrigerator for 1-2 weeks.
More Vegan Chocolate & Sweets Recipes and Plant-Based Copy Cats