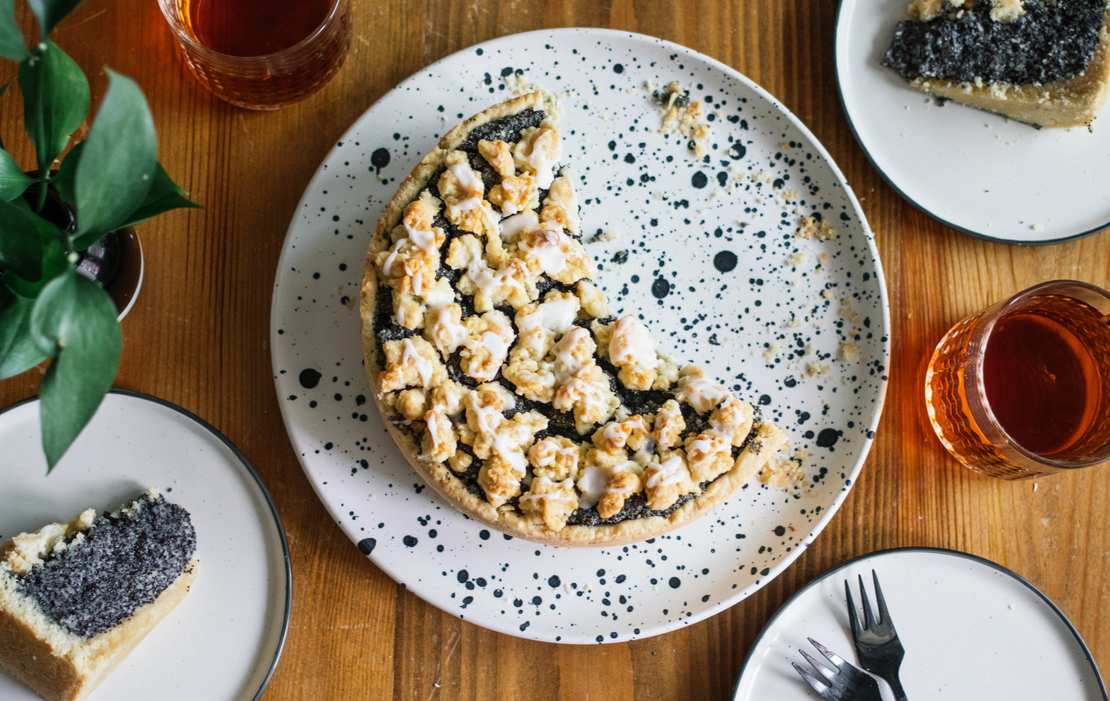 Vegan Poppy Seed Cake with Crumble Topping
Besides German glazed apple cake, poppy seed cake is one of my absolute favorites, and I would buy it from the bakery every day ... if they would sell a vegan one. The thicker the poppy layer, the better!
Both cakes are also quite similar as they use shortcrust pastry both as the crust and the topping, with a thick, juicy filling snuggling in between. But poppy seed cake is still easier as you will sprinkle the remaining shortcrust pastry on top as crumbles. And we don't need to tell you about the secrets to perfect vegan shortcrust pastry anymore, right? (You can find them here.)
So what's the vegan poppy seed filling made of? Some people use yogurt or some other kind of cream filling, but we wanted to keep it very simple and thickened the poppy seed layer with soft wheat semolina and custard powder. Stirred in a pot, it becomes a very thick mixture that needs to cool down a bit, then gets spread on the crust.
To be honest, I found it quite difficult to decide when the right consistency of this cake was reached as I haven't eaten poppy seed cake for years. Yes, it has to be juicy, but it shouldn't be too sticky. I ended up doing quite well with a baking time of almost an hour, covering the cake in the oven as soon as the crumbles were golden brown. Depending on the baking pan you use, your poppy seed filling will probably be a bit flatter than mine (our springform pan had a diameter of about 18 cm/7 inches). So if your filling is rather flat, make sure to reduce the baking time as well. And even if the filling gets too sticky: it's delicious anyway.
Vegan Poppy Seed Cake with Crumble Topping
1 springform pan (approx. 18cm/ 7 inches)
30 minutes (+30 min. resting time + 60 min. baking time)
Ingredients
For the dough:
500 g (4 cups) flour
5 tbsp sugar
0.5 lemon (zest)
0.25 tsp salt
250 g (2.25 sticks) cold vegan butter
approx. 8 tbsp ice-cold water
vegan butter for greasing
flour for dusting
For the filling:
750 ml (3 cups) plant-based milk
150 g (1 cup) finer semolina (not the coarse one)
37 g (1.5 oz) vanilla custard powder
150 g (0.75 cups) sugar
300 g (10.5 oz) ground poppy seeds
50 g (0.25 cup) vegan butter
For the icing:
100 g (0.75 cups) confectioner's sugar
approx. 2 tbsp lemon juice or water
Instructions
For the dough mix flour, sugar, and salt in a large bowl. Add cold vegan butter in small dices or flakes. Use a fork to work in the vegan butter until fine crumbles form. Little by little, add ice-cold water until the dough holds together when pressed.

Grease and flour a springform pan or a baking sheet, you could also line both with parchment paper. Add approx. two-third of the crumbly dough and press it down to create an even crust on the bottom and the sides of the springform pan. Refrigerate the dough in the springform pan as well as the remaining crumbly dough for at least 30 minutes.

For the filling, heat plant-based milk in a pot. Stir in semolina and heat for approx. 2-3 minutes or until thickened. Add vanilla custard powder, sugar, and ground poppy seeds. Heat while stirring for approx. 4-5 minutes. Remove the pot from heat and stir in vegan butter. Let the mixture cool down until the dough has been cooled long enough.

Preheat oven to 180°C/360°F (circulating air). Add the poppy seed filling to the springform pan and smooth out. Top with crumbles, then bake for approx. 50-60 minutes. If the crumbles turn too dark, make sure to cover the cake with aluminum foil after approx. 40 minutes. Remove the cake from the oven and let cool out completely.

For the icing mix confectioner's sugar with as much lemon juice or water as needed until the desired texture of the icing is reached. Spread the glaze on top of the crumbles, then wait for a few minutes until it's set.
More Vegan Cakes & Cookies