Vegan Pancakes with Vanilla Ice Cream & Hot Berries
There are thousands of vegan pancake recipes. Quite often, with banana, oatmeal, or all sorts of ingredients being "healthy" (oh hello, chia seeds, matcha, sweet potato). A brief look at the recipe often makes me close the tab immediately. An easy basic recipe for foolproof, vegan American Pancakes can't be that hard, right? No. On the contrary, for heavenly fluffy pancakes, you only need one secret ingredient: vegan buttermilk which is also used in the American original. And keep reading. Please don't close the tab! We do not go on a hunt, searching and scouring supermarket after supermarket. We prepare it ourselves! To make vegan buttermilk, mix plant-based milk with a little lemon juice and let it sit for a while (at least 10 minutes)! Then the magic happens. The vegan milk curdles and thickens in combination with the lemon juice. Besides, the acidity adds some freshness and flavor to the pancakes. By the way, the combination of baking powder and baking soda makes for an even airier consistency. If you have only one of those at home, use more of that.
And that's all you need to know, for these pancakes, it doesn't take much.
The combination of vanilla ice cream and hot raspberries is a comfort food classic, at least in Germany (so if you never had this – this is your chance, give it a try). But the pancakes will be indulgent just on their own, with seasonal fruit, applesauce, vegan chocolate spread, or vegan whipped cream. And savory toppings are also possible for sure. Just reduce the amount of sugar in the recipe if desired. For those of you who crave more pancake recipes we suggest our vegan chocolate pancakes with tahini, vegan pancakes with lemon and plant-based yogurt, sweet pancake tacos or sweet vegan potato pancakes. By the way, my omnivore friends have already been asking me for this recipe, too. Et voila: Here it comes!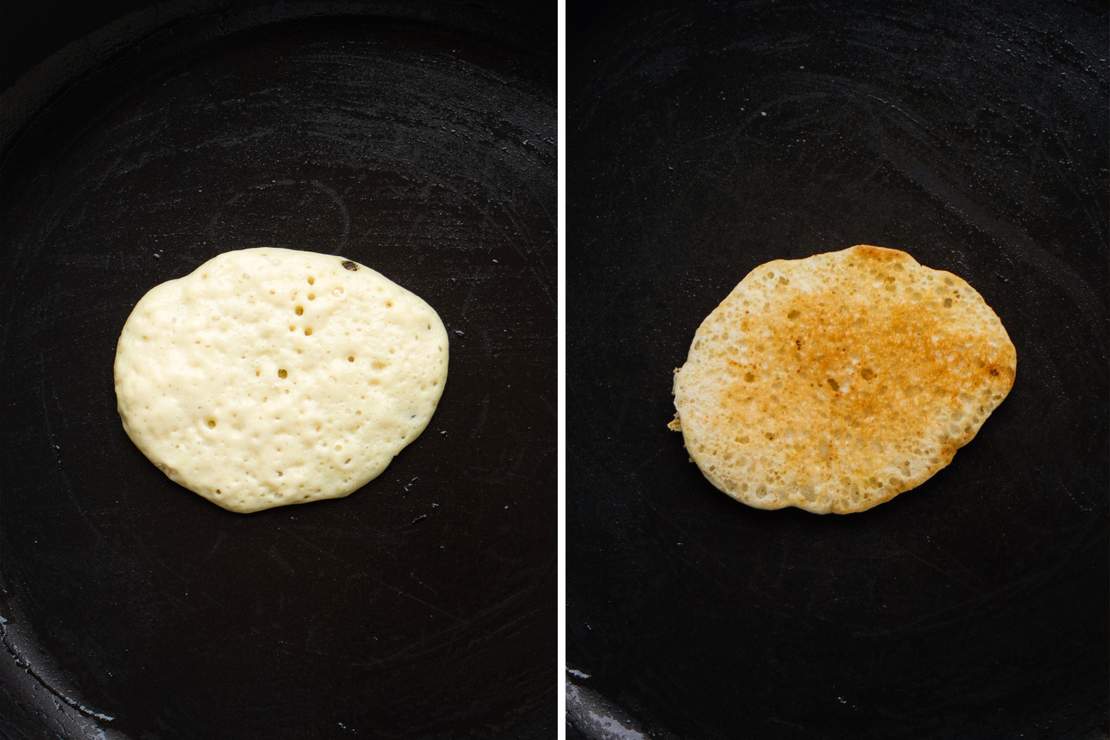 Vegan Pancakes with Vanilla Ice Cream & hot Berries
2 servings (12 small pancakes)
30 minutes
Ingredients
For the pancakes:
150 ml (0.66 cups) plant-based milk + 20 g (0.75 oz) lemon juice
80 g (0.33 cups) flour
1 tbsp sugar
2 tsp vanilla sugar
0.5 tsp baking powder
0.25 tsp baking soda
1 pinch of salt
vegan butter or oil for frying
To serve:
250 g (8.75 oz) frozen raspberries
200 g (7 oz) vegan vanilla ice cream
Instructions
First, prepare the vegan buttermilk. Add the lemon juice to the plant-based milk and set it for at least 10 minutes to curdle.

Mix flour with sugar, vanilla sugar, baking powder, baking soda, and a good pinch of salt. Now carefully fold the vegan buttermilk into the dry components. Mix only briefly. There should still be flour lumps visible, which will make the pancakes come out nice and fluffy.

Place a pan over medium heat on the stove. Add vegan butter or vegetable oil to the pan and fry the pancakes till both sides are nicely brown and crispy.

Heat the frozen raspberries in a saucepan while continually stirring. Serve the baked pancakes with a topping of hot berries and vegan vanilla ice cream.
More Vegan Recipes with Berries