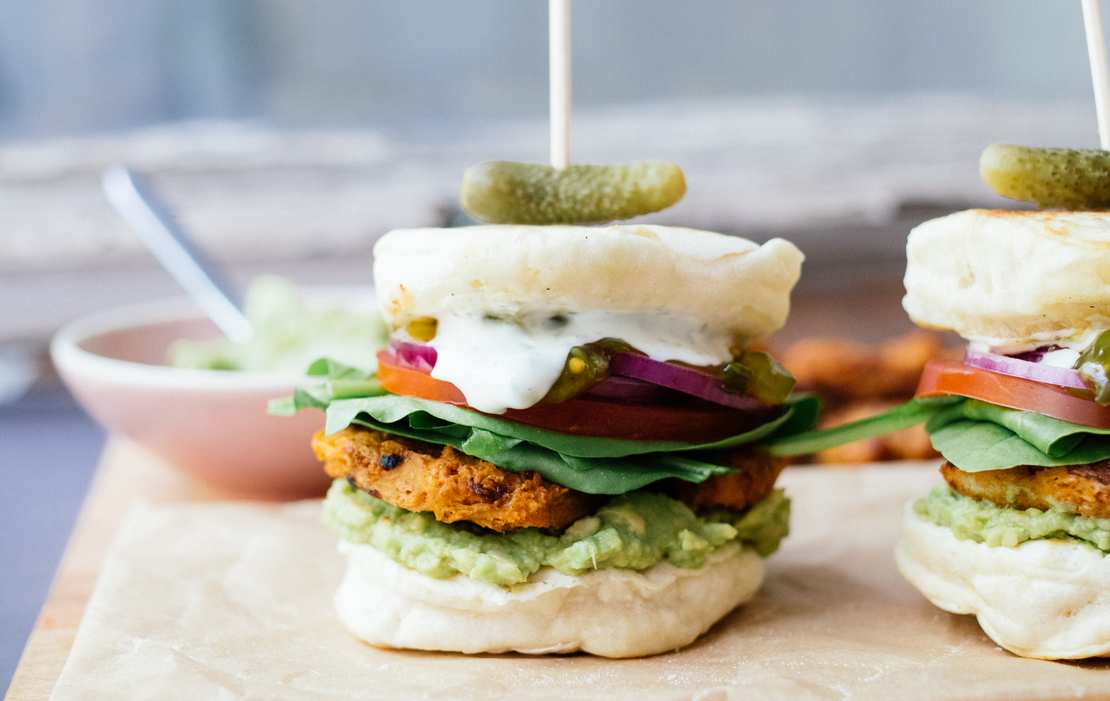 Vegan Pancake Burger with soy steaks
Welcome to breakfast heaven! Even when it comes to breakfast, the "healthy start to the day," we think about savory things. Of course, we don't eat a burger like this every morning, but especially for hangover breakfasts, this pancake burger will be your hero.
You can put anything you want in between the two pancakes. We tried out soy steaks and avocado creme which we can highly recommend! The pancakes perfectly replace the burger buns and are the best fresh from the pan.
Vegan Pancake Burger with soy steaks
Ingredients
PANCAKES
150 g (1.25 cups) flour
1 tsp baking powder
1 pinch of salt
150 ml (0.6 cups) water
SOY STEAKS
10-12 small soy steaks
2 l (8 cups) veggie broth
4-5 tbsp BBQ sauce
1-2 tbsp soy sauce
salt & pepper
Avocado Creme
1 Avocado
2 tbsp fresh lemon juice
salt&pepper
ADDITIONALLY
100 g (3.5 oz) sweet relish
100 ml (0.4 cups) plant-based mayonnaise
1/4 green salad or 100 g baby spinach
1/2 red onion
2 tomatoes
4 gherkins
salt&pepper
Instructions
Start with the pancake dough and mix flour, baking powder and salt. Little by little add the water until your dough is vicious. Let rest for 10 minutes.

Let the soy steaks soak in hot veggie broth for about ten minutes, then squeeze out the water and preseason with some salt and pepper and rub in the BBQ sauce. Let them roast in a large pan and add a nice shot of soy sauce after 2-3 minutes. Let them roast from both sides.

Prepare the remaining ingredients and wash the salad and the veggies. Cut the lettuce into strips, peel and slice a red onion and some gherkins and slice the tomatoes.

Heat some oil in a large pan and add 1-2 tbsp of the pancake dough. Let it roast from both sides until golden brown. Afterward set aside.

Peel the avocado and mash with a fork. Add lemon juice, salt and pepper and season to taste.

Afterward, start with layering. Spread some avocado creme on a pancake, then add lettuce, soy steaks, tomatoes gherkins, onion and finish it up with sweet relish and plant-based mayonnaise before adding the second pancake.
More Vegan Breakfast Recipes