How can it be that this cookie has so many names? "Linzer Plätzchen", "Hildabrötchen" and "Spitzbuben"? We are extremely confused because no matter which name we google, we always come back to the little cookies with a blob of jam.
Through our research among friends, we finally discovered that people from the former eastern part of Germany know the cookies by the name "Spitzbuben." On the other hand, people from the former West call them "Hildabrötchen." Presumably, "Linzer Plätzchen" comes from the southern part of Germany and Austria. That's how we explain all the back and forth. However, we cannot guarantee whether this is true. The names "Johannisthaler" and "Terrassenplätzchen" also circulate on the Internet and confuse us even more. HELP!
The preparation of the cookies is less confusing: the base consists of flour, ground almonds, vegan butter, sugar and a pinch of salt. You must let the dough chill long enough and ensure it does not get too warm when rolling it out. Also, make sure you cut out the same number of cookies and rings and always watch the oven while baking so that the Linzer cookies don't get too dark. You can vary the jam when assembling the cookies: Isa loves raspberries and has, therefore, used raspberry jelly. But some people swear by redcurrant jelly. Finally, the cookies are sprinkled with powdered sugar – hopefully, by then, your work surface will look like the ultimate Christmas bakery. The result: delicious cookies for your cookie tin, which certainly won't stay full for long. For more vegan cookie ideas, click here!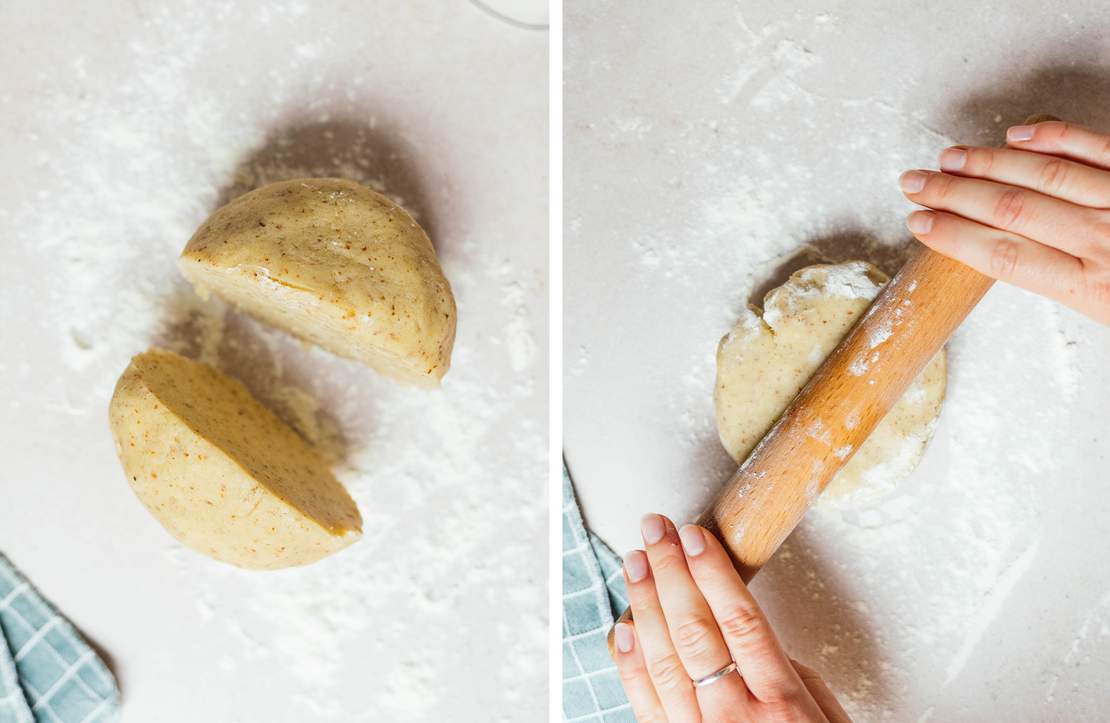 Vegan Linzer Cookies
Ingredients
250 g (2 cups) flour
50 g (1.75 oz) ground almonds
200 g (1.75 stick) vegan butter
100 g (0.5 cup) sugar
a pinch of salt
if needed: cold water
150 g (5.33 oz) raspberry jam (seedless)
50 g (0.5 cup) icing sugar
Instructions
Mix flour, ground almonds, salt and sugar in a large bowl, add the cold vegan butter in flakes and knead with cold hands. Then add a little ice water (or very cold water) and knead until a smooth dough is formed. Wrap the dough in cling film and let it chill in the fridge for at least 30 minutes.

Roll out the dough to a thickness of 2 millimeters on a floured surface and cut out circles. Cut out another small circle in half of the circles so that you have a "ring." You should end up with the same number of circles and rings.

Place the circles and rings on a lined baking sheet. Bake in a preheated oven at 180 °C / 355 °F (convection heat) for 8-10 minutes. Leave the cookie cutters to cool completely. In the meantime, boil the raspberry jelly in a small pan.

Brush the circles with the raspberry jelly, leaving a small border. Place a ring on the circle, press down a little and sprinkle with powdered sugar.
More Vegan Cakes & Cookies