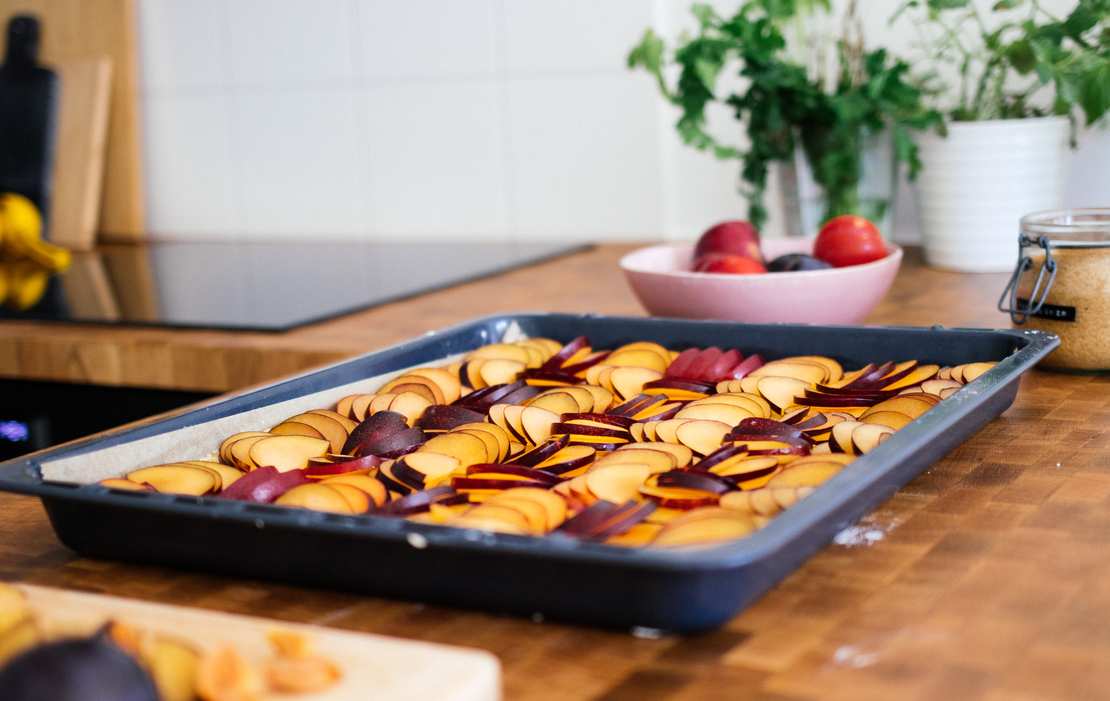 Vegan German Plum Sheet Cake (with 5 ingredients)
A couple of years ago, I visited acquaintances of me. At that time, I changed my diet step by step and mastered the first weeks without animal products very well. Just two minutes after arriving and sitting at the table, I got a piece of plum cake on my plate. And it was not vegan at all! Me (a bloody beginner at that moment) couldn't manage to explain why I won't eat that piece of cake and needed an emergency plan asap. So I picked all the plums from my piece of cake and my friend next to me shifted the dough from my plate to his plate, as inconspicuous as possible. The plan worked out very well, and nobody noticed anything!
Meanwhile, all of my family, friends, and acquaintances know that I don't eat eggs, milk, and butter anymore. So most of the time I get a fruit salad for dessert or coffee. But of course, I don't have to quit plum cake! With a [simple shortcrust pastry] (https://www.zuckerjagdwurst.com/en/recipes/basic-vegan-short-crust-pastry) and fresh plums, you can easily bake a vegan plum cake, which treats your whole family and is super simple to prepare.
We are very happy that [Edeka] (https://www.edeka.de/) supported us and this recipe! They have a pretty large selection of vegan products and everything you need for baking without milk and eggs. For our vegan plum cake, we have used the Edeka organic spelled flour, which comes from certified organic farming. It worked very well and is just as easy to prepare as wheat flour. Let's try it out!
Vegan German Plum Sheet Cake (with 5 ingredients)
1 sheet (16 pieces)
30 minutes (+ 30 minutes waiting time & 30 minutes baking time)
Ingredients
dough
750 g organic spelled flour (e.g., from Edeka)
375 g plant-based butter
250 g brown sugar
toppings
15 plums (e.g., from Edeka)
1 tbsp brown sugar
50 g almond slices
optional: plant-based whipped cream
Instructions
For the dough, mix the flour, plant-based butter and sugar in a bowl and shape into a large ball. Keep the dough in the fridge for 30 minutes.
In the meantime, wash the plums, quarter, core, and slice.
Cover a baking tray with baking paper and roll out the dough evenly.
Arrange the plums on top. For a nice pattern, fan four plum slices and form a square of four of these fans. Make sure they are all arranged in the same direction clockwise or anti-clockwise within the square. Sprinkle 1 tbsp brown sugar all over the cake.
Bake the plum cake at 180°C/350°F for 30-35 minutes and serve with almond slices and plant-based whipped cream (optional).
More Vegan Cakes & Cookies