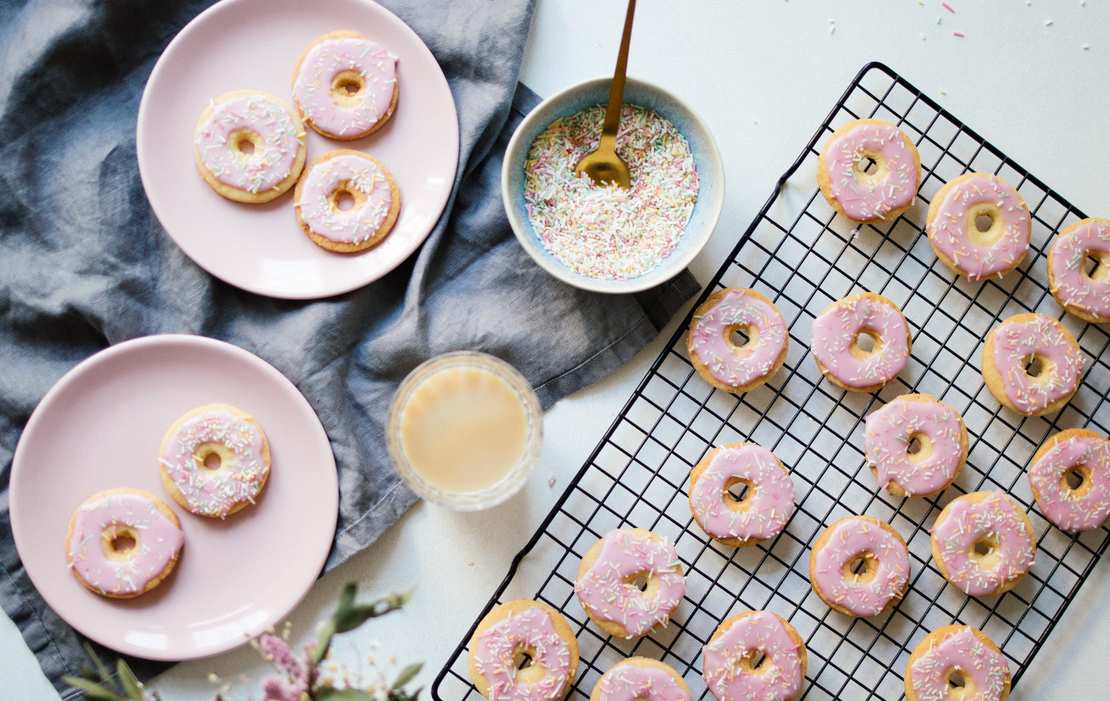 Vegan cut-out sugar cookies
Cut-out cookies are the most classical cookies in Germany when it comes to baking during the Christmas season. Especially with kids, there is no way around. We used our vegan basic short-crust pastry for this recipe and added a sugar icing that we colored pink by using beetroot juice.
Choose the cutters you like the most and decorate the cookies the way you want it. There are unlimited possibilities to bake these cookies. We made pink donuts even if it doesn't look very Christmassy.
Attention! Most of the sugar sprinkles you get in the supermarket are not vegan. They contain E120, which is an additive called "carmine" made from cochineals (scale insects). But there are plant-based alternatives at organic supermarkets. You can also order them also online*.
Vegan Christmas cut-out sugar cookies
approx. 50 cookies
90 minutes (+ cooling time)
Ingredients
300 g (2.5 cups) flour
200 g (0.8 cups) plant-based butter
100 g (0.5 cups) sugar
1/2 lemon
optional: 1 tbsp vanilla sugar
decoration
250 g (2.5 cups) icing sugar
a few drops fresh beetroot juice
100 g (3.5 oz) plant-based sugar sprinkles
Instructions
Add flour, sugar, and salt to a bowl and stir to combine.
Add diced cold butter on top and fresh lemon juice. Start kneading with cold hands.
If needed, add cold water and knead until a smooth dough forms.
Wrap in plastic wrap and let rest in the fridge for at least 30 minutes.
Roll out the dough on a floured surface and cut out cookies. Place them on a baking tray covered with baking parchment.
Pre-heat the oven up to 180°C/356°F and bake cookies for 8-10 minutes. Allow to cool down for 10 minutes.
sugar icing
Sieve the icing sugar into a bowl.
Gradually add a few drops of water and fresh beetroot juice.
Decorate cookies with the pink sugar icing and sprinkles.
More Vegan Christmas Recipes