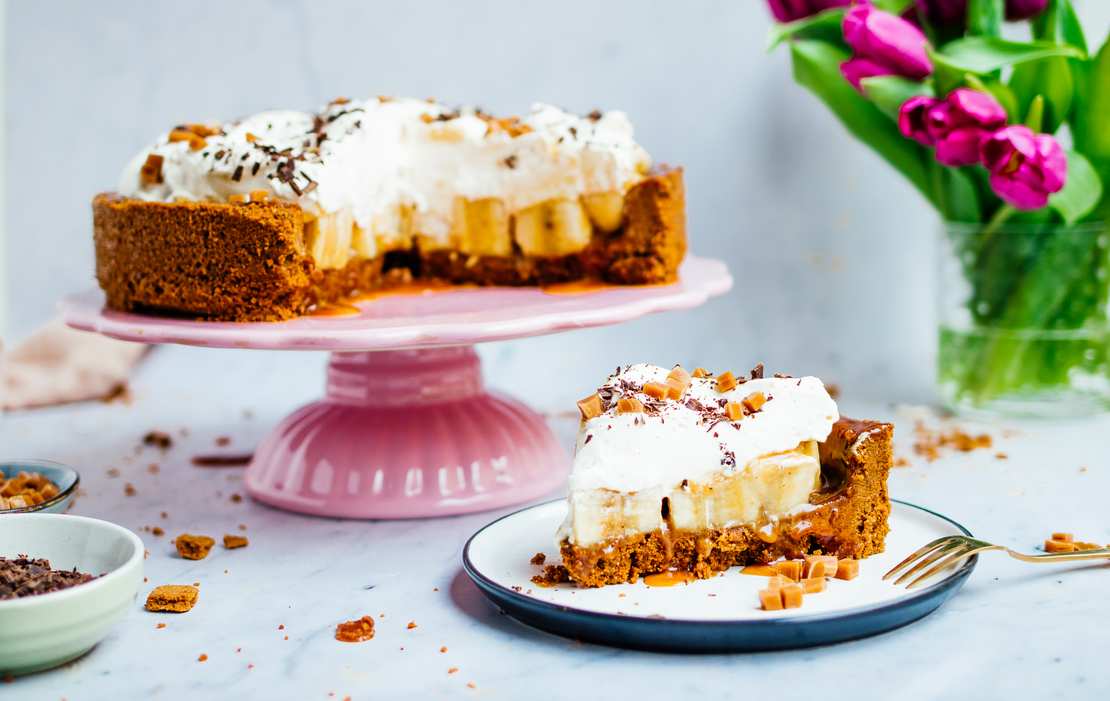 Admittedly, before I started my research for this recipe and dived deeply into nerdy knowledge of this pie monster, I automatically assumed that Banoffee Pie is American. Inch-thick cookie crumb base, bananas drowned in caramel sauce, and a massive mountain of whipped cream sprinkled with chocolate shavings or similarly delicious toppings: For me, the case was clear. But far from it. I would like to officially thank the British for bringing us this terrific invention of cake. Side note, by the way: If we may believe this gentleman here, the word banoffee comes not from banana and toffee, but banana and coffee, because banoffee pie was often made with coffee in the past. Nigel Mackenzie invented it. But enough nerdy talk, now for the vegan Banoffee Pie. There are a few steps to follow with this recipe.
The Biscuit Base:
For the original recipe, the British use graham crackers. These can are rarely be found in Germany, so we used vegan caramel cookies. You can get them in most larger supermarkets, at the vegan supermarket, or online. The caramel flavor works great with the other components of the pies. If you like, you can also use the same amount of any other kind of cookie. The range is wide. Vegan oatmeal cookies, cookies, or shortbread cookies in various flavors are now available at health food stores, supermarkets around the corner, or discounters. Just look for the vegan label or check the ingredients list.
The Caramel Sauce
For original banoffee pie, Dulce de Leche, a South American milk caramel cream made from sweetened condensed milk, is used. Making vegan Dulce de Leche at home takes hours. That's why for this pie, we're making the quicker version using sugar, vegan butter, and vegan cooking cream. Homemade caramel requires a bit of patience and sensitivity. If it doesn't work right away, start over. It took me several tries.
First, the sugar is melted at medium temperature. Then you stir vegan cream and butter into the liquid caramel one after the other. Then comes the tricky part. The mass must now simmer briefly but not too long. Pastry chefs use a thermometer (like here). In general, the longer the caramel simmers, the firmer it will be later. If you leave it on the stove for too long, you will end up with a huge caramel candy. So it's better to take it off the stove earlier and reheat it if necessary if the cooled mass is too runny.
The vegan whipped cream
Vegan whipping cream cannot be replaced by vegan cooking cream. Vegan whipping cream is composed differently than cooking cream. Look for products that are labeled "for whipping. "Finding these can be a bit of a challenge (oh yes, I've also been on umpteen supermarket-marathons). You can find it in the refrigerated counter, next to coffee creamer, plant-based milk, and vegan cooking cream, in the organic market, online, or at the vegan supermarket. People who live in Berlin are at an advantage.
The Toppings
Our vegan Banoffee Pie has a chocolate shave topping. Peel them from a bar with a peeler. Chocolate chips work as well, and there are no limits to the type of chocolate. Personally, the pie is just sweet enough already, and I like dark chocolate with it. For the toffee chunks, we just cut vegan toffee candies into small cubes. They can be found in larger supermarkets, vegan supermarkets, and online. However, they are not a must and can be substituted as the mood takes you. Here are just a couple of ideas I considered for my pie: chopped nougat bits, cookie crumbs, banana chips, caramel sauce, roasted hazelnuts, or your favorite vegan bar chopped into tiny pieces. Options are endless. So let's implement your own. Time for banoffee pie!
Vegan Banoffee Pie
1 springform pan (∅ 26 cm / 10 inches)
2 hours (+ time to cool down)
Ingredients
For the cake crust:
750 g (26.5 oz) vegan cookies (e.g. vegan caramel cookies)
225 g (2 sticks / 8 oz) vegan butter
1 pinch of salt
For the caramel:
250 g (1 cup) sugar
200 g (7 oz) vegan cream
100 g (3.5 oz) vegan butter
1 pinch of salt
Also:
400 g (14 oz) vegan whipped cream
16 g (0.5 oz) vanilla sugar
approx. 550 g (20 oz) bananas
chocolate for shaving
vegan toffees
Instructions
Base
For the pie crust, process vegan cookies into fine crumbs. The quickest way to do this is with a food processor. If you don't have one, put the cookies in a freezer bag, seal well and beat with a rolling pin.
Melt vegan butter and add to the crumbs together with a generous pinch of salt. Mix everything well until the cookie crumbs are nice and evenly moist.
Pour the mixture into a springform pan (∅ 26 cm / 10 inches) and form a firm and even bottom and sides for the pie with a spoon. Then refrigerate the cookie base.
Caramel
For the caramel, melt sugar over low to medium heat on the stove until a golden brown caramel syrup forms. Do not stir if possible. It may take a while to melt.
Now carefully add vegan cream to the pot and stir vigorously. Be careful. The mixture will bubble a lot. Keep going until everything is homogeneous, then add vegan butter and a good pinch of salt.
Gently heat the mix a bit longer. The longer it cooks, the firmer the caramel will be. Don't simmer too long, or your result will be solid caramel. Allow the caramel to cool down.
Filling
To assemble the pie, whip the vegan whipping cream with vanilla sugar until stiff. Cut the bananas into thick slices. Remove the pie crust from the refrigerator and spread the bananas on the bottom until covered.
Now, pour the caramel over the bananas and spread the whipped cream generously on top.
Carefully remove the pie from the springform pan and place it on a plate or pie plate. Using a pie slice comes in handy.
With a peeler, peel the chocolate into shaves. Chop the toffees into small cubes. Garnish the banoffee pie with the chocolate shavings and vegan toffee pieces.
More Vegan Cakes & Cookies