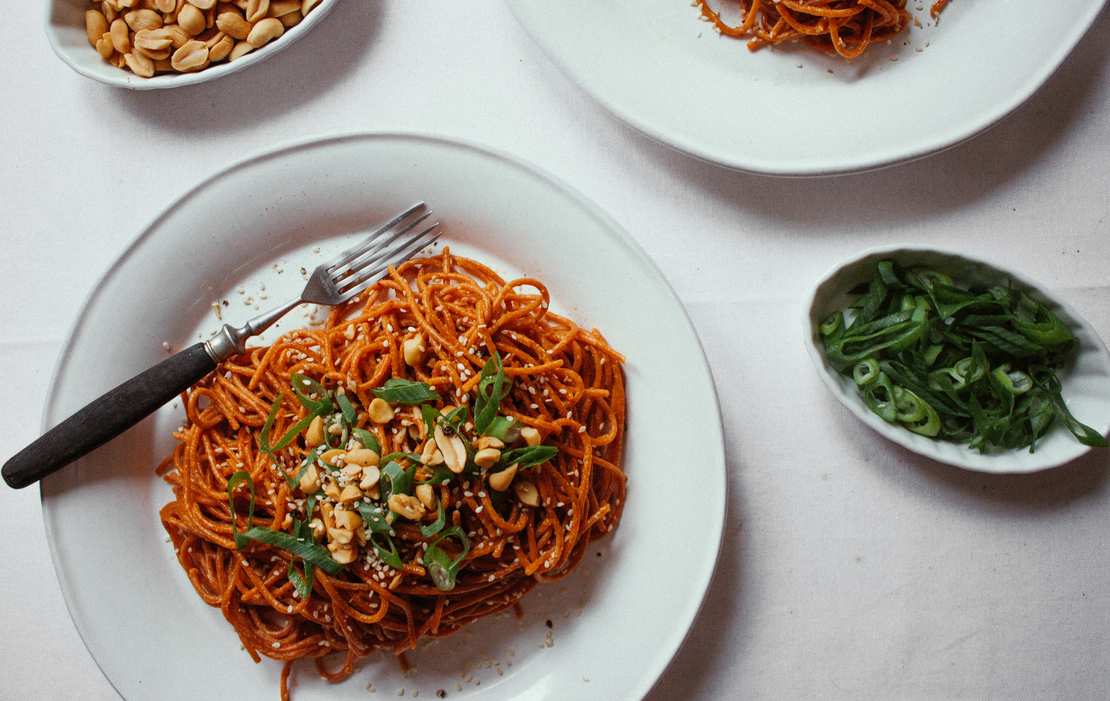 It's the end of the year and we slowly recover from all the cookies and Christmas dinner, uffs. Time to go back to normal eating routines and that means: time for pasta! We've missed it the last week, so here's a recipe that's cooked in no time at all but will still impress with spiciness.
For this, we were supported by the German company Birkel that offers several pasta products without any animal products. We've chosen the exotic chili-garlic spaghetti and coated them in a spicy sesame sauce with homemade chili oil. If you're not into spicy food, better start carefully and only use a tiny bit of the chili oil.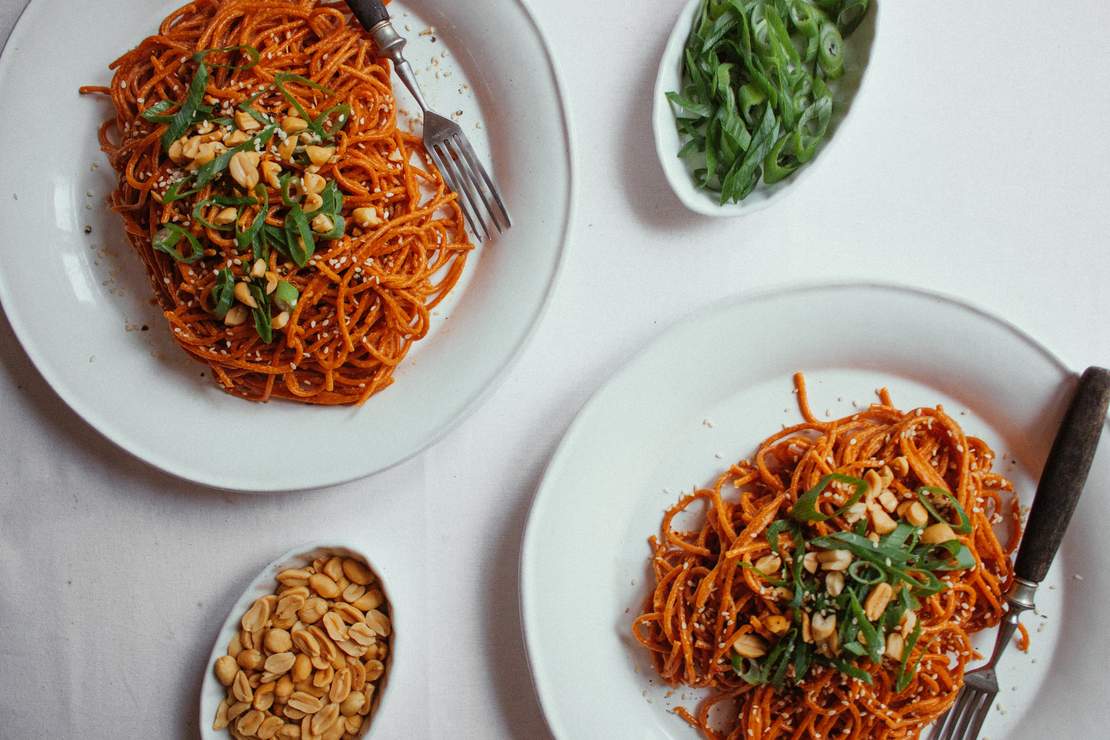 Spicy sesame spaghetti
Ingredients
350 g (12.5 oz) spaghetti, e.g. Chili-Knoblauch-Spaghetti from Birkel
For the sauce:
3 tbsp chili oil
3 tbspt tahini
3 tbsp soy sauce
2 tbsp rice vinegar
2 tsp sesame oil
1 tsp agave syrup
2 garlic cloves
For topping:
4 green onions
3 tbsp peanuts
2 tbsp sesame
Instructions
Bring salted water to boil and cook pasta fora approx. 8 minutes. In the meantime, you can prepare the sauce. Once the pasta is al dente, drain them, and then add pasta directly to the sauce in the pan and toss to coat.

For the sauce, stir to combine chili oil, tahini, rice vinegar, sesame oil and agave syrup. Peel and slice garlic. Heat oil in a large frying pan and fry garlic slices for approx. 2 - 3 minutes. Afterwards add tahini-chili mixture and let simmer on low heat. Once the pasta is cooked and drained, add to the sauce in your pan and toss to coat. Season to taste with salt and pepper.

For topping, finely slice green onion and chop peanuts. Serve pasta with green onions, peanuts and sesame on top.
Homemade chili oil
Ingredients
250 ml (1 cup) rapeseed oil
3 star anise
1 cm (0.5 in) ginger
3 garlic cloves
1 cinnamon stick
2 cardamom pods
3 Szechuan peppercorns
4 tbsp red pepper flakes
1/2 tsp salt
Instructions
Peel and halve garlic cloves. Add vegetable oil, star anise, ginger, cinnamon stick, Szechuan peppercorns and halved garlic cloves to a small pot and heat over medium heat. The oil should never cook and boil, but always stay close to simmering. To make sure, always doublecheck the temperature and reduce if needed. It should simmer like this for approx. 30 minutes. Afterwards remove from stove and let cool down.

Add chili flakes and salt to a heatproof bowl, just in case the oil is still too warm. Pour oil through a sieve into the bowl to filter out all spices. Then stir to combine oil, chili flakes and salt - there you have your homemade spiced chili oil!

Fill and store in a sealable jar.