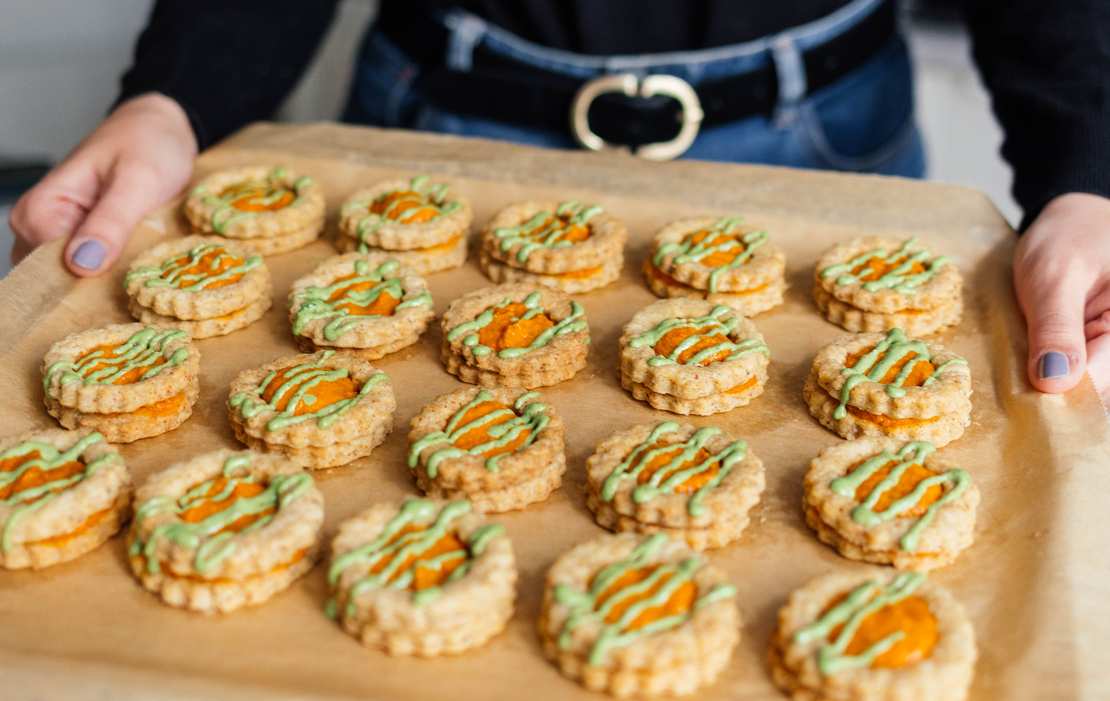 Savory Vegan Linzer Cookies
I assume every German knows and loves "Spitzbuben" aka Linzer Cookies. Special German jam-filled cookies. But why are Christmas cookies always sweet? This year, we bring a little variety to your cookie jar. Savory "Spitzbuben" – perfect for everyone who prefers savory over sweet or wants to change things up. The recipe also works great outside of the Christmas season!
The cookies are super easy to make. First, we prepare the shortcrust pastry because it needs to rest in the fridge for quite a while. With shortcrust, it's essential to use cold vegan butter and to work quickly, so the butter doesn't get soft. Otherwise, the cookies won't turn out nice and crisp. Next, we add some plant-based parmesan, ground almonds, onion powder, and garlic powder to the dough for heartiness. We used circular cookie cutters, but you can use whatever shape you like. Let your creativity run wild!
After baking and cooling, we filled the cookies with red vegan pesto instead of jam. But again, you can use whatever pesto you like best. For decoration, we prepared a nice basil topping, which looks great and tastes fantastic.
The perfect hearty addition to every cookie jar! However, if you prefer to stay on the sweet side of things, here are some sweet recipes you might enjoy: sweet vegan "Spitzbuben", vegan vanilla crescents, vegan thumbprint cookies, and many more!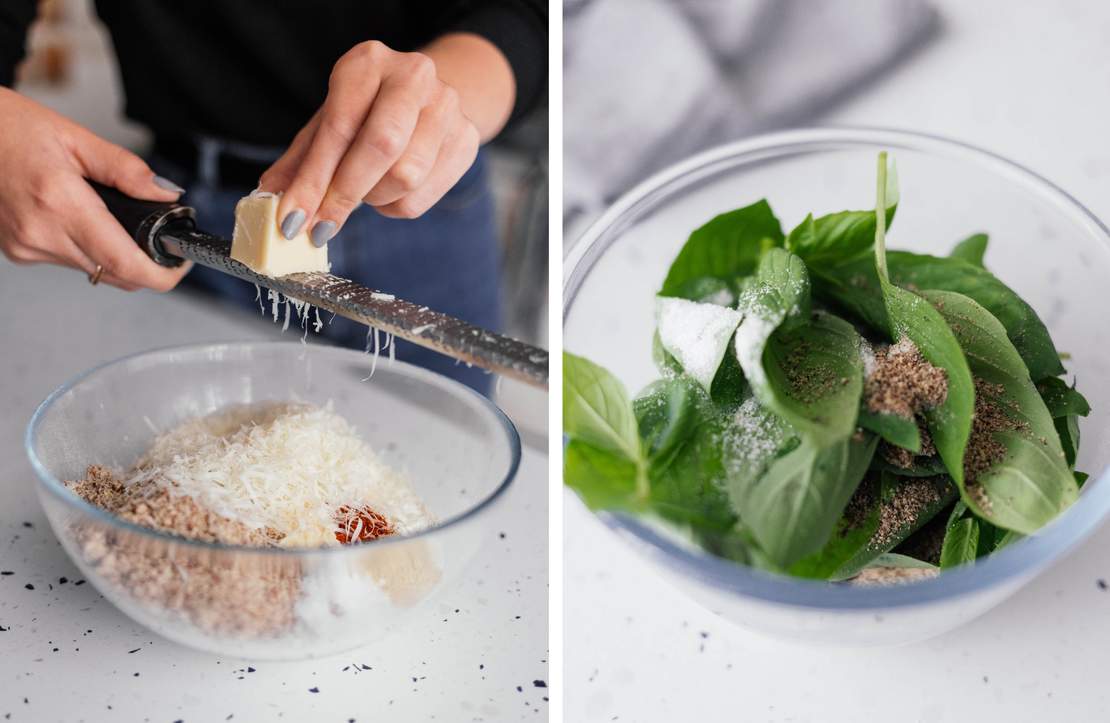 Savory Vegan Linzer Cookies
approx. 25 Cookies
45 minutes (+ 12 minutes baking + 30 minutes cooling time)
Ingredients
For the dough:
250 g (2 cups) wheat flour (type 405)
50 g (1.75 oz) ground almonds
1 tsp garlic powder
1 tsp onion powder
0.5 tsp chili powder
1 tsp salt
50 g (1.75 oz) plant-based parmesan
200 g (1.75 sticks) vegan butter (cold)
cold water as needed
For the basil topping:
25 g (1 oz) almonds
10 g (0.25 oz) nutritional yeast
20 g (0.75 oz) fresh basil
1 tbsp olive oil
water as needed
salt
pepper
Also:
240 g (0.5 lb) red vegan pesto
Instructions
Mix flour, ground almonds, garlic, onion, and chili powder in a bowl with salt. Grate the plant-based parmesan, cut the cold vegan butter into small pieces and add them to the bowl. Also, add some icy water and knead until a smooth dough forms. Work quickly. If you knead too long, the vegan butter becomes way too soft. Cover the dough and place it in the refrigerator for at least 30 minutes.

For the topping, blend the almonds, nutritional yeast, fresh basil, olive oil, salt, and pepper with an immersion blender until smooth. If the mix is too thick, add some water. It shouldn't be too runny though. Place in the refrigerator as well.

Preheat oven to 180 °C (convection heat). Roll out the dough on a wheat-dusted surface. It should be about 3 mm thick. Cut out circles with a cookie cutter. Cut out a smaller circle in the middle to create a "dough ring" .In the end, there should be the same number of circles as rings.

Bake the cookies at 180 °C (convection heat) for about 12 minutes until they are lightly brown. Remove from the oven and allow to cool.

Place a large teaspoon of pesto on each cooled cookie circle and place the cookie rings on top. After filling, decorate with the basil topping.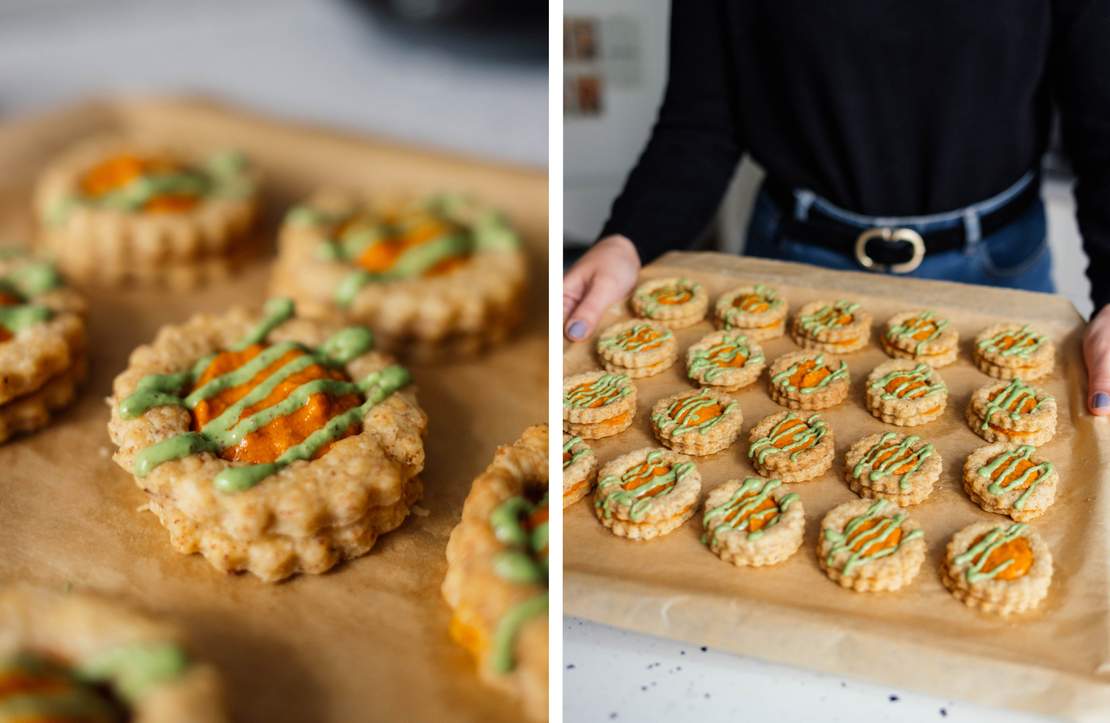 More Vegan Christmas Cookies