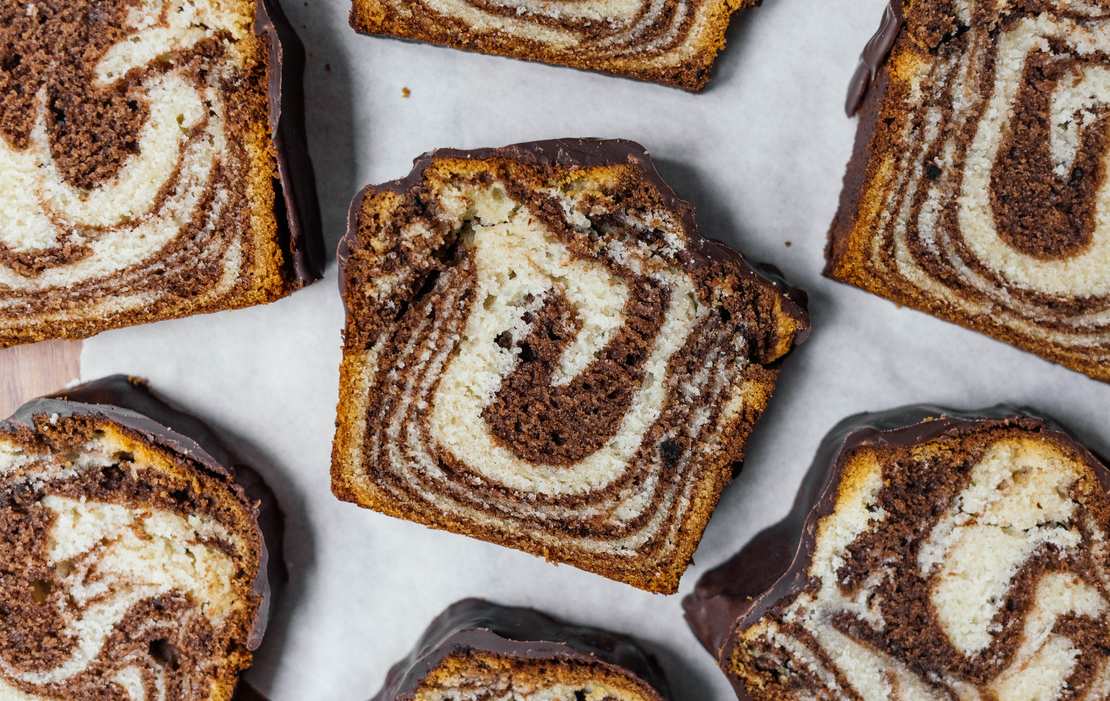 Marble cake isn't the most popular cake. It's a simple sponge cake that doesn't seem too exciting. Especially next to a vegan German mole cake or a vegan cheesecake with caramel most would probably not go for a piece of vegan marble cake. But not me! I love simple sponge cakes and prefer them over cream or fondant cakes. But of course, it has to be moist and soft, yet not too sticky or greasy, and above all, it has to have a light and fluffy dough.
And without wanting to sound pretentious now, our marble cake checks all the boxes. The first time I made it and brought it to my family, almost everyone at the table ate 3–4 pieces. It was gone in under two hours. Holy cow! So if you still think a marble cake is dull and dry, try this recipe. And if you are up to more sponge cakes now, check out our recipe for vegan hazelnut cake or vegan poppy seed and plum cake! You can find even more vegan cakes here.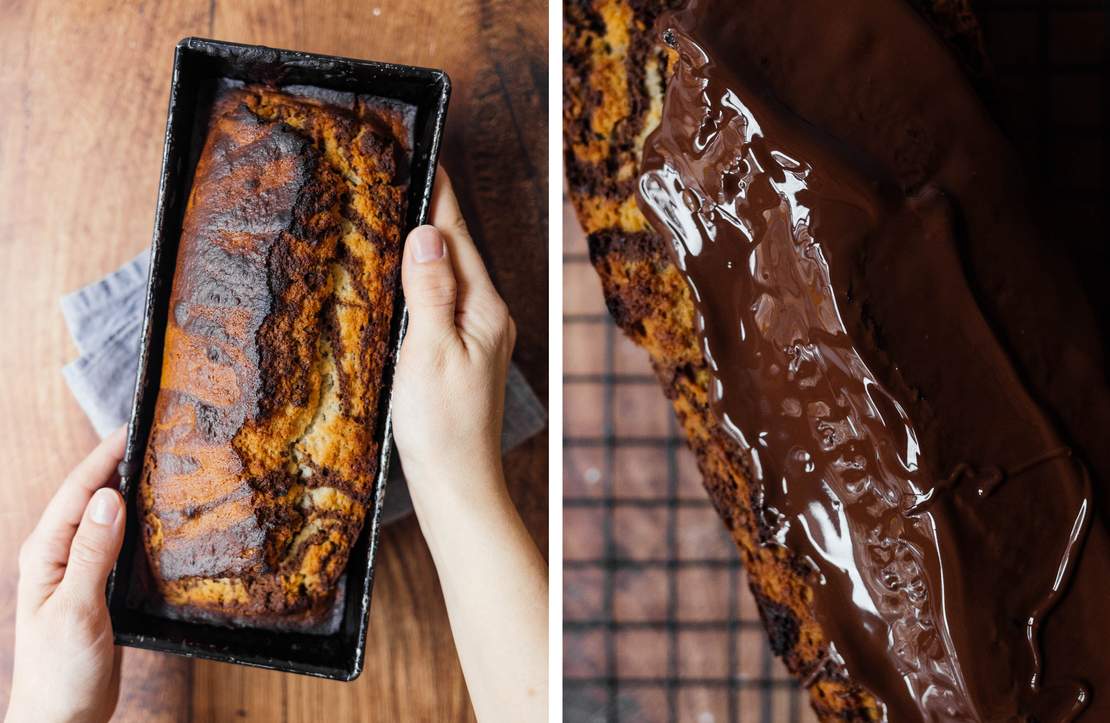 Moist, vegan marble cake
1 cake (26 x 11 cm / 10 inches x 4 inches)
30 minutes (+ 60 minutes baking time)
Ingredients
For the dough:
400 g (3.25 cups) wheat flour (type 405)
10 g (0.33 oz) cornstarch
200 g (1 cup) sugar
16 g (0.5 oz) baking powder
8 g (0.25 oz) vanilla sugar
0.5 tsp salt
270 ml (1.125 cups) plant-based milk
40 g (1.5 oz) applesauce
250 ml (1 cup) neutral vegetable oil
Additional:
15 g (0.5 oz) cocoa powder
40 ml (0.125 cup) plant-based milk
200 g (0.5 lb) vegan chocolate coating / dark chocolate
Instructions
For the dough, combine flour, cornstarch, sugar, baking powder, vanilla sugar and salt in a bowl. Add plant-based milk, applesauce and neutral vegetable oil and mix until smooth. Add half the batter to a separate bowl, add cocoa powder and plant-based milk, and mix until smooth. Now you should have a light and a dark batter.

Grease a bread pan (26 x 11 cm / 10 inches x 4 inches) with vegan butter and preheat the oven to 180 °C / 350 °F (convection heat). Now fill the batter into the pan alternating the light and dark batter. First 2–3 tablespoons of the light one, then 2–3 tablespoons of the dark one. Repeat until the dough is used up.

Using a chopstick, pull the dough through from bottom to top, creating a swirl through the many layers. In the end, gently tap the pan on the work surface so that all the bubbles in the dough disappear. Bake the cake in the preheated oven at 180 °C / 350 °F convection heat for about 50–60 minutes. Use a chopstick to test whether the cake is ready and cover it with tinfoil if it gets too dark.

After baking, let the cake cool completely. Melt the chocolate and pour it over the cake. It is best to let the cake cool completely overnight.
More Vegan Cakes & Cookies