Cauliflower Apple Soup with Cinnamon Nuts
Creamy, slightly sour and crisp. Yes, that's how your Christmas soup should be! A Christmas soup has to underline your main dish, but also give a foretaste of what comes next. So everyone is curious about your menu. This cauliflower-apple-soup is a basic, cause the way you cook it is super simple. On the other side, it's special cause you get this sour flavor paired with some crunchy sweet hazelnuts. Prepare yourself for something simple that comes out way better than you expect.
Cauliflower Apple Soup with Cinnamon Nuts
Ingredients
1 onion
1 garlic clove
1/2 leek
1 small cauliflower
2 red apples
plant-based oil
1/2 tsp nutmeg
pinch of turmeric
700 ml (2.8 cups) vegetable stock
200 ml (0.8 cups) plant-based cooking cream
salt&pepper
toppings
100 g (3.5 oz) peeled hazelnuts
1 tbsp agave nectar
1 tsp cinnamon
Instructions
Peel and dice onion and garlic clove.
Wash and slice leek.
Strip the leaves of the cauliflower, wash and cut into small bits. Wash, de-seed and dice apples.
In a big pot heat plant-based oil and sauté onion and garlic clove until translucent.
Now add leek, cauliflower, apples and let roast for 5-7 minutes.
Deglaze with vegetable stock and let simmer for 15 minutes or until your veggies are soft. The amount of the veggie stocks depends on the size of your pot and your veggies.
If your vegetables are ready, purée, add cooking cream and season with nutmeg, salt, and pepper.
Toppings
Chop hazelnuts.
Roast hazelnuts in a small pan without oil.
After 2-3 minutes add agave nectar and cinnamon powder. Stir well and let caramelize for 1 or 2 minutes.
Top cauliflower apple soup with cinnamon nuts and plant-based cream.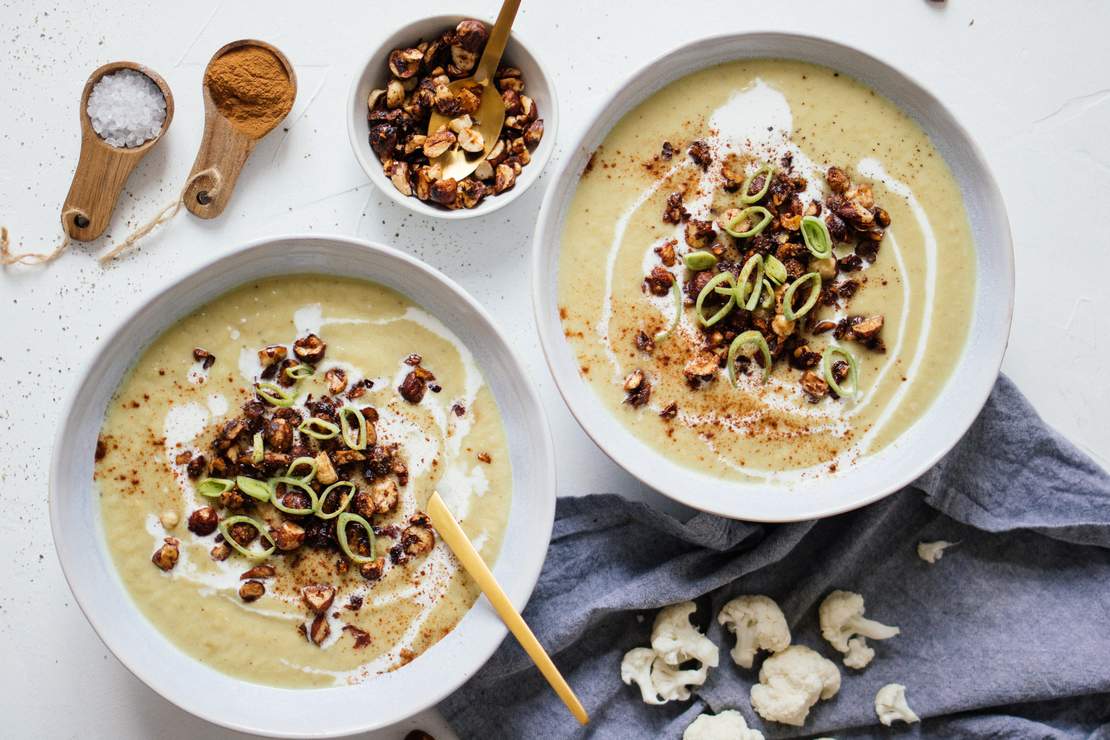 More Vegan Christmas Recipes