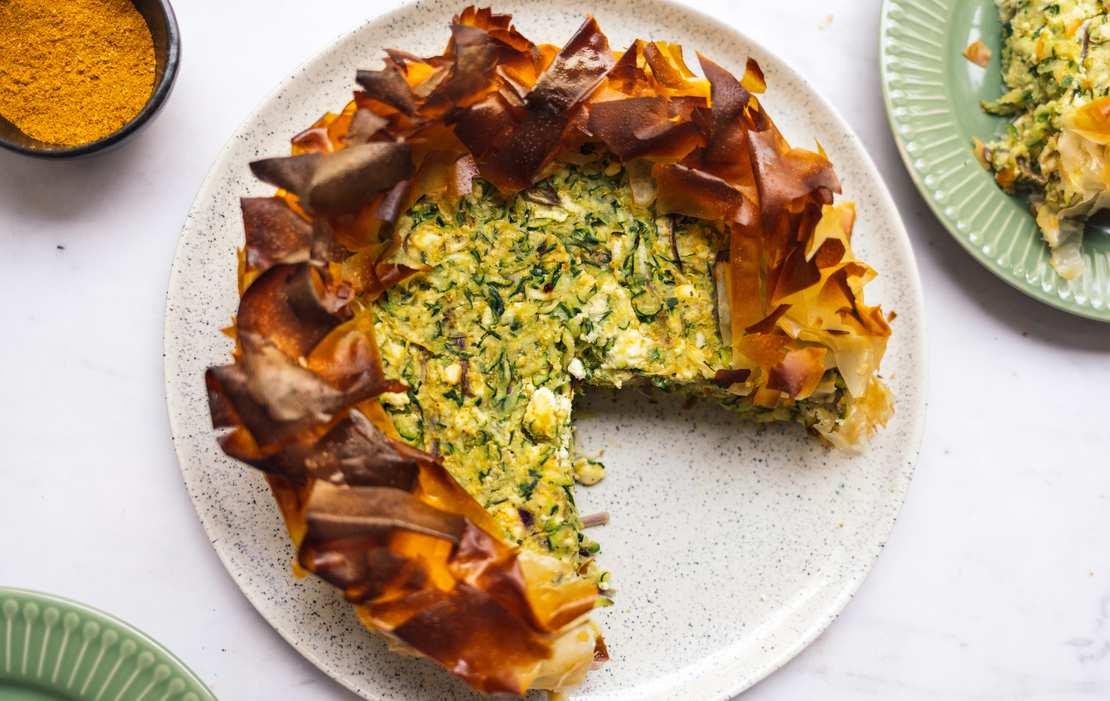 5-Ingredient Vegan Phyllo Pie
Most of us have baked with yeast, shortcrust, and puff pastry, but when I told the office that I would be using filo pastry for my 5-ingredient recipe, no one knew what it was. So it's time to pay more attention to the dough on this blog which is great for a pretty versatile pie.
Spoiler alert: After the filo pie came out of the oven, we were all blown away. Lina was already rummaging through our test kitchen folder to find the recipe and bake the pie again at home, and Ronja tried a small piece of it on the day of fast-breaking. What an honor! With so much support, our phyllo pie is already blushing!
Here are the five ingredients of this recipe:
Phyllo dough: You can find vegan phyllo dough in the refrigerated sections of many supermarkets, as well as in any Turkish or Arab supermarkets, as it's a central ingredient in Middle Eastern and Balkan cuisine. While in Greece it's called "phyllo dough",it's called "yufka" in Turkey. However, both names mean the same thing in principle and often differ only in thickness. The somewhat thicker yufka dough is used, among other things, for gözleme and börek, while the particularly thin variant is used for baklava, for example. You won't find "one dough" in the packages, but instead several rolled or folded sheets.
The fresh dough is usually made from wheat flour, water, and salt. You will undoubtedly notice that something is missing here: fat. This is exactly the reason why you should work with phyllo dough quite quickly. It becomes dry very quickly in the air and crumbles in your hands. Therefore, take it out of the package just before you use it. Place the sheets under a clean, damp kitchen towel to be on the safe side. To shape it, you'll need to either spray it with water or coat it with oil (or melted vegan butter) beforehand. I did the latter for my recipe and used a baking oil spray, which was incredibly convenient.
Zucchini: Let's move on to the filling! There are no restrictions for this UNLESS you have a 5-ingredient recipe in mind. So I had to choose, and when I thought of phyllo dough, I thought directly of "spanakopita," the Greek pie with spinach and feta cheese that also comes in a zucchini version called "kolokithopita". So I made my way to the final recipe on this slight aberration. But as I said: Go wild in your vegetable drawer! Depending on the ingredient, you might need to sauté it first while zucchini just needs to be roughly grated and then squeezed to lose liquid and not water down the pie.
Red Onions: once the zucchini was established as the main component of the filling, I wasn't sure if I would even need another vegetable. I liked the idea of translucent onions and their slight sweetness, but my head was also buzzing with hazelnuts that would add crunch to the filling. Unfortunately, I couldn't pick both as the four remaining ingredients were already set. So for test cooking, I tried both versions and let the office decide. The vote was in favor of onions (even though it was hard-fought) because the phyllo dough itself gives enough crunch. However, if you're interested in a 6-ingredient phyllo pie, you know what to do!
Vegan feta cheese: You might think that zucchini and onions would get pretty dry as a filling and should be combined with vegan heavy cream. But in fact, they became surprisingly juicy, so I was able to follow my kolokithopita idea after all and went for vegan feta cheese. Make sure it's not based on coconut oil, though, or it will probably melt in the oven and make your pie very sticky. Vegan almond-based feta, on the other hand, will hold its shape and give the filling a lovely creaminess.
Ras el Hanout: The spice mixture Ras el Hanout has nothing to do with Greek or Turkish cuisine but brings us to North Africa, namely Morocco. I just love the combination of Ras el Hanout and zucchini so much that I couldn't resist to team them up in this recipe. Also, since I only had one ingredient left for spice, it seemed obvious to go for a spice blend. Ras el Hanout tastes spicy, slightly hot and sweet, earthy and warm. There's no fixed composition of spices, but usually, you will find cumin, coriander, turmeric, ginger, cardamom, and nutmeg in it. In our mixture, allspice, fenugreek, and orange peel were added, among others.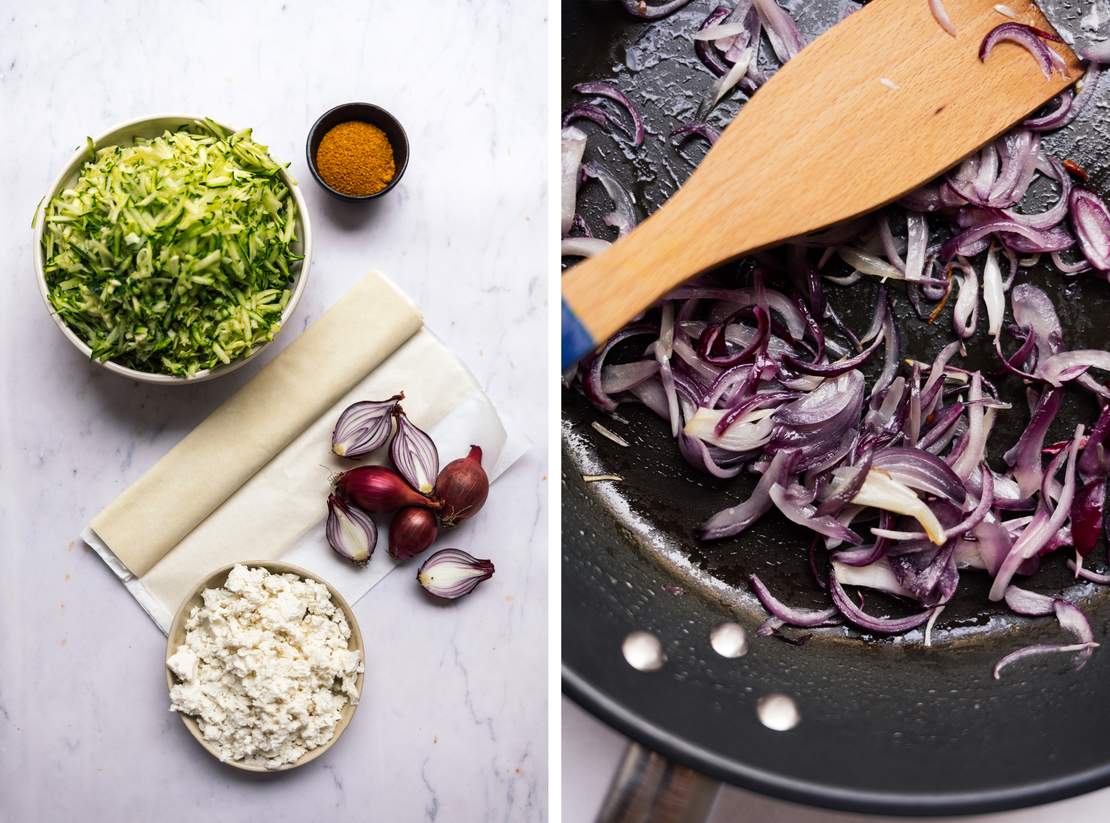 5-Ingredient Phyllo Pie with Zucchini and Vegan Feta Cheese
1 springform pan (⌀ 23 cm / 9 inches)
40 minutes (+ 20 minutes baking time)
Ingredients
1 kg (2.25 lbs) zucchini
3 red onions
1-2 tbsp Ras el Hanout
300 g (10.5 oz) vegan feta cheese (almond-based)
approx. 5 sheets phyllo dough
salt
pepper
olive oil for frying and brushing
Instructions
Wash and roughly grate the zucchini, then add some salt. Let the zucchini sit for approx. 10 minutes to release liquid from the zucchini.

In the meantime, peel, halve, and slice red onions. Sauté the onions in a frying pan with some olive oil over low heat until they are translucent but still have a bite. Then season with salt.

Drain the water from the zucchini and wrap the grated zucchini in a clean kitchen towel. Then squeeze it, so it loses as much liquid as possible.

Add the squeezed zucchini and translucent onions to a bowl and season with Ras el Hanout. Crumble the vegan feta cheese with your hands and add it as well. Mix everything and season generously with salt and pepper.

Preheat the oven to 200°C/390°F (convection heat) and grease a springform pan with olive oil. Brush each sheet of phyllo dough with oil and place them in your springform pan one after the other, slightly staggered, so that the entire pan is filled and there's always some pastry hanging over the edge of the springform pan.

Add the zucchini filling into the pan and smooth it out. Then fold the overhang of the phyllo dough over the edge of the filling, crimping it together with your hands.

Bake the phyllo pie at 200°C/390°F (convection heat) for about 20 minutes. Let cool briefly before cutting.