Vegan Yeast Dough 101: Helpful Tips and Recipes to Bake Now
The first step is always the hardest – to make it at least a little easier for you if you want to switch to a vegan diet, we've written a few articles on the basics. They are about how to get the nutrients you need when being vegan, non-vegan ingredients to look out for, and vegan pantry essentials. Find all our articles here.
While sponge mixture is used for sweet recipes only, shortcrust pastry is at least associated some hearty dishes such as quiches and tartes. But yeast dough is the multitasker among doughs. Whether you're baking something sweet or savory – yeast dough is ready to help. From cinnamon rolls and pizza to plum cake and bread rolls, there's barely an ingredient that yeast dough doesn't go along to.
Nevertheless, many people are afraid of preparing yeast dough, because who hasn't experienced this tricky dough that just doesn't want to rise, or rises even too much? Luckily, this has never happened to us anymore since we got our best basic recipe for vegan yeast dough.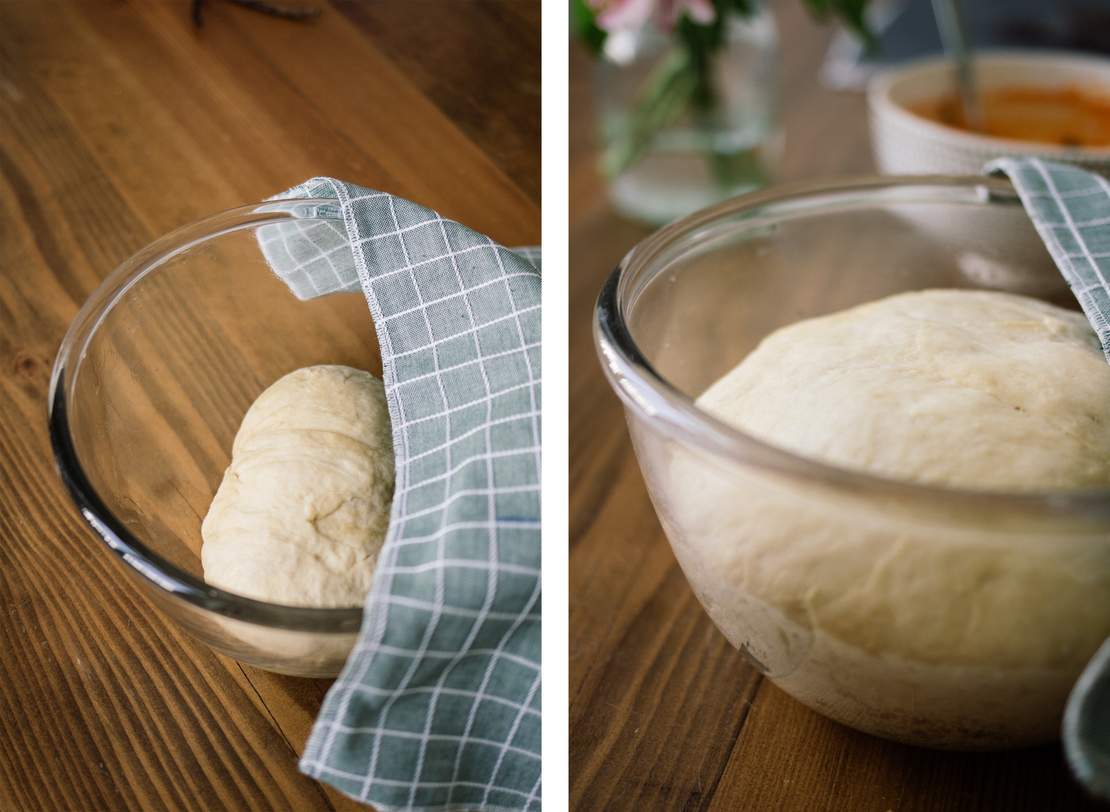 Vegan Yeast Dough
1 serving
30 minutes (+ at least 2 hours to rest)
Ingredients
15 g (0.5 oz) fresh yeast
375 ml (1.5 cups) lukewarm water
1 tbsp brown sugar
550 - 600 g (19 - 21 oz) flour
1 tsp salt
40 g (1.5 oz) coconut oil
Instructions
Dissolve the fresh yeast in warm water with brown sugar in a large mixing bowl. Wait for ten minutes. The yeast should swell and rise to the water surface.
Heat coconut oil, wait until lukewarm and add it to the bowl.
Gradually add 400 g (14 oz) flour, mix well and add salt. The dough should be very sticky.
Cover bowl with a damp kitchen towel and let rise for at least one hour. After this time you should see small bubbles on the surface, and your dough should be doubled in size.
Now add the rest of the flour until you can form a big ball out of dough. Knead the dough for some more minutes and let rise for another hour on a warm and dry place. The dough should rise for the second time. Now use the vegan yeast dough as desired.
3 Secrets About Yeast Dough
1. Cake yeast vs active dry yeast:
Some swear on the fresh cake yeast while others prefer active dry yeast. In the end, it doesn't make a difference in quality, but you can actually save a little time by using active dry yeast. It can often be added directly to the flour and doesn't need to be dissolved in warm water in advance to get bubbly (still, it also doesn't to harm to do it). But what's important for both types of yeast is to make sure to only combine it with lukewarm water as the yeasts will be "killed" in hot water or don't even get active in cold one. The best temperature for the water is 28-32°C.
2. How it rises (and how it rises faster):
The most important ingredient for yeast dough is patience. Please give your yeast dough enough time to rise properly – and even let it rest and rise twice. The first rising phase starts right after all ingredients have been combined and kneaded well. Let the dough rise for 1-2 hours until its volume has doubled. The best option is to add the dough to a greased bowl, cover it with a clean kitchen towel, and place it at a warm spot. Once the dough has risen enough, you can continue with the recipe. Let the yeast dough rest a second time right before baking, e.g. after you've rolled the cinnamon buns and placed them in the baking pan. If you're in a hurry, heat your oven to 35°C to set up a controlled temperatured room and moisten the kitchen towel a bit.
3. Refrigerated yeast dough:
If you want to prepare yeast dough ahead, you should combine all ingredients, knead them well, and let the yeast dough rise in your fridge overnight. Thanks to the slow rising process, the dough will even develop a better consistency and becomes a bit more fluffy and elastic. Before continuing with the recipe, it's best to remove the dough from the fridge and let it rest at room temperature for approx. 15 minutes.