Vegan Meal Prep: Tips and recipes for pre-cooking
On Zucker&Jagdwurst you will find so many recipes that it can sometimes be difficult to find exactly the right one for the moment. For that, we've categorized our recipes, but if you want to be more specific, you'll hopefully find the right dish in our recipe collections – for example if you're looking for soy-free desserts, hangover food, and what to eat when you have a cold. You can find all recipe collections here.
"Meal Prep" has become quite a trend. And rightly so! Pre-cooking has many advantages. It saves time and money, you don't need to cook every day, and a delicious meal, according to your own wishes, is always guaranteed. Especially if you want to eat vegan, you might often have a limited choice of dishes in restaurants, cafes, or canteens. But even regardless of this, pre-cooking is very helpful if you want to have a delicious meal prepared for stressful days.
In principle, almost all recipes are suitable for pre-cooking because most dishes still taste great the next day or can be frozen. However, we think the best meal prep dishes are those that can be prepared quickly as it makes it easier to cook several dishes in a row or at the same time. Therefore, in this article, you'll find a collection of recipes suitable for meal prepping and with a maximum preparation time of 45 minutes.
In addition, we have summarized our best tips and tricks for you to facilitate successful pre-cooking. How long do soups, salads, and other foods keep in the fridge? Which foods are particularly suitable for pre-cooking? We will answer these and other questions!
Tips for successful Meal Prepping
General tips for pre-cooking:
Plan exactly what you want to cook and eat before going grocery shopping. In our experience, it really pays off to spend a few minutes thinking about it because without a plan, you' ll wander aimlessly through the supermarket, possibly forgetting something and ending up dissatisfied with your pre-cooked meals.
It's best to reach for foods that can be used for several dishes, as it saves time. However, you should still have enough variety in your dishes to avoid losing your appetite for pre-cooked meals.
To get more variation in your meals, it's worth experimenting with spices to add different flavors to dishes with similar ingredients. Furthermore, you get more variety through different toppings on soups, salads, etc.
Some dishes can be changed well, which is nice if you want to avoid eating the same thing twice. Vegetable dishes, for example, can easily be transformed into soups or stews. But also legumes and various grains such as bulgur, pearl barley, millet, etc., do well in a soup or stew.
Cook all dishes rather al dente, to prevent your food from becoming too mushy when reheated.
Cook large portions so you can eat the leftovers the next day or freeze them and reheat them when needed.
Remember to prepare a few snacks or buy them in the form of nuts and fruits, for example, if you pre-cook for many days. After all, the little hunger in between should not be forgotten.
Storage life:
When cooked and well-sealed, most dishes will keep three to four days in the refrigerator. However, fresh, uncooked foods (such as salads) should be consumed within two days. Accordingly, it's reasonable first to eat all fresh and raw dishes, followed by cooked ones. In addition, nitrate-rich foods such as spinach, kale, chard, or beet shouldn't be reheated and should be eaten as quickly as possible. This is because, otherwise, more bacteria will occur, which can convert the contained nitrate into toxic nitrite.
If you want to pre-cook for more than four days, you should freeze the dishes. With a few exceptions, almost anything can be frozen, even raw dough. However, the food should be sealed as airtight as possible. Containers with liquid foods should not be filled to the brim, though, as liquids expand when frozen. In contrast, containers with solid foods should be filled completely to prevent the food from drying out. Foods that are not suitable for freezing are fresh salads and potatoes.
Fresh vegetables cut into small pieces will keep fresh longer if stored in a box or bowl with cold water in the refrigerator.
Cut-up fruit will stay fresh if you soak it in lemon or salt water for a few minutes before transferring it to a can.
Lettuce or spinach will keep longer if wrapped in a damp kitchen towel in the refrigerator after washing. Additionally, you can add a little lemon juice to the water when washing spinach or salad.
Raw dough can easily be stored in the refrigerator for 24 hours, allowing you to prepare it a day in advance. You can even freeze it and use it a few weeks later on.
If possible, all individual components of a meal should be stored separately in the refrigerator and only mixed on the day of preparation. This way, the individual components retain their flavor best. Of course, this does not apply to selected dishes such as potato salad, which benefits from being left to infuse for longer. For leaf salads, on the other hand, the dressing should definitely just be added before eating the salad to prevent the leaves from wilting. Therefore, if you want to eat your salad on the go, you should take the dressing with you in a separate container.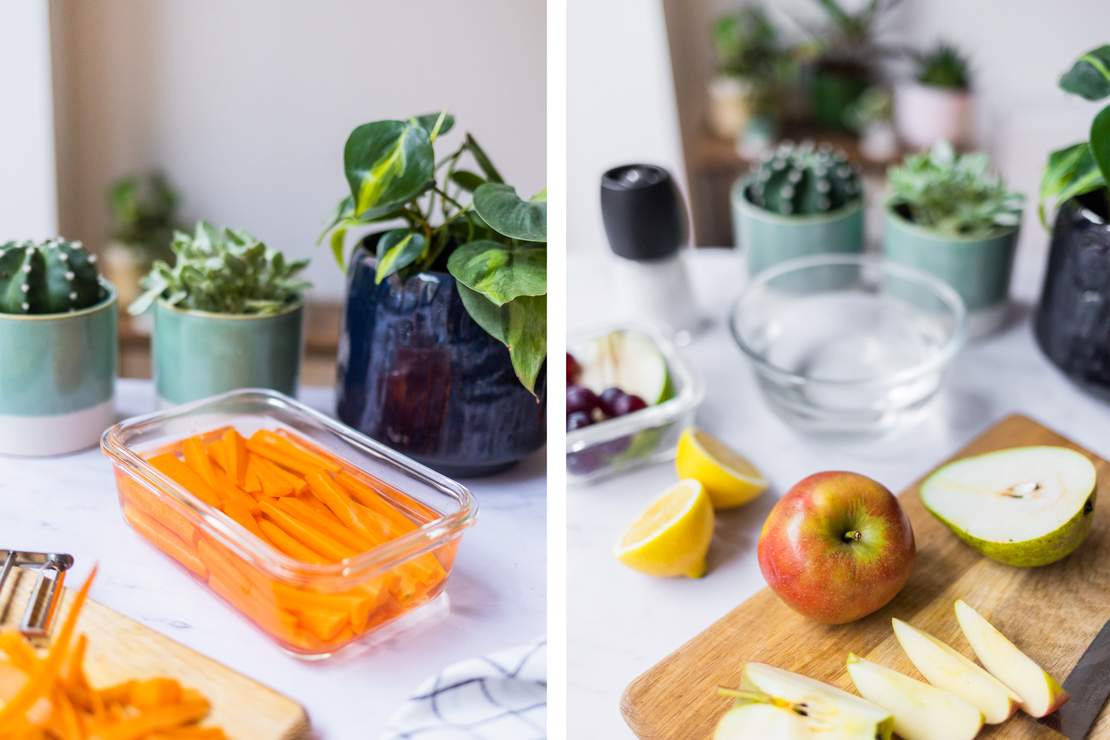 The right containers:
Some plastic and glass containers are particularly suitable for storing dishes. They can withstand high-temperature differences and thus can go directly from the freezer to the microwave or oven. In addition, these containers are usually very durable. Alternatively, if you don't want to invest a lot of money right away, you can use old screw top or preserving jars or store and freeze food in old ice cream containers.
When transporting food, it's important to have leak-proof containers to prevent unpleasant surprises in the bag.
Reheating and thawing food:
When defrosting food, the rule of thumb is: Anything prepared in the oven goes back to the stove. Anything prepared in a pan is reheated in a pan. Everything else is welcome to go in the microwave.
Foods that are particularly suitable for pre-cooking:
Rice, Mie noodles, oats, buckwheat, and couscous are especially quickly prepared because they don't need to be cooked. Instead, you just need to steep them in hot water, and they are ready to eat.
Lentils, beans, and chickpeas from a can or jar can be eaten directly and are super delicious in bowls, for example.
Frozen vegetables are great for pre-cooking because you don't need time for washing, peeling, and cutting them. Additionally, they keep for a long time in the freezer.
When cooked, potatoes and pasta will keep in the refrigerator for 3-4 days.
Buying pasta from the refrigerated section in the supermarket saves time because you don't have to prepare any dough yourself and can fully concentrate on the filling or the topping of your dish. Alternatively, you can prepare the dough needed one day in advance to save time the following day.
Soups, curries, and stews are particularly good for freezing or eating the next day, as they often taste even better warmed up.
Foods that are rather unsuitable for pre-cooking:
Mushrooms and delicate salads or herbs are only suitable for pre-cooking to a limited extent, as they quickly lose their flavor or become wilted.
Recipe ideas for pre-cooking
1. Vegan breakfast recipes
2. Vegan sandwiches, wraps and tacos
3. Vegan salads and bowls
6. for the little hunger in between
7. vegan desserts from the day before